News > Spokane
Spokane brothers open Jedi-themed 'church' offering arcade, toys and comics
Thu., Feb. 18, 2016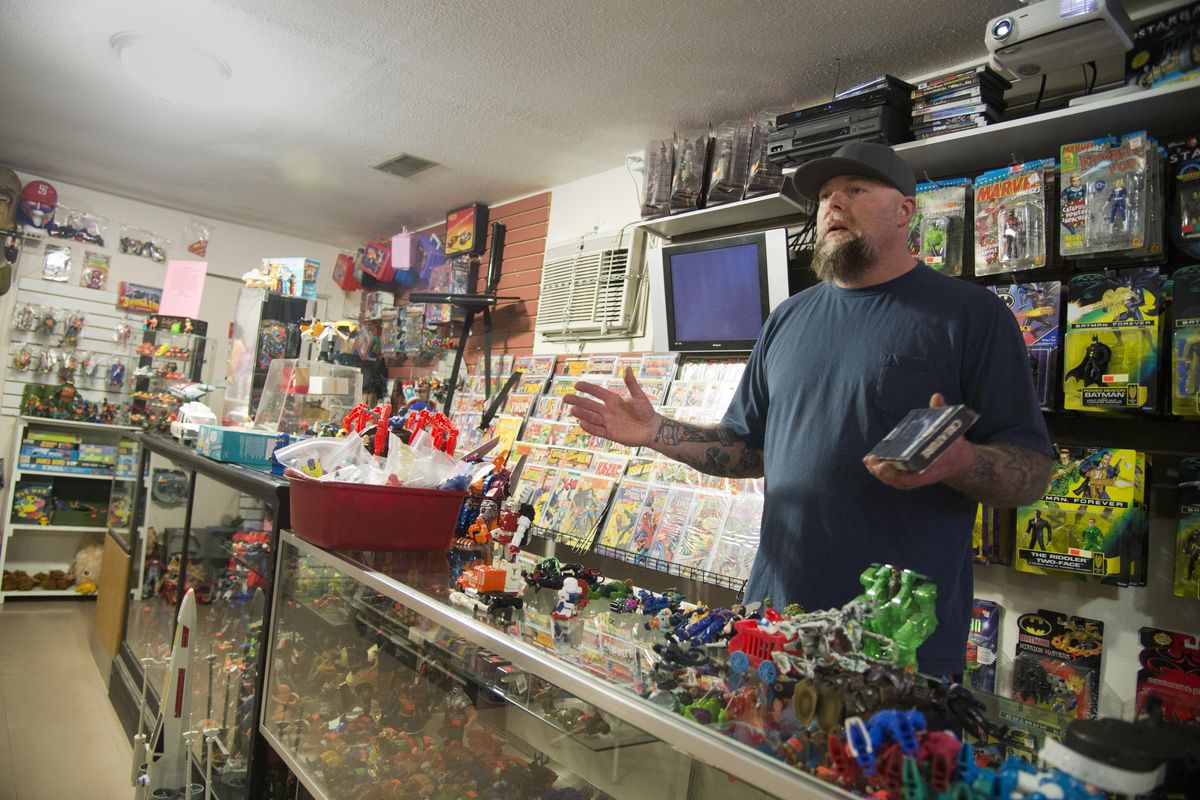 Tim Arnold works in the gift shop at Jedi Alliance which he runs with his brother Tyler in a nondescript building in East Central Spokane. Video arcade, shop and toy displays are only open Sunday evenings. Photographed Sunday, Feb. 14, 2016. (Jesse Tinsley / The Spokesman-Review)Buy a print of this photo
Brothers Tim and Tyler Arnold grew up at a time when allowances and weekends were spent chasing Donkey Kong, collecting Star Wars action figures and watching "Tron" until the VHS tape wore out.
"I was born in 1978," Tyler Arnold said, surrounded by a toy collection now thousands of figures strong featuring items from Pee-Wee's Playhouse, He-Man and, of course, George Lucas' space opus. "As a kid, we always had Star Wars. That's what we played with as kids."
Childhood dreams turned into adult obsession, as the Arnolds amassed not only all the toys they couldn't afford as kids, but also hundreds of arcade cabinets, movie posters and comic books. They've now opened what is not only a museum to nerd culture, but their very own church – "The Jedi Alliance" – that the brothers intend to use as a tool to benefit the community.
A former Free Methodist church in the Chief Garry Park Neighborhood has been converted into a comic book emporium, toy museum and classic arcade. The Jedi Alliance also serves as a temple to the vaunted heroes of the sci-fi film series the brothers worshipped as kids.
"We quickly found out, well, we can use the pop culture stuff to bring like-minded people together in the church setting," Tim Arnold said.
Open only on Sundays, visitors plop down $10 or less to relive the pop-culture era the Arnold brothers have devoted the past 20 years of their lives to preserving. Amid lunch boxes bearing the logos of Saturday morning cartoons, a life-size figure of Arnold Schwarzenegger as the Terminator and Tyler Arnold's prized Johnny Ramone guitars, families can spend their Sunday evenings gobbling pellets as Pac-Man or shooting for a high score on one of the arcade's dozen pinball machines, located in the space where baptisms used to occur.
"We really did approach it from, this is just our personal game room. How can we use it to make connections between people?" Tim Arnold said.
The arcade venture is funded in large part by Arnold's auction of his signed Johnny Ramone Mosrite guitar in October 2014. The red six-string fetched $71,785 at auction and earned a write-up in Rolling Stone magazine.
"I got that money, and I thought, what can I do with that money?" said Tyler Arnold, standing next to a display case featuring two other Ramones guitars that serve as a shrine to the rock legends. "I was like, now's the time."
The brothers searched for real estate to house their massive pop-culture collection. Tyler Arnold already had experience running an entertainment venue, helping open The Cretin Hop on Monroe Street in 2008. But he knew he wanted a space that was family friendly, and eventually settled on the former church at 2024 E. Boone Ave. The Arnolds bought the property for $90,000 in July.
The brothers say they'll continue to sell arcade equipment, toys and other items online, in addition to sales at the museum's "gift shop," where all kinds of pieces of nerd nirvana are for sale. Entry fees – the Arnolds call them "donations" – are being taken just to keep the lights on, Tim Arnold said. The brothers work as tattoo and body piercing artists in town.
Each cabinet in Jedi Alliance tells its own story. The brothers say they "rescued" more than a hundred machines in January 2007 from a warehouse in Spokane near where the No-Li brewery is now located. The caretaker was smashing the games with a tractor, Tyler Arnold said.
"He had just finished smashing an 'Aliens' game," Tyler Arnold said, referring to the 1990 side-scroller shoot-'em-up manufactured by Konami. "We were like, what are you doing? Stop doing whatever you're doing."
The brothers hauled 140 arcade machines out of the warehouse in frigid temperatures, Tyler Arnold said. Some of those games now line the walls of the church, chirping and flashing along to the beats of Michael Jackson. The Arnolds play 1980s music and sound effects over a loudspeaker when the doors are open.
Then there's the Star Wars Trilogy machine in the corner, hooked up to a projection screen. The joystick shooter, released in 1999, was a staple at restaurants, malls and movie theaters around the time the prequel trilogy was released, and Tyler Arnold remembered trips to the "Bumpers" arcade to play the machine.
"My cousin and I loved it; it was the best game ever," Tyler Arnold said.
When a machine came up for sale two years ago, Tyler Arnold knew he had to have it. He traded a "Popeye" machine from Nintendo for the game from a buyer in the Tri-Cities, he said.
"I was talking to him, and through the conversation he said, 'This is the game from Bumpers,' " Arnold said. "I was like, yeah I know it's the trilogy game from Bumpers. He's like, 'No, this is the game from Bumpers.' "
When Tyler Arnold inspected the machine, he saw a tax code stamp from Spokane on its underbelly. The machine was full of tokens from Bumpers. It was the same machine he'd played roughly 15 years earlier with his cousin.
"Everything has a story for us," he said.
The brothers hope to share those stories, and ideas about how their nascent church can help benefit the community, on Sunday nights for years to come. Keeping a family-friendly vibe is important to the Arnolds, who say they won't serve beer or try to establish an age threshold like other businesses that have attempted to revive the arcades of the 1980s. Tyler Arnold's 12-year-old son, Ashton, skips from machine to machine once the doors open, offering help to players and chatting about the pop culture icons his dad introduced him to with others.
"After Burner II is my favorite," Ashton Arnold said, nodding toward a cabinet in the corner featuring the 1987 Sega air combat simulator. "Or, all of them."
Tyler Arnold said he couldn't fathom excluding people from the game room.
"I don't know how those businesses do it," Tyler Arnold said. "I don't want someone spilling a beer on my 'Star Wars.' "
After hauling their machines around to different places for years, the Arnolds think they've finally found a permanent home on Boone Avenue. A movie night is planned later this month – the original "Tron," of course – and canned foods will be accepted for entry, which will go to Second Harvest food bank.
The games, comic books and toys provide an escape for a few hours, the brothers said. It's what their visitors can do to unite and brainstorm ways to serve the community that gets them excited for what Jedi Alliance could become.
"Now that we have your attention with 'Star Wars,' how can we actually move into making a difference in the community?" Tim Arnold said.
Local journalism is essential.
Give directly to The Spokesman-Review's Northwest Passages community forums series -- which helps to offset the costs of several reporter and editor positions at the newspaper -- by using the easy options below. Gifts processed in this system are not tax deductible, but are predominately used to help meet the local financial requirements needed to receive national matching-grant funds.
Subscribe now to get breaking news alerts in your email inbox
Get breaking news delivered to your inbox as it happens.
---