News > Nation/World
The Latest: Marco Rubio 2nd in South Carolina's GOP primary
UPDATED: Sat., Feb. 20, 2016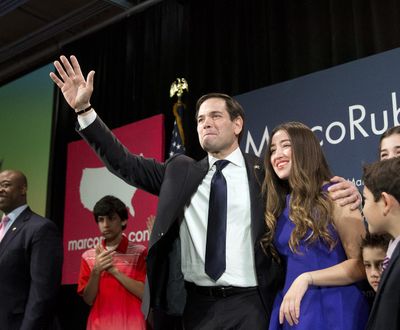 COLUMBIA, S.C. – The Latest on the 2016 presidential election and two crucial contests Saturday: South Carolina's Republican primary and Nevada's Democratic caucuses (all times are Eastern Standard Time):
12:28 p.m.
Florida Sen. Marco Rubio has finished second in South Carolina's Republican primary, according to complete but unofficial results.
Rubio edged out Texas Sen. Ted Cruz by less than two-tenths of 1 percentage point.
The results are unofficial, pending the state's formal confirmation of the outcome. That will take place by next Saturday.
Donald Trump won the South Carolina primary, topping the two freshman senators by roughly 10 percentage points.
12:05 a.m.
Hillary Clinton's campaign slogan is "I'm with her." But now she wants voters to know that she's with them.
Clinton kicked off her post-Nevada campaign with a retooled message, shifting focus from her White House qualifications to what Americans can accomplish together, from ending discrimination to reforming immigration laws.
She greeted 2,000 supporters at a rowdy rally late Saturday night in Houston and told them that together they'd "build ladders of opportunity so that every American can go as far as your heart will take you."
Aides to Clinton say she's shifting her tack toward rival Bernie Sanders with the argument that the county must tackle problems beyond income inequality and cracking down on Wall Street. That approach is an effort to turn Sanders' greatest strength – his economic message – into a weakness.
Clinton says she respects Sanders' "passion and commitment" but argues that he can't deliver on his promises of single-payer health care and tuition-free public college.
Clinton says, "You shouldn't say that unless you can really deliver it."
10:30 p.m.
Despite Ted Cruz's shortcoming in South Carolina's primary Saturday, his supporters are optimistic that he'll make a comeback in his home state of Texas and southern states with large evangelical populations.
Dean Johnson, a 55-year-old salesman from Sumter, South Carolina, says Cruz will "leave here with momentum."
Joe Bateman, who traveled from Illinois to help the campaign in South Carolina, says there's a "long road ahead" but he feels confident that Cruz will "blow away people's expectations."
Stacy Baker of Columbia, South Carolina says she really thinks Cruz can pull off a win if he keeps "doing what he's doing."
10:10 p.m.
Donald Trump won at least 44 of the 50 delegates at stake in the South Carolina primary while Hillary Clinton won a majority of the delegates in Nevada caucuses.
Trump and Marco Rubio were in a tight race in two congressional districts for the remaining six delegates.
Trump leads the overall race for delegates with 61. Ted Cruz has 11 delegates and Rubio has 10.
It takes 1,237 delegates to win the Republican nomination for president.
In Nevada, Clinton won at least 19 delegates and Bernie Sanders won at least 15.
Clinton is far ahead in the overall delegate count because of early endorsements from superdelegates, the party leaders who can support the candidate of their choice.
Including superdelegates, Clinton has 503 delegates and Sanders has 70.
It takes 2,383 delegates to win the nomination.
10:00 p.m.
Nevada Sen. Harry Reid says he will make an endorsement in the Democratic presidential race when he returns to Washington.
Reid caucused in Nevada on Saturday and says he voted "uncommitted."
He says he's taken pains to remain neutral in the competition between Hillary Clinton and Bernie Sanders so he would not be accused of rigging the contest.
9:50 p.m.
Texas Sen. Ted Cruz is highlighting his Iowa win over Donald Trump on Feb. 1 as he urges conservatives to unite behind him against the Republican front-runner.
Speaking to supporters in South Carolina following the state's Republican primary, Cruz said that there is "only one strong conservative is in a position to win this race," adding that it's why Donald Trump "relentlessly attacks us and ignores the other candidates."
9:40 p.m.
Texas Sen. Ted Cruz says his campaign is the only one that "has beaten and can beat" billionaire Donald Trump, who won the South Carolina primary.
Speaking to a crowd of supporters in Columbia, South Carolina at the close of the state's Republican primary day, Cruz warned that the "Washington cartel" is growing nervous with the successes of the conservative movement.
Cruz says he is "effectively tied for second place" with Florida Sen. Marco Rubio, in a finish that he said defied expectations.
Cruz is praising Jeb Bush, who ended his bid for the White House Saturday, as "a man who didn't go to the gutter" and engage in insults and attacks.
9:30 p.m.
Texas Lt. Gov. Dan Patrick says Sen. Ted Cruz is "standing tall" despite losing the South Carolina primary to Donald Trump.
Patrick told Cruz backers Saturday night that Cruz has "taken every punch they've thrown, and he's standing tall."
Cruz was battling with Florida Sen. Marco Rubio for second place in South Carolina.
Patrick says "regardless of what the pundits say, it's a two-man race" between Cruz and Trump. And Patrick says Cruz is the only candidate in the race with a proven conservative record "who will take on the Washington cartel."
Patrick predicted a Cruz win in Texas, which votes on March 1.
9:18 p.m.
Donald Trump is thanking his supporters for delivering a commanding first-place finish in South Carolina Saturday, cementing his status as the Republican presidential front-runner.
And he's predicted big wins in the races ahead.
"Folks, let's go, let's have a big win in Nevada…Let's put this thing away," he tells hundreds of screaming supporters at a victory party in a Spartanburg. "And let's make America great again."
Trump also offered his congratulations to rivals Marco Rubio and Ted Cruz, who are in a tight race for second place, drawing boos from the crowd. "Just one minute, come on, one second, alright?" he urged them, as he explained how tough it is to run.
But Trump notably made no mention of Jeb Bush, who announced he is suspending his campaign earlier in the evening. Trump has hammered Bush throughout the campaign.
9:15 p.m.
Marco Rubio says the Republican presidential primary has become a three-person race between himself, Donald Trump and Ted Cruz.
The Florida senator is predicting that he will win the GOP nomination after performing well in the South Carolina primary. As results stream in, Rubio and Cruz are fighting for second place behind winner Trump.
Rubio is congratulating Trump for his victory in South Carolina's primary. He's also praising former Florida Gov. Jeb Bush, who dropped out after a disappointing finish in South Carolina.
Rubio is returning to his central campaign themes of a strong U.S. military and a new generation of conservatism. He says tonight he's a step closer to being the next president.
9:10 p.m.
Donald Trump's wife is breaking her usual silence and talking up his candidacy after he won the South Carolina Republican primary.
Melania Trump tells Trump supporters that "he loves you." She says they are going ahead to the next contest in Nevada and will see what happens.
She says her husband will "be the best president."
The Slovenian-born former model is occasionally spotted with her husband on the campaign trail but rarely gives any lengthy remarks.
8:59 p.m.
Donald Trump is telling supporters after his victory in the South Carolina Republican primary that "when you win, it's beautiful."
The billionaire businessman says running for president is tough, nasty and mean. But he also says it's beautiful, too.
Trump is also congratulating his rivals, especially Ted Cruz and Marco Rubio as they battle for second place.
But despite the kind words, Trump says he goes "back to war tomorrow." He's predicting he will do "very, very well" in the next Republican contest in Nevada.
Trump predicts that as Jeb Bush and other Republican candidates eventually drop out, many of their supporters will switch to his side.
8:45 p.m.
Former Florida Gov. Jeb Bush says he is ending his bid for the White House.
A teary-eyed Bush says he's proud of the campaign he ran to unify the country and advocate conservative solutions.
The son and brother of former presidents George H.W. Bush and George W. Bush entered the race to huge expectations in June, and quickly fueled them with fundraising.
But he quickly slid in the polls behind some of his more outspoken Republican rivals such as billionaire businessman Donald Trump and Texas Sen. Ted Cruz, who have billed themselves as anti-establishment alternatives to the early front-runner.
Following disappointing performances in both Iowa and New Hampshire, Bush pinned his hopes on South Carolina, a state where the Bush name has maintained some clout. But Bush was unable to break into the top three in South Carolina. He would likely have faced pressure from GOP leaders and donors to drop out had he stayed in the race.
8:30 p.m.
The final results aren't in, but John Kasich's campaign is already claiming victory in the so-called "governor's bracket."
Kasich's chief strategist John Weaver says in a statement that the race will now be a four-man contest between Kasich, Marco Rubio, Ted Cruz and Donald Trump. His comments are similar to ones he made this morning on a conference call with reporters.
Despite Weaver's declarations of victory, former Florida Gov. Jeb Bush remains in the race and it's still unclear whether Kasich will beat him in the South Carolina contest.
Kasich's supporters are gathered at a hotel in Wakefield, Massachusetts, the state where Kasich spent Saturday campaigning rather than remaining in South Carolina.
8:15 p.m.
It's been a night mostly lacking of cheers or applause at the Ted Cruz South Carolina victory party.
The room remained only about half-full Saturday as results came in showing their candidate locked in a tight battle for second place in the state's Republican primary with Florida Sen. Marco Rubio.
Cruz backers stood quietly and watched footage being broadcast on two large screens from Rubio's party, where his supporters were shown chanting "Marco! Marco!"
The only brief moment of awakening for the otherwise cautious Cruz supporters came when Fox News broadcast a live shot from his party, prompting cheers from the crowd.
7:55 p.m.
Donald Trump has won a majority of the delegates in the South Carolina primary – and he has a chance to take them all.
Trump will win at least 38 of the 50 delegates at stake.
South Carolina Republicans award delegates for being the statewide winner as well as for winning individual congressional districts.
More votes are needed in individual congressional districts to award the final 12 delegates.
Trump leads the overall race for delegates with 55. Ted Cruz has 11 delegates, Marco Rubio has 10, John Kasich has five, Jeb Bush has 4 and Ben Carson has three.
It takes 1,237 delegates to win the Republican nomination for president.
7:45 p.m.
Donald Trump's supporters erupted into cheers as they learned their candidate had won South Carolina's GOP primary.
Supporters gave each other high-fives and held Trump signs high above their heads as they celebrated. Some chanted "USA! USA!"
Hundreds of people are gathered in a ballroom at the Spartanburg Marriott for Trump's watch party, where they're snacking on cubed cheese and cruditi, and sipping beers from plastic cups.
Trump is expected to deliver a victory speech later tonight.
Local journalism is essential.
Give directly to The Spokesman-Review's Northwest Passages community forums series -- which helps to offset the costs of several reporter and editor positions at the newspaper -- by using the easy options below. Gifts processed in this system are not tax deductible, but are predominately used to help meet the local financial requirements needed to receive national matching-grant funds.
Subscribe to the Coronavirus newsletter
Get the day's latest Coronavirus news delivered to your inbox by subscribing to our newsletter.
---