Sports > High school sports
Trojans have blended the Bible with wrestling
Wed., Feb. 24, 2016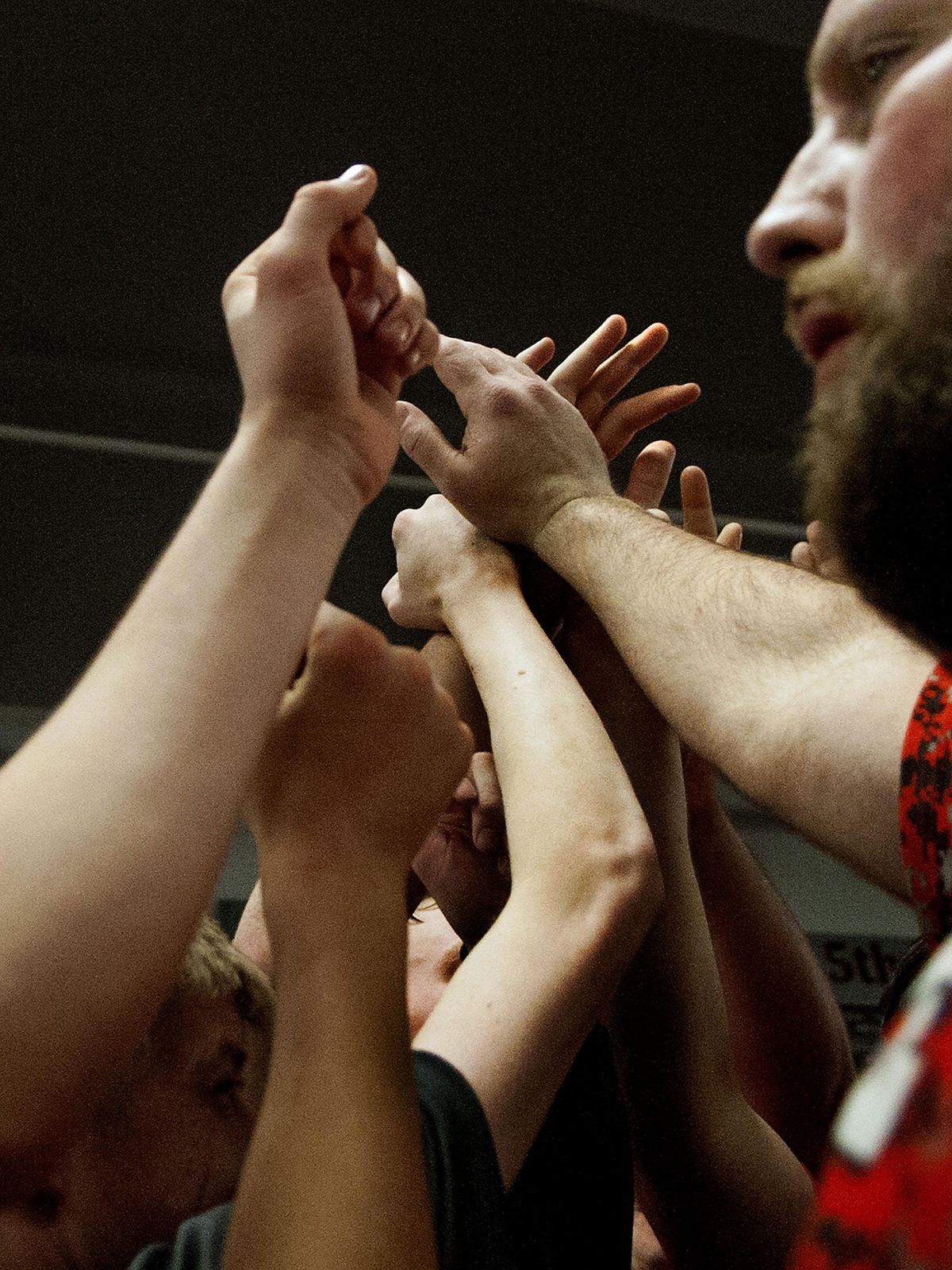 Post Falls wrestling coach Pete Reardon ends practice with a show of solidarity on Monday, Feb. 22, 2016. The team will compete in the state tournament in Pocatello this weekend. (Kathy Plonka / The Spokesman-Review)Buy a print of this photo
Matt McLeod opened his Bible, leaned down where he had it lying on the wrestling mat and read from the Book of John.
After reading a few scriptures, McLeod and a handful of his Post Falls teammates discussed it.
Since midseason, six to eight Trojans have gathered for 20 to 30 minutes after practice for a Bible study. As many as half the 18 qualifiers for the State 5A tournament stay after as their schedules allow it.
In early December, McLeod, a sophomore, sensed that wrestling had become more important than his faith. Previous Post Falls teams, including last year, had started Bible studies but more often they petered out.
So McLeod talked to another sophomore, Jordan Grimm. They attend Real Life Ministries church in Post Falls, and their small-group leader had encouraged them to start a Bible study.
"When we started out I didn't expect many to come at all," McLeod said. "Even if it was just me sitting there reading my Bible, I was willing to do it."
The Trojans' two defending state champions, seniors Alius De La Rosa and TJ Wolf, both began attending. And, one by one, others joined.
"A lot of it depends on peoples' schedules," McLeod said.
"We have a strong Christian-based team," Wolf said. "A lot of the stuff we do in the (practice) room isn't for ourselves, it's for glorifying God. It's a huge part of our success."
The ones who attend read a portion of scripture each night, preparing for the next day's study. Either McLeod or Grimm lead the discussion.
"We discuss what we've read and talk about any questions we might have," McLeod said.
"We were feeling that we were putting wrestling before God," Grimm said of one of the reasons for re-aligning their priorities. "We realize that God is way more important than wrestling."
And a funny thing has happened.
"It's really helped my wrestling," Grimm said.
Freshman Ridge Lovett has been challenged and friendships have deepened through the study.
"Everything we have is from God – my wrestling ability and my wrestling team," Lovett said. "We want to give glory to Him. This has brought the team closer together."
It was an athlete-initiated venture.
"One hundred percent of the credit goes to them for setting it up," De La Rosa said. "I was part of trying to get it going in the past. But we've realized this year that God is a big part of our team."
"It's just something they feel is important to their lives," said coach Pete Reardon, whose family attends Real Life along with other assistants and wrestlers.
Grimm and McLeod defer to Wolf and De La Rosa to lead team prayers before duals or tournaments.
The Trojans head to Pocatello for state, which unfolds Friday and Saturday at Idaho State University. Post Falls will be out to defend its state championship.
Of the Trojans' 18 qualifiers, four are No. 1 seeds – De La Rosa, Wolf, McLeod and Lovett – and two, Grimm and Brayden Huber, are No. 2 seeds.
Many thought Post Falls might drop off after a season full of firsts last year. Not only did the Trojans capture their first state title, they also won their first Tri-State and Rollie Lane titles.
And after graduating seven – six of whom were state placers including two state champs – Post Falls didn't start the season ranked No. 1.
It was a team that had to create a new identity.
It happened in a hurry. The Trojans repeated at Tri-State and Rollie Lane, and when the calendar turned to 2016 they were right back at the top where they ended the previous year.
De La Rosa joined three other past Trojans as a three-time state champ last year. He'll be out this weekend to become the school's first four-time champ.
"After I won as a freshman, I made it my goal to be a four-time champ," De La Rosa said.
It won't be easy. He has split with the second seed.
Reardon's money is on De La Rosa, who has a 168-15 career record and the second-most wins in school history.
"I wouldn't want any other kid in that spot," Reardon said. "He's a gamer, a big-match wrestler."
If De La Rosa completes his goal, he doesn't think it'll be long before another four timer comes along. In fact, the next one could already be on the team.
Lovett is 36-0. He won 10 national titles in youth tournaments before reaching high school.
"Even as a freshman he's one of the best technical wrestlers on the team," De La Rosa said.
The Trojans believe they can repeat. And they don't need divine intervention to do so.
"We knew we had a good core coming back but it wasn't as seasoned as last year's team," Reardon said. "This crew has come of age during the season."
Local journalism is essential.
Give directly to The Spokesman-Review's Northwest Passages community forums series -- which helps to offset the costs of several reporter and editor positions at the newspaper -- by using the easy options below. Gifts processed in this system are not tax deductible, but are predominately used to help meet the local financial requirements needed to receive national matching-grant funds.
Subscribe to the sports newsletter
Get the day's top sports headlines and breaking news delivered to your inbox by subscribing here.
---