A&E > Entertainment
Audience gets musical connection with March sisters
Thu., Feb. 25, 2016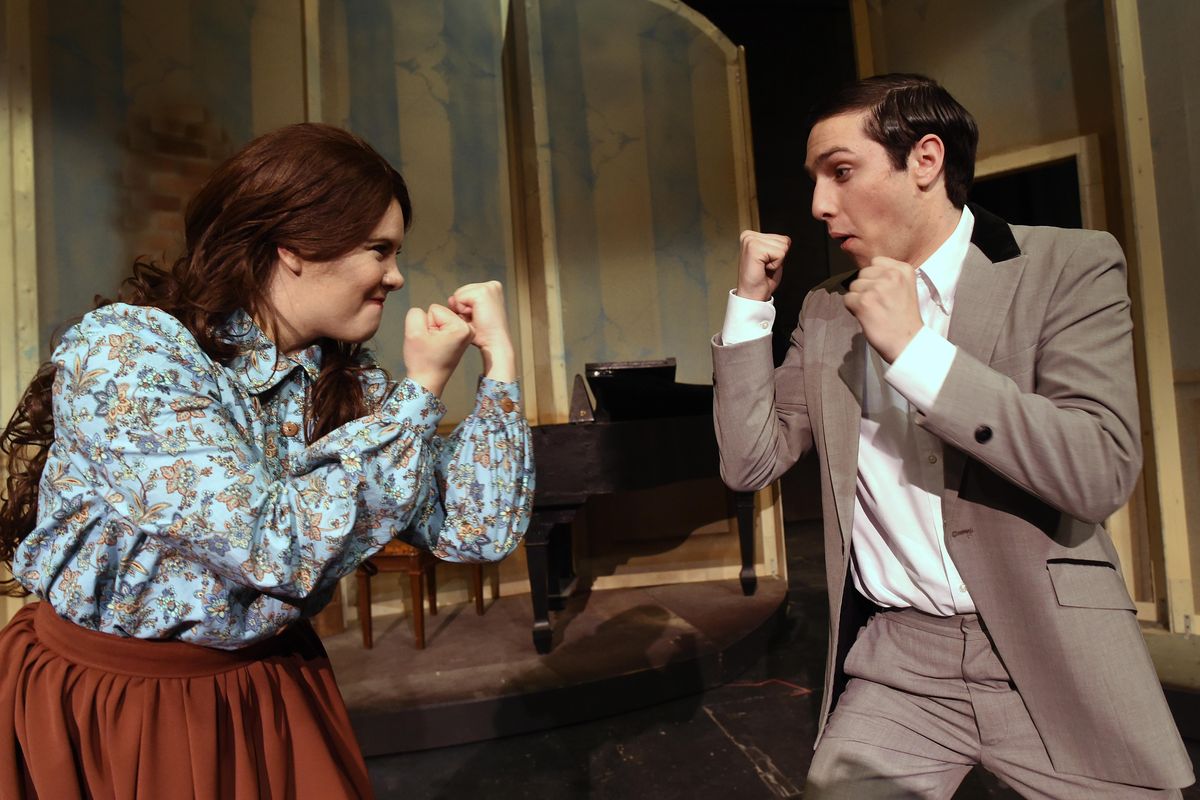 Emily Cleveland, on left, playing "Jo" and Jonah Taylor playing "Laurie" perform a scene from Spokane Civic Theatre's production of "Little Women: The Broadway Musical" (Colin Mulvany / The Spokesman-Review)
Louisa May Alcott's "Little Women" was originally published in two volumes in the late 1860s, and not only was it an instant commercial success, but it represented a sea change in how female characters were portrayed in literature. The four March sisters – Meg, Jo, Beth and Amy – at the center of the novel are strong-willed and complex, flesh-and-blood individuals who refuse to be defined by the men in their lives.
The musical adaptation of Alcott's best-known work, which opened on Broadway in 2005, opens at Spokane Civic Theatre this weekend under the direction of Kathie Doyle-Lipe. She has previously directed and choreographed some elaborate musicals for the Civic, including "Thoroughly Modern Millie," "Crazy for You" and "Oklahoma," but "Little Women" is a more intimate affair.
"It's a rather small musical," Doyle-Lipe said. "I thought it'd be more fun to keep it small, because I usually do the giant musicals. … When you have a smaller group, they bond with each other. They've become really tight. It's been really lovely to watch, and it makes the performances on stage that much more interesting."
"Little Women: The Musical" is told primarily in flashback, as an adult Jo (Emily Cleveland) looks back on her adolescence in Civil War-era Massachusetts. We first see the March sisters as children, bursting with energy and imagination. A couple of the girls have creative aspirations – Jo dreams of becoming a celebrated writer, and Amy (Kelsi Blaser), the youngest, has an eye for art – while Meg (Julia Keefe) and Beth (Lacey Olson-Bohnet) plan to settle into comfortable, traditional domestic lives. As the story unfolds, the girls grow older, and we watch as they experience love and heartbreak and as they come to terms with their own futures.
The March sisters' impact on literature has been noted by many cultural and literary critics, and perhaps the most radical aspect of Alcott's original novel is how each of the so-called "little women" are given strongly defined personalities. Amy, for instance, is often portrayed as vain and self-centered; Jo yearns for independence while Meg is perfectly content with domesticity.
"They each are very distinct," Doyle-Lipe said. "I bet almost every woman can relate to one of them. We've all said that – 'I'm such a Beth' or 'I'm such a Jo.' … (Alcott) was ahead of her time. She really grabbed people. I'm sure women had been feeling this for years but nobody was going to voice it, and she was a real pioneer."
Alcott's story might be familiar to contemporary audiences, but the songs likely won't be. Doyle-Lipe compares the musical score, written by Jason Howland and Mindi Dickstein, to the complicated, lyric-heavy work of Stephen Sondheim.
"We're really trying to do our best to enunciate well, to make people follow along with songs they've never heard," she said. "There are some upbeat, fun numbers. There are a couple beautiful dramatic numbers. … There's a modern feel to the music. It's an old story with a real modern score."
But regardless of the audience's lack of familiarity with the show's music, Doyle-Lipe thinks they'll still connect with the emotional beats of Alcott's timeless yarn.
"I think it's about the love of family, the support of friends and family, having hope and strength in hard times," Doyle-Lipe said, "and the spirit of Jo, who's wanting to go and break all the rules for a woman of her time and explore the world. To heck with what society thinks. … I can't imagine most young ladies coming to see this and not walking away with something they just love. We'll have them rolling in the aisles the first act and weeping the second."
Local journalism is essential.
Give directly to The Spokesman-Review's Northwest Passages community forums series -- which helps to offset the costs of several reporter and editor positions at the newspaper -- by using the easy options below. Gifts processed in this system are not tax deductible, but are predominately used to help meet the local financial requirements needed to receive national matching-grant funds.
Subscribe to the Spokane7 email newsletter
Get the day's top entertainment headlines delivered to your inbox every morning.
---