Sports
Whitworth handles Puget Sound, will face PLU for NWC title
Thu., Feb. 25, 2016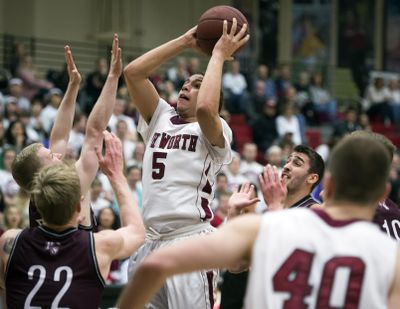 Puget Sound made it a game early, but the Loggers couldn't chop down Whitworth center Drew Sears Thursday night as he led the No. 3 Pirates to a 75-58 win.
With the win, the Pirates advance to the Northwest Conference tournament final on Saturday to play Pacific Lutheran, which upset No. 9 Whitman 82-68 in Walla Walla.
But in the semi-final at Whitworth, the Loggers didn't have an answer for 6-foot-10 Sears, who led all scorers with 16 points. He never missed a shot, grabbed six rebounds, made four blocks and he had one monster dunk on the night.
"Drew Sears did a good job anchoring us on both sides the court," coach Matt Logie said. "I think we emphasized a little more to look for the big fella. UPS doesn't have a lot of size."
But the Loggers have shooters. They pushed Whitworth (25-1) to the brink on Feb. 19 before George Valle scored at the final buzzer to escape at with a 67-65 win at Puget Sound.
However on Saturday, the Whitworth defense held the Loggers (13-13) in check.
"I thought we played tremendous defense," Logie said. "Anytime you can hold a team that dangerous to 32 percent shooting, you are doing something right."
The teams traded blows to start the game. But it quickly turned into the Sears show. Playing against a lineup with no players taller than 6-4, Sears secured the opening tip and scored Whitworth's first four points.
"They kept feeding me the ball," Sears said. "And I put it in."
But Puget Sound's Andre Lewis hit an early 3-pointer to keep the Loggers close as the teams traded the lead twice.
Then at the 11:33 mark of the first half, Sears again hit a turn-around that started Whitworth on a 9-0 run which included George Valle converting two-consecutive 3-point plays.
"That 9-0 run allowed us to settle in," Valle said, "and expand the lead from there."
Kyle Roach ended the first half by hitting a layup with three seconds on the clock lead Whitworth to a 40-26 halftime lead.
"He's been really efficient," Logie said of Roach, who finished with nine points and five rebounds. "He did a nice job of finishing around the rim."
The Loggers were able to cut into Whitworth's lead in the second half and got within 11 points with about five-and-a-half minutes to play. But Sears scored a layup after a Matt Staudacher miss and Puget Sound never again threatened.
Christian Jurlina scored 13 points and grabbed nine rebounds. Valle had 10 points and also nine rebounds and six assists. Staudacher scored 11 points, Kenny Love had 12 and both had five boards, giving the Pirates five players in double figures.
Carlos Mancansola led the Loggers with 11 points and Kohl Meyer had 10, but Puget Sound had no other players score in double figures.
For Whitworth, Logie singled out the play of Staudacher, who made several key baskets down the stretch.
"We've been encouraging him to be more aggressive," Logie said of the senior guard. "He does such a good job of setting the table that sometimes he forgets to eat, too."
Valle, who was voted this week the conference player of the year, was all smiles at center court after his 10 points put him at seventh all-time on the Whitworth scoring list with 1,404.
"We'll enjoy it until we get back in the locker room," Valle said. "Then we have to turn the page and start getting ready for Saturday."
Local journalism is essential.
Give directly to The Spokesman-Review's Northwest Passages community forums series -- which helps to offset the costs of several reporter and editor positions at the newspaper -- by using the easy options below. Gifts processed in this system are not tax deductible, but are predominately used to help meet the local financial requirements needed to receive national matching-grant funds.
Subscribe to the sports newsletter
Get the day's top sports headlines and breaking news delivered to your inbox by subscribing here.
---
Subscribe and log in to the Spokesman-Review to read and comment on this story