News > Education
Broad collaboration in northeast Spokane looking to become a Promise Zone
Fri., Feb. 26, 2016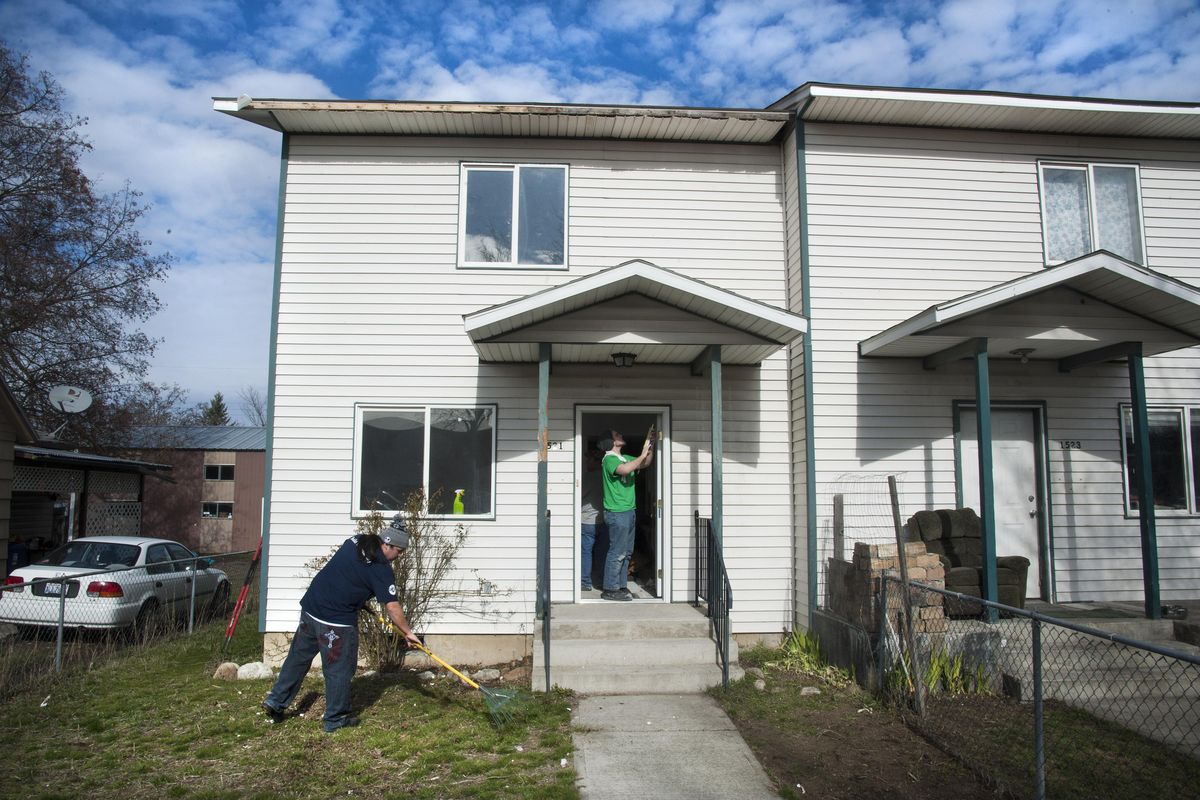 Josh Track rakes the yard as Malaki Ramey caulks the door jambs while working for YouthBuild on the Habitat for Humanity house on East Mallon. (Dan Pelle / The Spokesman-Review)
On a sunny Wednesday morning, Malaki Ramey is on his knees, patching holes in a once-empty home.
The 18-year-old high school dropout recently earned his GED and is now helping to remodel a northeast Spokane home. He's well-spoken and upbeat, which contrasts sharply with the story he tells. Just a year ago, Ramey said, he was deeply depressed and attempted suicide twice.
"I'm not very school savvy. I never have been," he said. "When high school started it got sort of crazy, and my life went down into really dark places."
Ramey is a member of YouthBuild, a program that helps people between the ages of 18 and 24 study for their GEDs and learn practical job skills. The house, owned by Habitat for Humanity, provides real-world job training for participants.
Along with Project Restoration and others, the collaboration in northeast Spokane, called the Zone Project, is attempting to tackle poverty from a number of angles. If Andre Wicks, director of The Zone Project, gets his way, these efforts will only increase.
On Monday, Wicks applied for a competitive federal Housing and Urban Development program called Promise Zone that isn't tied directly to any money but would open the door to a number of federal opportunities.
Selected areas get priority on federal grants, which are awarded based on a point system. Any organization serving residents within the zone would receive 10 points automatically on their grant application, Wicks said. Often a single point decides who receives a grant.
The designation, which lasts 10 years, also provides a federal liaison to help with applications for grants and other types of federal assistance and the possibility of five AmeriCorps positions.
Wicks hopes to hear back by June on his application. There are 13 Promise Zones already in the United States.
The Zone Project's effort has wide support, including from Spokane Mayor David Condon and 36 organizations that have signed memorandums supporting the application. The Spokane City Council voted unanimously Monday to support the application.
"The key to all this is sustaining the momentum, whether or not we become a designated Promise Zone," Councilwoman Amber Waldref said.
If Spokane is not selected, the Zone Project will remain, Wicks said. The federal designation would act as an "accelerant" for the programs already in place.
According to news reports from San Antonio, which has a Promise Zone-designated neighborhood, the program brought more than $24 million in grant funding in 2014. How much money areas bring in is largely dependent on how aggressively they pursue grants, Wicks said.
A key component of the application is community support, and to show that, Wicks created the Zone Project. The overall goal is to improve educational opportunities for students by addressing poverty.
At Regal Elementary in the Promise Zone area, for instance, about 90 percent of students are eligible for free or reduced-price lunch, Principal Tricia Kannberg said. The school also has a 35 percent mobility rate, which means 35 of every 100 kids enrolled in any given year will leave mid-year. Many of the problems Regal students deal with aren't strictly educational in nature, Kannberg said.
That's why a GED pilot program is being run out of Regal Elementary. The program allows parents of students at Regal to study for and take their GED test at the school with tutoring from Spokane Community Colleges staff.
Programs like this would benefit from the federal designation, Wicks said.
"It can get to the pieces the school can't get to," Kannberg said. "It makes it so we can focus on education."
Spokane City Councilman Mike Fagan, who represents northeast Spokane, said he has never seen an effort as comprehensive as the Promise Zone or the associated Zone Project.
"This is going to be the best shot that I have seen, up to this point, at a bona fide group effort," he said.
Fagan also believes the number of involved parties will keep federal grant money from being abused by one or two administering organizations.
The Promise Zone program doesn't provide federal oversight, Wicks said. Instead, applicants must show they are able to oversee and hold programs accountable. In Spokane's case, the city would be the lead entity responsible for oversight.
Meanwhile, Ramey, the 18-year-old in YouthBuild, continues to fill holes in the empty home. The YouthBuild program, regardless of funding or designations, has made a difference in his life.
"I started the program in October of last year and my life has been turned around … . If it wasn't for this program I wouldn't have another chance at having another job or career," he said.
Local journalism is essential.
Give directly to The Spokesman-Review's Northwest Passages community forums series -- which helps to offset the costs of several reporter and editor positions at the newspaper -- by using the easy options below. Gifts processed in this system are not tax deductible, but are predominately used to help meet the local financial requirements needed to receive national matching-grant funds.
Subscribe now to get breaking news alerts in your email inbox
Get breaking news delivered to your inbox as it happens.
---