Sports
George Diaz: Martin Truex Jr. earns respect as loyal, gracious adversary
Sat., Feb. 27, 2016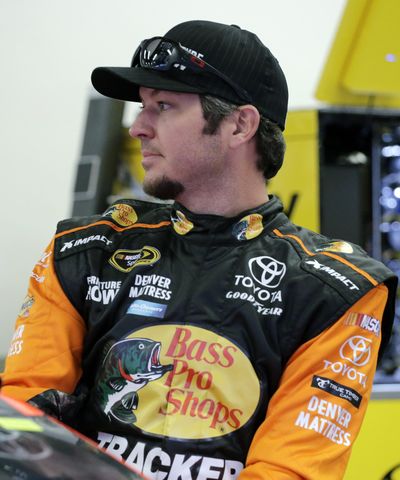 Dale Earnhardt Jr. is NASCAR's beloved Favorite Son. Clint Bowyer is NASCAR's funny class cutup. Jimmie Johnson is NASCAR's quintessential smooth and silky winner.
Martin Truex Jr.?
He reminds me of the character in Bob Seger's soulful melody, "Beautiful Loser." That's meant in a respectful way. Cue song:
"He's your oldest and your best friend
"If you need him, he'll be there again."
Some may say that Truex Jr. lost the Daytona 500 to Denny Hamlin on Sunday afternoon. It was a tough way to go, by 0.010 seconds, the closest margin in Daytona 500 history. Four inches, in simpler terms.
The truth is that Truex Jr. did everything he could to squeeze out that victory, but in the quirky world of NASCAR's restrictor-plates aerodynamics, he was denied.
There is no shame in that.
"I did all I could," he said. "I thought I had it. Just that last couple feet before the line, Denny just crept out on me."
But there are much deeper storylines here. It connects the dots to the "best friend" comparison. Truex Jr., who competes for Furniture Row Racing, is in the first year of a Toyota-driven alliance with Joe Gibbs Racing. They share stuff. Technical information, things that benefit Truex Jr.'s one-man show with Furniture Row.
But racers are always skeptical about sharing proprietary information. And most important, they're leery of how that will play out in the competitive grind of 36 races. Truex Jr. showed both grit and loyalty, going for the win without doing anything crazy and wrecking the convoy of Toyotas up front.
It is appreciated.
"We were trying to solidify our relationship with Truex and 1/8crew chief 3/8 Cole Pearn and I think it was a great example of solidifying that relationship," Hamlin said. "As drivers we're scared to invite someone else new into our information and things like that. I think they did a really good job of playing teammates at the right time. And hopefully that's a relationship we can build on for the rest of the year."
Relationships also play into the larger context of this story. Long-time girlfriend Sherry Pollex recently announced she was cancer free following her last chemotherapy treatment for ovarian cancer.
Without question, that's been the toughest ride over the last few years. It also provided perspective while Truex Jr. emerged as a Final Four participant in the Chase format last season. He's learned his lessons well from his companion and best friend.
There is always a bigger picture.
"Two years ago I would have been sitting here with a sourpuss on my face," Truex Jr. said in Sunday's post-race presser. "Today was a great day. We all want to win. This is competition. I'd be lying if I said I didn't want to win.
"But I realize the position I'm in, the opportunities I'm going to have this year. I'm going to have a lot more opportunities to win races. . Sometimes things go your way, sometimes they don't. But I'm proud of what we did Sunday."
Expect to see Martin Truex Jr. celebrating a victory or two this season. Guess you can call those beautiful as well.
Local journalism is essential.
Give directly to The Spokesman-Review's Northwest Passages community forums series -- which helps to offset the costs of several reporter and editor positions at the newspaper -- by using the easy options below. Gifts processed in this system are not tax deductible, but are predominately used to help meet the local financial requirements needed to receive national matching-grant funds.
Subscribe to the sports newsletter
Get the day's top sports headlines and breaking news delivered to your inbox by subscribing here.
---
Subscribe and log in to the Spokesman-Review to read and comment on this story