Sports
Pac-12 roundup: Red-hot Utes sink Arizona
Sat., Feb. 27, 2016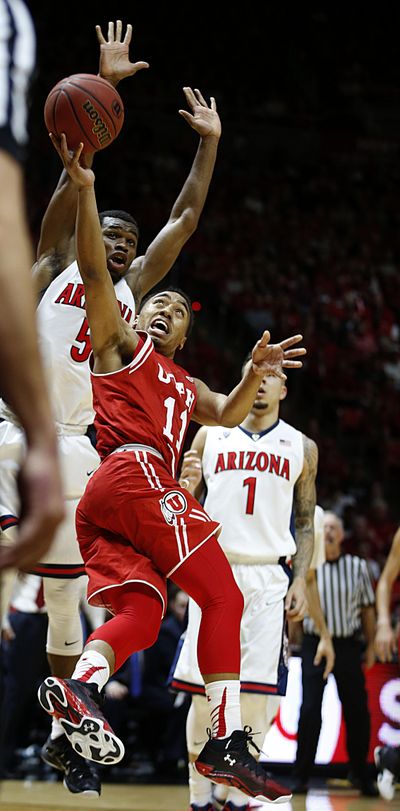 Brandon Taylor was down and out. Utah's point guard had lost his confidence midway through the Pac-12 season.
Taylor, a senior who been a key player in Utah's resurgence over the past few years, feels like himself again and his timing couldn't be better.
Taylor scored 19 points, including an ankle-breaking move to free himself for a game-clinching 3-pointer with 41 seconds to play, and No. 22 Utah edged No. 9 Arizona 70-64 on Saturday in Salt Lake City to move into a first-place tie with Oregon in the Pac-12.
After his midcourt foul helped Oregon State upset Utah and his two missed free throws opened the door for a Stanford win, Taylor was in a dark place.
"My confidence was shot. I wasn't believing in myself at that point," Taylor said.
After some talks with his family and coach Larry Krystkowiak and his staff, Taylor decided to go back to work and make the most of his final season.
"They told me that the team needs me. I understood that and I have taken that to heart," the 5-foot-10 guard said.
Ryan Anderson made two free throws with 2:51 to play to give Arizona its last lead at 64-63. The Wildcats didn't score again.
Taylor, who went 4 for 5 from beyond the arc, had five steals and a couple of hustle plays in the closing minutes to help the Utes retain possession and break a 12-game losing streak against Arizona.
"Those couple plays earlier in the season might have finished another player off if they don't have the kind of character and caliber of person that Brandon is," Krystkowiak said. "If there's one guy on our team I wouldn't bet against, it'd be Brandon."
The last time the Utes beat the Wildcats, 76-51 in 1998, was in the West Regional final on their way to the NCAA Championship game.
Jakob Poeltl had 14 points, 10 rebounds and three blocks, while Lorenzo Bonam scored 11 points and Jordan Loveridge added 10 for the Utes, who won their sixth straight game.
Allonzo Trier scored 23 points and Anderson had 11 for the Wildcats, who have lost two after winning six straight.
Taylor gave Utah a 45-34 lead on a steal and layup early in the second half, but the Wildcats responded with a 12-0 run, including a dunk, block and hook by Kaleb Tarcewski. Gabe York's basket with 14:25 left gave the Wildcats their first lead, 46-45, since early in the first half.
"Coming out into the second half, we were much more assertive and aggressive," Arizona coach Sean Miller said. "We were a better team in the second half, no doubt."
The Wildcats forced four turnovers in the first 4 minutes of the second half to get back into it but they couldn't make the plays in the final minutes to stay at the top of the conference race.
"It was such a tough game for 40 minutes. It was scrappy. It was physical but we really did a good job playing together and playing defense at the end," Poeltl said.
Utah opened a 40-29 halftime lead on the strength of 60 percent shooting and a 28-14 advantage in points in the paint.
Utah started in a zone and mixed up its defenses to keep the Wildcats off-balance. Bonam got to the basket early and often, but in the second half Arizona was making plays in the paint.
Miller made news during the week as he complained about the court-storming that occurs nearly every time they lose on the road.
Utah's public address announcer said both coaches didn't want any fans on the court after this one so the fans stayed in their seats and screamed long after the final buzzer.
"That's as good as an atmosphere as we've had since I've been here. This place was rocking," Krystkowiak said.
Utah has won 11 of 13 to move into a first-place tie with Oregon, which still has three games remaining. Utah's regular season finale is home against Colorado.
Stanford 79, UCLA 70: Michael Humphrey scored 24 points, Rosco Allen added 19, including a clutch 3-pointer, and the Cardinal beat the Bruins in Stanford, California.
Dorian Pickens, who also hit a key 3-pointer, added 16 points for Stanford (15-12, 8-8), which ended a four-game losing streak to the Bruins.
Bryce Alford scored 20 points and Isaac Hamilton added 19 points for UCLA (15-14, 6-10), which has lost five of seven. Thomas Welsh added 11 points.
Pickens and Allen hit consecutive 3-pointers with the shot clock winding down, giving Stanford a 78-64 lead into the final minute of play.
Humphrey hit a jumper with 14:01 remaining to play in the contest to put the Cardinal ahead, 49-41. The Bruins never let it get any further than that.
Alford hit a 3-pointer from the corner to bring UCLA within 64-62 with just over six minutes left.
Local journalism is essential.
Give directly to The Spokesman-Review's Northwest Passages community forums series -- which helps to offset the costs of several reporter and editor positions at the newspaper -- by using the easy options below. Gifts processed in this system are not tax deductible, but are predominately used to help meet the local financial requirements needed to receive national matching-grant funds.
Subscribe to the sports newsletter
Get the day's top sports headlines and breaking news delivered to your inbox by subscribing here.
---
Subscribe and log in to the Spokesman-Review to read and comment on this story