News > Marijuana
Jon Snyder: Departing city councilman hopes to return to Spokane someday
Sun., Jan. 3, 2016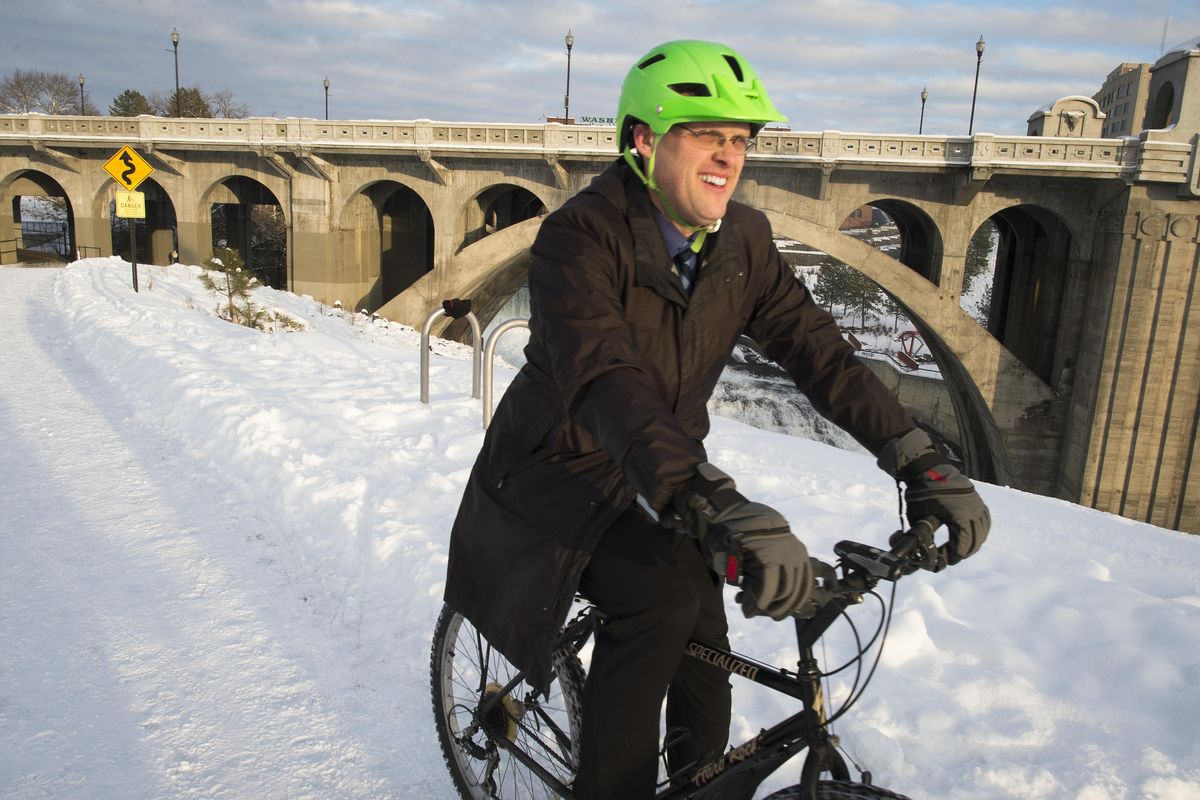 Jon Snyder is leaving the Spokane City Council to become a policy adviser for Gov. Jay Inslee. (Colin Mulvany / The Spokesman-Review)
When there's a black bike strapped to a No Parking sign behind Spokane City Hall, you know City Councilman Jon Snyder is in the building.
Come Jan. 11, that sign of Snyder will be no more, and he'll be tying his bike somewhere in Olympia.
After six years on the council – and halfway through his second term – Snyder is moving to state government, where he'll be the outdoor recreation policy adviser for Gov. Jay Inslee. The job, Snyder says, is perfect for him. Before he was making policy on the City Council, he ran Out There Monthly, the outdoor recreation magazine he founded in 2004.
Though he sold the publication in 2013, he's known as the outdoorsy council member who praises Spokane's environment as one of its main selling points.
On the council, Snyder has focused on a number of issues at City Hall, but is best known for his work to improve the city's transportation facilities, notably for pedestrians, bicyclists and people with disabilities. He is also a vocal advocate for expansion of transit.
Snyder said he's also very proud of his "human rights" work, which includes his votes in favor of supporting marriage equality, non-biased policing and updating the city's municipal code on discrimination to include transgender people.
We sat down with Snyder and talked about the supermajority on the council, recreational marijuana and why Spokane is like a car, a relationship and paradise.
The Spokesman-Review: Is the city moving in a right direction?
Jon Snyder: There are always going to be challenges. Cities are just like relationships. They never get to a perfect spot. They need continuous work and attention. I think we're in a better spot for some things the council has done. The council has been fiscally responsible. We've not done what a lot of cites have, which is to balance their budgets on the back of deferred maintenance and pushing off costs into the future. We went straight to the public and said, "Your roads and sewers need this work. Your park needs this work. Will you help us fund it?" We've done that, successfully.
Where has the city absolutely failed in the last six years?
We could do better with our transportation system. As a council, we voted to keep bus service going to Medical Lake, Liberty Lake and other places, and cut lines in our city in order to keep the system whole during the downturn. We haven't repaired that yet. That's a failure. The other great unfinished business is with the police department, but I don't want people to lose sight of the tremendous gains we've made just because there are troubles.
What was your favorite vote to cast?
Complete Streets. Ordinance C34821, which is my gamer tag on Xbox One. I thought I was going to come in and get that passed in a couple of months. Instead, it took a couple of years. There was some resistance, but it passed the year before the conservatives solidified their majority on council. It could have easily been reversed that year, but nobody did. The community support was large enough to prevent that.
It's been four or five years. Where has it worked?
High Drive. I thought we had to fight to get these included in projects, but I give credit to the mayor and Jan Quintrall. One of the best things I ever saw Jan do was talk to the High Drive folks at the new Jefferson Elementary. We disagreed on some things, but she did an awesome job at that meeting, receiving people's concerns but being forceful that it was going to be a Complete Streets project.
So your reputation as a bike-riding liberal is fair?
Guilty as charged. But I also consider myself a fiscal conservative. I also love stock car racing. One of my favorite things to do is ride my bike to Stateline, Idaho, and watch some races. I grew up in Spokane as kind of a metalhead kid, because that's what you did in 1981 or 1982 in this town. I feel like I reflect the values of my city. The test for me is, how do I represent the folks who are completely opposite from me? I feel like I've worked hard to do that. Some people think politicians are just agents of their own whims. Most of the politicians I've served with feel like they're trying to be a vessel for their constituents. You have to figure the best way forward given opposing views. And that's a hard thing to do, but it can be immensely rewarding.
Favorite bike route in town?
My favorite route used to be going out East Sprague (where Out There's offices were located), which has no facilities whatsoever. It is totally not bike-friendly at all, but I just love that route. I love all the small businesses on that route. I love Sonnenberg's. I love Vien Dong. I love the post office out there. I used to love the Flying Pig and now there's Bennidito's. I have such great memories on that route.
How do you describe the relationship between David Condon and Ben Stuckart?
They have the capacity for great collaboration and for great tension. I don't think that's a bad thing. Ben has pushed the council president position in a really good way. He's put a lot of time and effort into it. And the mayor has pushed the mayoral position. Not always in ways I like, but he's a mayor that has a bias for action. So does Ben. That's good for the city. Cities are like cars. They need a tuneup every now and again. If you do nothing, it's going to break down. People focus a lot on the conflict but they should focus more on what they've done together, especially parks and streets.
Your replacement will likely maintain the council's 6-1 majority, where Mike Fagan's on a lonely island …
I don't expect him to be over there on a little island, voting no on everything. In some ways, he becomes the most valuable council member. The only way to be bipartisan is to make sure Mike votes for it. The 6-1 split, there's a little too much made of it.
Is it a good thing for the council to have a supermajority able to withstand any veto from the mayor? Former Councilman Mike Allen argues that no party should have a supermajority.
Was it not Mike Allen that brought forward the supermajority charter change (requiring five votes to increase taxes)? What's he saying? Is it a good thing or bad thing, Mike? I reject that whole paradigm. I have a three-page spreadsheet of all the issues I've been working on the past year. I challenge you or Mike Allen or anyone to go through that list and tell me what the vote breakdown would be on every one of those items. People don't know. All the council members are individuals. All of them have different loyalties and alliances.
Council is a nonpartisan body but the parties clearly have influence at City Hall.
That's another one that Mike really hammers on. Here's the reality, and Mike should know this: He got endorsed by the Republicans and lost. He got endorsed by the Republicans and won. Every district is a swing district in the city. All it takes is the right person, who's a good person with a good campaign, and you can win.
Do political parties have a place at City Hall?
It doesn't matter to me who gets involved. Parties are based on values and they are going to look for any way they can to expand those values. This idea that local parties are monolithic and act as kingmakers in local elections is about the dumbest thing I ever heard. It's an insult to people who work on campaigns – volunteers, candidates, supporters – to think that all their efforts didn't make any difference because all it took was a party endorsement to win the seat.
Earlier this year, voters turned down Spokane Transit Authority's Moving Forward Plan.
Voters in Spokane County did. The voters of the city of Spokane did not.
Do you think the plan should be implemented only in the city?
As a last resort. I'd like to see us do it countywide. I love our neighboring cities, whether it's Spokane Valley, Cheney or Medical Lake. Those are all excellent cities that help make our region great. United, we are a better region.
I was going to ask how you would fund it only in the city, but it sounds like you'd prefer to go back to the ballot.
I'd rather try it again countywide. If we have to, there's a point that the city of Spokane can't sacrifice its own needs in order to keep going with the county's vision. I think we'll come to that point very quickly.
You ran the city committee looking into recreational marijuana. What's left to be done?
The conversion of all medical marijuana facilities to recreation in about six months is going to be critical. I don't want to see us having a lot of quasi-legal or possibly illegal medical marijuana facilities out there.
How has legalization affected Spokane?
The effect is a lot less than what I expected. It seems like such a huge paradigm change, but for the average person in Spokane, if you weren't really looking for it you might not notice it. We have a problem with some people smoking in public when they shouldn't. It's not clear if we have an issue with juvenile or youth usage, but it's something we have to track very closely. And it's pretty clear that we have an issue with people driving while impaired on marijuana.
Is there a personnel crisis at City Hall?
Look at similar organizations that have 2,000-plus employees. When you get that number of employees, you're going to have turnover, you're going to have situations, you're going to have reasons for human resources to get involved. But I worry that our (nonunionized but appointed) exempt position strategy is not really fleshed out. I want to make sure that Spokane has a good reputation with professional employees. I want us to get the best and the brightest. If there's a perception that it's a tumultuous environment, then we're not going to get the candidates we want.
One of those positions is police chief. People worry now that we can't get the best because of how tumultuous the department has been in recent years.
I don't think that's true, but I can see why people say that. Somebody said to me, "I haven't met somebody who wanted to be a police chief who wasn't a type-A personality looking for a challenge." Anybody who applies for this police chief job will have a challenge, but they'll also have the guts of a really great department.
But there are issues there. The ombudsman commission was purged earlier this year. The police chief was forced out. Police officers have been criminally charged in connection with an alleged rape of a fellow officer.
That's why we're doing an investigation. I won't comment on it too much because I promised Councilwoman (Karen) Stratton that if I was asked about the investigation, I wouldn't discuss it. But we have to look into it.
Is there something within the department's culture that needs to be fixed?
That's an interesting discussion. Culture audits are not uncommon. But culture audits of police departments are extremely rare. I am still trying to find one that's been done in the United States. People keep telling me Seattle did one. They did some surveying. They didn't do what I would consider a culture audit. There are two really interesting examples in England. They mixed an analysis with in-depth survey of people within the department about their attitudes on certain subjects. A portrait starts to be very distinct. That could be very useful.
Is there a favorite council member you've worked with?
Well, I won't play favorites, but I will mention Richard Rush just because he was the one who recruited me to run. He first saw that I might have the makings of a council member.
Who has the brightest political future?
I think Ben (Stuckart) can go just about as far as he wants to go. He has a good mind for how public policy impacts folks. It's hard to say because so much about politics is luck and timing.
Where do you see yourself in five, 10 years?
Policy advising positions are not something you retire in. People lose elections. Policy changes. I don't know how inherently stable it is. We'll see. But I would definitely entertain another opportunity to serve the people as an elected official. I really love doing it.
Do you expect to move back to Spokane?
Yes. In some ways, Spokane is like paradise. It has the best of a large city and a small city all together. We are doing a lot of really cool things right now. We've got a lot of outdoor recreation. We're getting our infrastructure together. Economic development issues are starting to work. Buy property here right now. It's the time to buy real estate.
You're a salesman now?
I am a shameless recruiter for our city. I will tell anybody that will listen what a great place it is to be. I will miss the physical beauty of the city. The river gorge. The hills. The topography. The four seasons. But most of all I'll miss friends. Everyone I've met.
Local journalism is essential.
Give directly to The Spokesman-Review's Northwest Passages community forums series -- which helps to offset the costs of several reporter and editor positions at the newspaper -- by using the easy options below. Gifts processed in this system are not tax deductible, but are predominately used to help meet the local financial requirements needed to receive national matching-grant funds.
Subscribe now to get breaking news alerts in your email inbox
Get breaking news delivered to your inbox as it happens.
---