News > Spokane
Spokane region adds nearly 9,000 jobs in the last two years
Sun., Jan. 3, 2016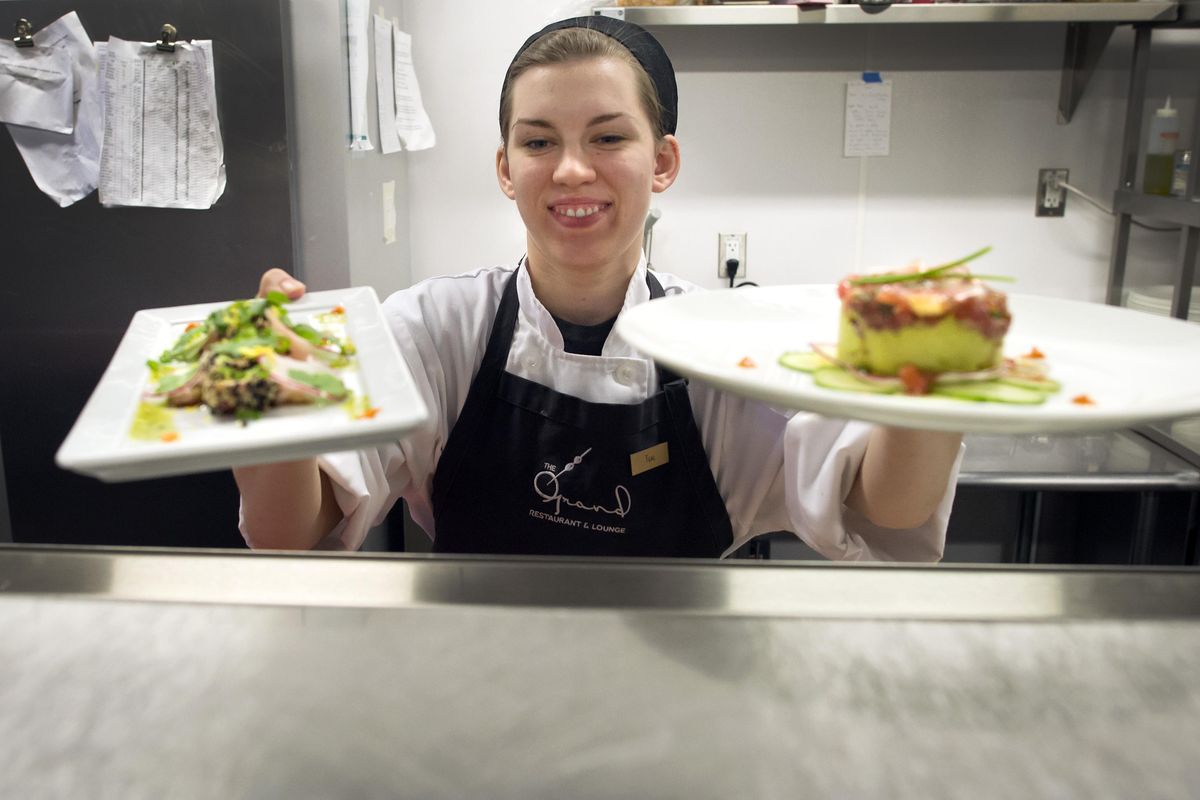 Teal Delys, a cook for the The Grand Restaurant and Lounge, prepares plates of Asian Ahi, left and Ahi Pokes, Wed., Dec. 30, 2015, in the hotel kitchen. The Davenport Grand Hotel is a big new employer in the local leisure and hospitality industry. (Colin Mulvany / The Spokesman-Review)Buy a print of this photo
The Spokane economy is digging out of a hole it has been in since the Great Recession, making significant gains for jobs in key areas that pay above-average wages.
Economists confirm what many Spokane families and business owners suspect - that the recovery touted in the Puget Sound area, Portland and some other major West Coast metropolitan areas was slow to reach their medium-sized community in the Inland Northwest. But job statistics over the last two years offer hope not just because the number of jobs is growing, but where the growth is.
Spokane has a wider array of jobs than the resource-based economy of previous generations, which was heavily dependent on agriculture, timber and mining.
Now, more people in the Spokane area are making or fixing things, or healing, teaching or entertaining other people. Those jobs come in all pay ranges, from support staff to scientists, but the key is diversification.
"No economy will ever be completely resistant to a downturn," said Doug Tweedy, labor economist for the Washington state Employment Security Department. "We don't have a lot of major employers like the West Side does, but we don't have all of our eggs in one basket."
The Spokane-Spokane Valley metropolitan statistical area – which includes nearby Pend Oreille and Stevens counties – has added 8,800 jobs in the last two years. That includes several "hot" areas of job categories, all of which added 1,000 or more jobs in that time.
Professional business services, such as accounting or legal firms and science and technology.

Public and private education, which includes Washington State, Gonzaga and Whitworth universities as well as the community colleges.

Health services, which includes hospitals and clinics, doctor's offices and medical laboratories.

Leisure and hospitality, which got a boost from the new convention center and includes hotels and motels as well as recreation and entertainment operations.
Just below those leaders are several categories with slightly less job growth, but which Tweedy classifies as "really warm." They include Finance and Banking; Transportation and Warehousing; and Manufacturing.
The manufacturing jobs are not the heavy industrial jobs of the early to mid 1900s, which started to disappear from America late in the last century as companies looked overseas for cheaper labor. Instead, they include jobs in aerospace, light metals and composites.
"There's lots of competition on the lower end of manufacturing globally," said Patrick Jones, executive director of Eastern Washington University's Institute for Public Policy and Economic Analysis. The more value that a company can add to a product, the more likely it is to stay, he said.
Consider aluminum. During much of the last half of the 20th century, the Northwest's cheap electricity helped feed that industry in cities throughout the region. Spokane had both an aluminum smelter, where raw materials were turned into aluminum ingot through a labor- and energy-intensive process, and a rolling mill, where the metal was processed for everything from airplane skins to beverage cans. Kaiser Aluminum's Mead smelter was whittled away starting in the 1980s and the plant closed for good in 2003; the Trentwood rolling mill survived and recently Kaiser announced a major upgrade.
About the same time Kaiser released its modernization plans at the rolling mill, Alcoa announced its smelter in Wenatchee would close, and laying off more than 400 workers.
Manufacturing jobs are good for the overall economy because that sector of the job market has the highest average wages, Jones said.
But the shift to light manufacturing creates a special challenge for a community for keeping and expanding those jobs, said Jones and Grant Forsyth, chief economist at Avista. These are not jobs where a person can graduate from high school and hire on because his or her father or grandfather worked at the smelter or the lumber mill. They require an advanced education – not necessarily a four-year college degree but more math and technical training, and possibly some basic engineering.
"One of the challenges we're likely to have is finding qualified workers. Do we have the diversified training programs?" Forsyth said. Without those workers, research and development companies with new products will look elsewhere to produce them.
Professional services
This sector is boosted in part by the expansion at Riverpoint, which includes the developing Washington State University medical school. The teaching jobs themselves fall into another category, but biomedical and biotechnical research and development is grouped with other professional occupations.
Professional services jobs have several advantages for helping the region in what Jones calls Spokane's "long slog to climb out of our job-loss hole." Although not every job in this category is a lawyer, accountant or scientist – support staff are counted here, also – the jobs have above-average pay and aren't seasonal.
"These are good jobs to build a foundation for your economy," Tweedy said. "It provides diversity in jobs, so you're not always at risk from recessions and downturns."
They could also generate more jobs in manuracturing if the research and development leads to new products.
Public and private education
These are jobs in higher education at the Spokane area's colleges and universities, and they, too, are increasing in part because of Riverpoint. They include administration, clerical staff and maintenance as well as professors and coaches, but in general pay above average.
Jobs in kindergarten through high school are in a different category, but there is a relationship between the two levels of education. Washington's K-12 schools are going to need more teachers, because of requirements for smaller class sizes, and because current teachers of the baby boom generation will soon be retiring. The colleges will need to gear up to teach the teachers.
Other post-secondary education may also be expanding to train workers who need more than a high school degree, but not a four-year college degree.
Public schools are also only part of the government job sector that has grown over the last two years, and that's expected to continue because there, too, many teachers and staff are reaching retirement age.
Health services
This is the largest part of the Spokane area's service job sector, with almost 49,000 jobs. Almost one job in five in Spokane is connected to health care, Jones said, compared to 13 percent statewide.
"Generally, that's good, but there are low-paying jobs (in the sector), too," he said. "Not everybody's a doctor."
But not all jobs require a four-year degree, Forsyth said, so entry into a job in health services is possible with a year or two of post-secondary training.
Some of the lower-paying jobs have high turnover, he added.
Part of the growth has occurred because of the federal Affordable Care Act, which has expanded the number of people who have health insurance. Part of it comes because the American population is aging, and needing more health care. Spokane is the biggest health care center between Seattle and Minneapolis, so people come here from surrounding counties and states. When they do, some of them take advantage of the next category.
Leisure and hospitality
The latest addition to the convention center is part of the growth in this category, which provides some 21,500 jobs. Growth is also helped by people who come to Spokane from outlying regions to shop or receive medical care, and stay overnight or longer.
It also includes jobs connected to recreational activity, from concerts and sporting events to outdoor activities like skiing, biking or camping. This is a highly seasonal sector, so the number of jobs "will bounce around quite a bit," Tweedy said. Some of those jobs can be affected by the weather, such as the lack of snow last year that hit regional ski slopes.
Spokane has certain advantages that could help it expand this sector, Forsyth said. It is relatively inexpensive compared to other cities in the highly competitive fight for more conventions. But it needs to do a better job of marketing what it can offer visitors outside the city once they get here.
Construction improving
One of the older job sectors, which covers mining, logging and construction, is also improving, and increased by some 1,200 jobs over the last two years.
But economists say that's tempered by the fact that construction took a serious hit from a recession induced partly by the real estate bubble. It may be years - if ever - for construction to rebound to 2007 levels, Tweedy said.
"We've been licking our wounds from home sale declines for awhile," Jones said. But multi-family and commercial construction is improving and the region's inventory of existing homes on the market is getting low, so it has made a partial comeback.
Local journalism is essential.
Give directly to The Spokesman-Review's Northwest Passages community forums series -- which helps to offset the costs of several reporter and editor positions at the newspaper -- by using the easy options below. Gifts processed in this system are not tax deductible, but are predominately used to help meet the local financial requirements needed to receive national matching-grant funds.
Subscribe now to get breaking news alerts in your email inbox
Get breaking news delivered to your inbox as it happens.
---