Sports > Outdoors
Landers: Snow biking inspires new winter trail grooming options
Wed., Jan. 6, 2016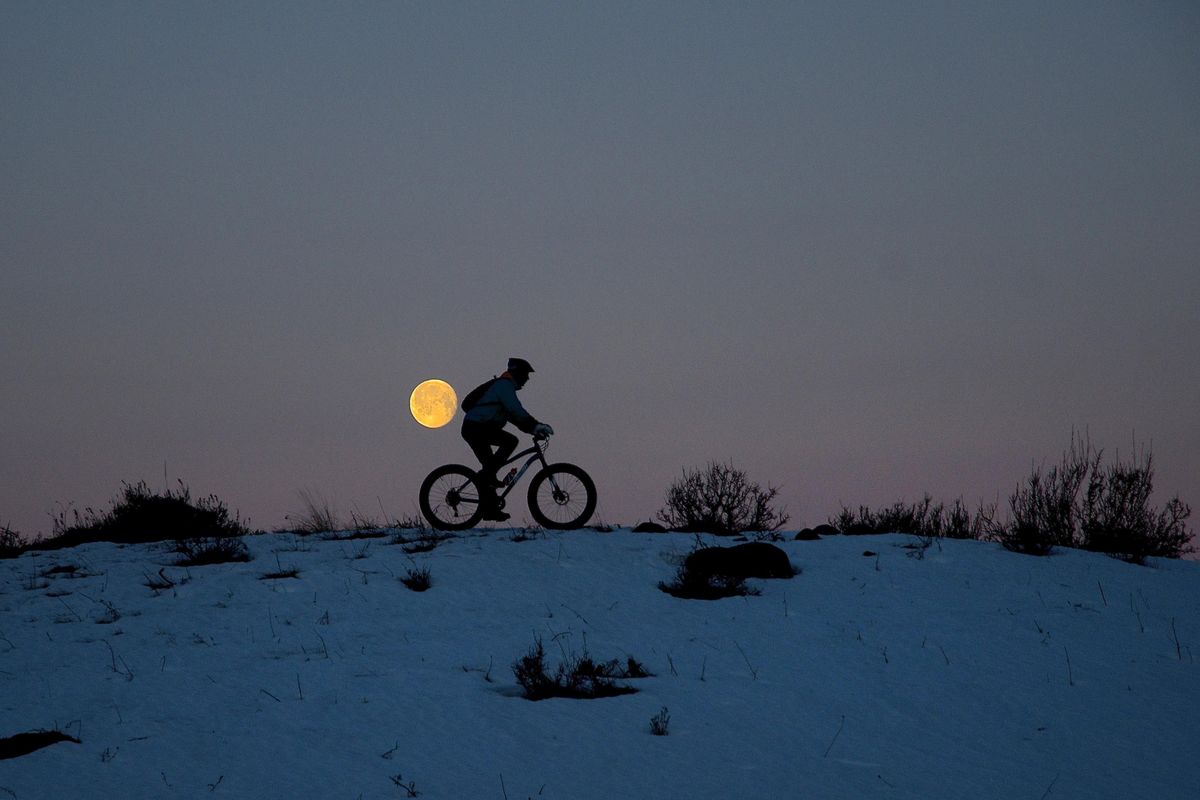 A cyclist pedals a fat bike through the night on a groomed winter trail at Pearrygin State Park.
Snowshoers and snow bikers appear to be forging a relationship that could expand the reach of single-track trails during winter.
While snowshoeing and winter cycling generally are banned from groomed skiing trails, the two winter recreation groups are finding harmony among themselves.
Snowshoeing continues to gain widespread popularity in the region and snow bikes are finding their niche – often in the routes packed by the web-footers. Complaints are rare. Packed snowshoe routes aren't damaged by a snow bike with five-inch-wide tires.
On the other hand, fat bikes rule at Pearrygin Lake State Park, Washington's newest Sno-Park destination for non-motorized winter recreation.
For two years, Methow Valley winter biking enthusiasts have been grooming single-track trails in and near the park that are ideal for snowshoeing, as well as for riding the balloon-tired bikes that are gaining popularity.
Last month, the Washington State Parks and Recreation Commission announced Sno-Park designation to boost Pearrygin's winter activities. A $3,500 grant from the Winter Recreation Advisory Committee will to help pay for trail grooming, facilities maintenance and snow removal for the 2015-16 winter season.
"The Methow Valley has become a focal point of the fat-tire bicycle phenomenon in the Northwest, and Pearrygin Lake is a great venue," said Rick Lewis, State Parks' Okanogan Highlands Area manager.
Pearrygin Park is 188 miles from downtown Spokane and 4 miles from Winthrop.
"Volunteers have been grooming a total of about 20 kilometers of trails in the park and a portion of the adjacent Methow Wildlife Area," Lewis said. "They're pretty well suited for fat bikes, snowshoeing and winter hiking, but not so great for cross-country skiers because the routes are twisty single track with some tight turns."
In the Spokane area, fat biking enthusiasts are following snowshoers, or making their own winter routes, in areas such as Riverside State Park, as well as Canfield Mountain Trail System near Coeur d'Alene.
Trails in some of the Spokane County Conservation Futures areas also are ripe for single-tracking. Although snowmobiles are prohibited from operating in county conservation ares, Dave Dutro of Trail Maniacs has taken grooming into his own hands at the Saltese Uplands Conservation Area in Spokane Valley.
Last week, he tested a low-tech apparatus to pack a route through the fluffy powder for snowshoers and fat bikers.
"I love trails," he said, as if to rationalize rigging up a rake behind a sled weighted with 120 pounds of sand bags.
Wearing snowshoes, Dutro dragged the muscle-powered groomer to pack 4.5 miles of trail that sweep up and down from a ridge that overlooks Liberty Lake.
"It was pretty hard work," the fitness buff said. "But the result was pretty good."
In other places such as Canfield, he said it's much easier to simply get a group of snowshoers to go on a long hike. It's another low-tech, low-cost way to pave the trail for fat bikes.
Winter biking is just another way the Methow Valley is growing its winter economy, in addition to having the largest and most diverse groomed Nordic skiing trail system in the region.
Snow-bikers and snowshoers are not allowed on the Methow's groomed cross-country skiing trails, but the options for all of the winter sports continue to grow.
Three bike shops in the Methow Valley are renting fat bikes for use on certain designated groomed Nordic Trails as well as at Pearrygin. The shops are Methow Cycle and Sport in Winthrop, and Goat's Beard Mountain Supplies and North Cascades Cycle Werks in Mazama.
The Sno-Park designation for Pearrygin could lead to more state areas with plowed parking areas for snowshoers and snow cyclists to stage.
They simply have to be willing to help pay the costs.
Starting Dec. 15 each season through March, or as long as the snow lasts, visitors to Pearrygin Lake State Park will need a non-motorized Sno-Park permit for vehicle access to the park and to use the trails. During the winter season, visitors will need only an annual $40 Sno-Park permit. No Discover Pass will be required.
Because of a quirk in the state law, if people choose to use a daily $20 Sno-Park permit, vehicles must also display an annual or daily Discover Pass.
Mount Spokane State Park allows snow bikes only on designated groomed snowmobile routes. Cyclists must check rules at each public area they enter for varying rules on bike travel.
But if the trend continues, cyclists and snowshoers can anticipate more routes to be tended for them in the future.
Local journalism is essential.
Give directly to The Spokesman-Review's Northwest Passages community forums series -- which helps to offset the costs of several reporter and editor positions at the newspaper -- by using the easy options below. Gifts processed in this system are not tax deductible, but are predominately used to help meet the local financial requirements needed to receive national matching-grant funds.
Subscribe to the sports newsletter
Get the day's top sports headlines and breaking news delivered to your inbox by subscribing here.
---