Sports
Palmquist column: Photo will always have special meaning
Sat., Jan. 9, 2016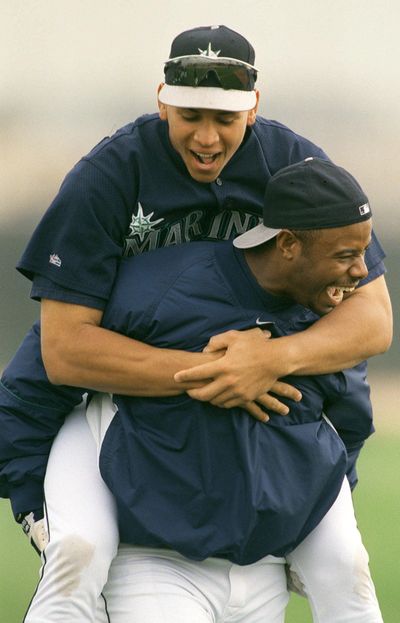 When I was promoted to sports editor in January of 2003, I was asked if I wanted a large print photo to hang in my new office.
The photo attached to this story immediately came to mind. That photo has been hanging in my office for 13 years.
My long-time friend and co-worker, Dan Pelle, took the photo in 1998 during spring training. Despite all the things that transpired with Alex Rodriguez and Ken Griffey Jr., since that moment, my fondness for that photo never waned. To me, it was the perfect reminder of a more innocent time when it was just baseball and not outsized egos, steroids and ridiculous paychecks.
It didn't matter to me that A-Rod left Seattle and signed with Texas for $252 million. I still wanted him to succeed. It didn't matter to me that he admitted to using steroids. I still wanted him to succeed. I just always thought of him as the young superstar horsing around with the best player in the baseball.
It stung to see Junior leave the Northwest. Still, I always kept an eye on his stats and silently rooted for his success. As with A-Rod, when I thought of Junior, it was the amazing athlete with his hat on backward grinning from ear to ear as he carried around the younger superstar on his back.
Now that Junior has been voted into the Baseball Hall of Fame with a record percentage, that photo may seem more relevant. But to me, the value in the photo is its innocence. It's not about two future Hall of Fame players (if A-Rod is ever forgiven). It's about the joy of playing a game.
The photo also reminds me of a different time in the newspaper industry. The presses were going strongly in 1998 and while there were some subtle and not-so-subtle warning signs of a major shift in our business, no one truly saw the drastic sea change that has rocked our world.
We are adapting to the times. Not fast enough for some and certainly too fast for others. We are caught between two extremes – those who think the printing press is ancient artifact and those who prefer the look and feel of the newspaper. To survive, we can't ignore either. And sometimes, it seems, trying to serve two masters just makes both of them angry.
I swore I would never sit around talking about the old days like my dad and his dad before him. But I can't lie. I miss the old days. Even though is was less than 20 years ago, all the incredible (and rapid) advances that have transpired in the technology world makes it seem like ages ago.
That photo of Junior and A-Rod reminds me of another time. And it makes me smile.
Sports editor Joe Palmquist can be reached by phone at 459-5503, email at joep@spokesman.com or on Twitter @joequist.
Local journalism is essential.
Give directly to The Spokesman-Review's Northwest Passages community forums series -- which helps to offset the costs of several reporter and editor positions at the newspaper -- by using the easy options below. Gifts processed in this system are not tax deductible, but are predominately used to help meet the local financial requirements needed to receive national matching-grant funds.
Subscribe to the sports newsletter
Get the day's top sports headlines and breaking news delivered to your inbox by subscribing here.
---