News > Idaho
Trial begins for Idaho teen accused of killing father, brother
Sun., Jan. 10, 2016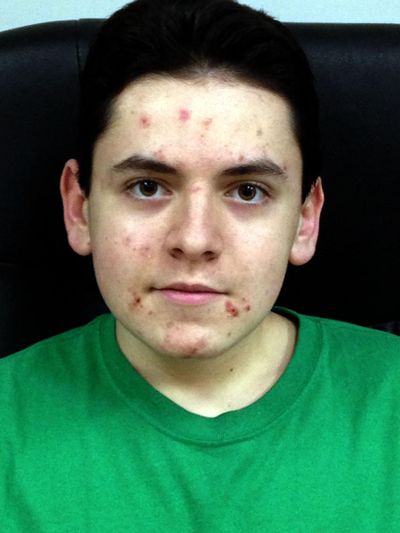 Two years ago this March, police officers walked into a grisly scene inside a small house in Coeur d'Alene. A man and his 13-year-old son were dead, the victims of an attack using a handgun, a shotgun, a knife and a machete.
Standing out front was a slender 14-year-old boy in bloody clothes. That night at the police station, Eldon Gale Samuel III described to investigators how he had killed his father and younger brother. He said he feared that his father, who beat him, would kill him.
And he said he long had hated his autistic brother and blamed him for his anger and frustration, according to the police interview.
Now 16, Samuel goes on trial for murder this week in 1st District Court. He is being tried as an adult, and the trial is expected to last about four weeks. Jury selection begins Monday morning, and more than 130 Kootenai County residents have been summoned for the jury pool.
THE FAMILY: Eldon Samuel Jr., 46, moved to Coeur d'Alene from California in 2013 to be closer to his father, and he brought his sons Eldon and Jonathan with him. The boys' half-brother, Anthony Samuel, said their father was a recovering drug user getting his life back on track.
Samuel and his two sons had been staying for several months in a house owned by St. Vincent de Paul North Idaho at 1311 N. First St. They were getting ready to move to permanent housing. The younger Eldon Samuel was an eighth-grader at Lakes Magnet Middle School – and frequently absent from classes. His brother Jonathan attended Canfield Middle School.
Anthony Samuel told The Spokesman-Review that the young Eldon had a history of violence, including toward Jonathan. "We all knew he was not exactly right, but we'd never think that this would happen," he said.
The family was described in a court hearing as reclusive and dysfunctional, with a father who neglected his sons. Six months before the killings, police were called to the Kootenai Health emergency room, where the elder Samuel lay unconscious and his son Eldon appeared unsurprised his father was incapacitated. Four days later, the boy called police to report his father was slumped in the front yard, inebriated and incoherent.
The boys' mother, Tina Samuel, told investigators Eldon Samuel Jr. had been abusive in their marriage. Court records also show she had pleaded no contest to a charge of willful cruelty to a child in 2012 in the Modesto, California, area. After her son's arrest, Tina Samuel told The Spokesman-Review, "I love my son and I stand by him. I love my son; I always will."
THE CRIME: The killings took place on a Monday evening, March 24, 2014. The elder Samuel was shot in the stomach with a .45-caliber pistol. After he died, he was shot again in the face and head, the autopsy showed. Jonathan was shot several times with a shotgun, stabbed with a knife and hacked repeatedly with a machete. His body suffered 40 to 50 wounds.
Samuel called 911 that night and told the operator he had shot his father and brother. Officers found him at the front door, his pants and arms stained with blood. He was arrested and taken to the police station to be interviewed. There, he waived his right to talk to an attorney.
THE CONFESSION: Samuel told investigators his father had fired the handgun outside the house that evening and was talking about zombies and acting crazy from painkillers, according to records. He also said his dad started hitting and pushing him, and that he feared for his life.
"I loved him, but the next time he came after me … That's self-defense, right?" he told investigators.
Samuel said he picked up the gun and shot his father, then went after his brother, who was hiding under a bed. He blamed his family's troubles on Jonathan's disability and said the stress of it fueled his father's addiction to painkillers and drove his mother away.
"If he wasn't there," he said of his brother, "we'd be a happy family," the police transcript states.
Police said Samuel showed no remorse and told them he had contemplated and prepared for the brutal killings for months.
THE CASE: Samuel initially was charged with first-degree murder in both deaths, but a judge changed the charge to second-degree murder in the death of his father. He could be given a life sentence if convicted.
Physical evidence collected at the home, accounts from responding officers and Samuel's statements while in custody figure prominently in the state's case, led by Art Verharen, Kootenai County deputy prosecuting attorney. Prosecutors also have cited accounts of Samuel's previous abuse of his brother as a motive for murder.
The teen's attorney, Kootenai County Public Defender John Adams, asked the court to throw out all statements Samuel made to police plus all evidence gathered against him after his arrest, including his clothes. Adams argued that Samuel was sleep-deprived and on prescription medication when police interrogated him, and that investigators coerced him into waiving his Miranda rights, using psychological and physical intimidation.
"They lied to him and misled him over and over again," he told Senior Judge Benjamin R. Simpson, who will preside over the trial. Simpson ruled last January that Samuel knew what he was doing when he waived his Miranda rights, answered police questions and confessed.
THE DEFENSE: Defense lawyers have raised questions about Samuel's mental state at the time of the slayings.
"He's been accused of patricide and fratricide," said Jay Logsdon, a Kootenai County public defender, in April 2014. If the accusations are true, "he's clearly got some psychological issues."
The Idaho Legislature abolished the insanity defense in 1982. In the Samuel case, Adams unsuccessfully challenged that change in law as unconstitutional.
Samuel's difficult upbringing in California could play a major role at trial. The defense team has collected thousands of pages of documents, from school, health and child protective service records to jail records for both parents.
Local journalism is essential.
Give directly to The Spokesman-Review's Northwest Passages community forums series -- which helps to offset the costs of several reporter and editor positions at the newspaper -- by using the easy options below. Gifts processed in this system are not tax deductible, but are predominately used to help meet the local financial requirements needed to receive national matching-grant funds.
Subscribe to the Coronavirus newsletter
Get the day's latest Coronavirus news delivered to your inbox by subscribing to our newsletter.
---
Subscribe and log in to the Spokesman-Review to read and comment on this story