A&E > Entertainment
Spokane oncologist facing charge he lied about certification
Mon., Jan. 11, 2016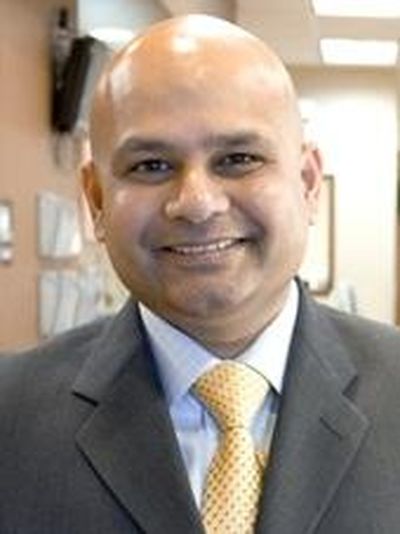 State investigators accuse a Spokane oncologist of lying about his failure to pass medical board exams for two years and falsifying his certification status as he continued to treat cancer patients.
Dr. Rajeev Rajendra, who worked at Medical Oncology Associates from mid-2013 through November 2015, has several months to answer a Washington Medical Quality Assurance Commission complaint alleging unprofessional conduct while he worked for the practice.
Rajendra, who received his medical degree from Patil Medical College in India and completed a fellowship at the Fred Hutchinson Cancer Research Center and a residency in internal medicine at Indiana University, twice failed a board examination, once in 2013 and again in 2014.
He told the clinic he'd passed the test in fall 2013, and "supplied his employer with a falsified document indicating he'd passed," according to the administrative charges filed by the quality assurance commission. When pressed to provide further documentation of his test performance early last year, Rajendra admitted he was not board-certified, said Arvind Chaudhry, principal at Medical Oncology Associates.
"We think he's a qualified physician," Chaudhry said. "He made an error in judgment."
Rajendra, reached by phone Monday, declined to comment for this story.
The clinic was aware Rajendra was not board-certified when he was hired in 2013. Chaudhry said the clinic has hired physicians who were not certified, but it requires those doctors to pass their board examinations within a certain period as a condition of employment.
Physicians who are not board-certified have the same privileges and access as those who don't, Chaudhry said.
Rajendra is licensed and certified in Washington in internal medicine, according to the Department of Health.
Chaudhry said when the clinic learned Rajendra lied about his oncology certification, a team of board-certified physicians reviewed his work and found no patient had received improper care.
"I looked over his charts," Chaudhry said. "At no point was there any risk of danger. (Rajendra) is a good doctor. We all believe that.
"He is one member of a team," Chaudhry added. "He never took care of a patient all alone, by himself."
The clinic followed rules to turn over the results of its investigation to the Department of Health. After conducting their own probe, investigators there issued a statement of charges in October, which led to Rajendra losing privileges at area hospitals and coverage from the clinic's malpractice insurance provider. He left the clinic in November.
Chaudhry said the clinic did not share the results of its internal investigation of Rajendra with hospitals and its insurance provider because Rajendra had not lied to those organizations.
"In our investigation, he misrepresented this only to us," Chaudhry said.
Rajendra is listed as part of the Providence Health and Services medical staff. A spokeswoman confirmed he is not paid by the nonprofit but rather had privileges to practice at the hospitals. Providence is aware of the Health Department investigation.
Rajendra's patients were informed of his departure and are now being treated by other members of the clinic's team or other clinics. Chaudhry said he understood the concerns of patients but insisted their standard of care and safety were not compromised.
"It's always difficult for a patient to lose a doctor," he said.
Rajendra is scheduled to appear at a settlement conference with the Medical Quality Assurance Commission in June. In addition to the allegations he lied about his certification status, investigators also believe he provided a forged doctoral degree from Rutgers University.
If the commission confirms the allegations and finds that he did not endanger any patients through his actions, the penalties Rajendra faces would be less severe than if he did endanger patients, according to Washington administrative codes. Rajendra's medical license could be suspended for up to three years.
Chaudhry said the experience will make the clinic more cautious in its hiring.
"We've learned our lessons in this situation," Chaudhry said.
Local journalism is essential.
Give directly to The Spokesman-Review's Northwest Passages community forums series -- which helps to offset the costs of several reporter and editor positions at the newspaper -- by using the easy options below. Gifts processed in this system are not tax deductible, but are predominately used to help meet the local financial requirements needed to receive national matching-grant funds.
Subscribe to the Spokane7 email newsletter
Get the day's top entertainment headlines delivered to your inbox every morning.
---