Sports > Gonzaga women
Elle Tinkle's season at Gonzaga is over
Tue., Jan. 12, 2016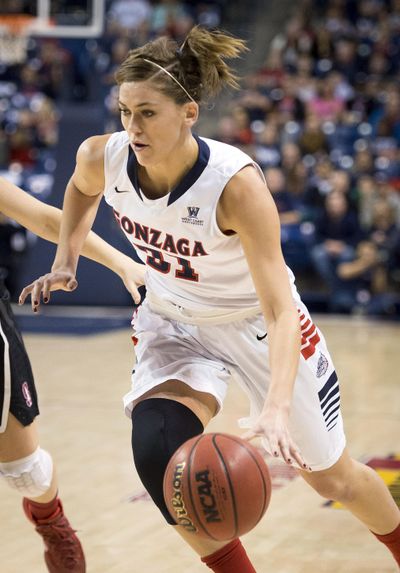 Practice had barely ended Tuesday afternoon at the Martin Centre when emotions came to the surface.
The Gonzaga women got the word a day earlier: Elle Tinkle's season is over.
A day after their senior captain underwent knee surgery, the news was still sinking in.
"We're just trying to fill a void that's tough to fill," said teammate Shaniqua Nilles, her eyes beginning to well with tears – and not from the pain in her own ice-covered knee.
Nilles had missed several games earlier this year while Tinkle was still playing. "I wanted more than anything to get back on the court with her," Nilles said, her voice trailing off. "It's tough because we've both worked so hard, but I know she's going to bounce back."
The first-place Bulldogs hope to do the same as they prepare for this week's road trip against their closest West Coast Conference pursuers, BYU and San Diego.
"We've told everybody that they just have to do a little bit more – they don't have to do a lot more," coach Lisa Fortier said after practice, "No one player has to make up those points."
On the other hand, the Bulldogs (13-4 overall, 5-0 WCC) already feel the absence of sophomore post Emma Wolfram, who's also out for the year with a knee injury. Tinkle – a WCC first-team selection last year – contributed not only 11.7 points a game, but court savvy and leadership.
Tinkle's long-term future is uncertain; barring a successful application to the NCAA for a medical hardship waiver next year, her GU career is over.
"I feel bad for Elle, but she makes such a positive impact on our team in a variety of ways," Fortier said. Indeed, Tinkle was on the edge of the court Tuesday, helping as best she could before she left for treatment.
Tinkle was unavailable for comment, but Fortier said she expects her to contribute as a player liaison. "She already thinks she's part of the coaching staff," Fortier said with a smile. "Of course, I'd rather have her on the court."
GU has won six straight games without Tinkle, but the Bulldogs' margin for error is shrinking. Last weekend, they had to overcome a 17-point first-half deficit to beat last-place Portland.
"It's going to be tough, but people are going to step up," post Shelby Cheslek said.
They already are. Senior guard Chelsea Waters has started six straight games, averaging six points and seven rebounds during that stretch and "wreaking havoc on defense," Fortier said. Redshirt freshman Jill Barta hasn't started a game, yet leads GU in scoring at 10.9 points a game.
Next up for the Bulldogs is a Thursday night date at BYU (12-4 overall, 4-1 WCC). The Cougars offer a tough crowd and a tougher challenge in senior guard Lexi Rydalch, whose 23.6-point scoring average leads the WCC and ranks sixth in the country.
"There's no love lost," Fortier said. "We always wind up playing them three times every year. They're well-versed in what we do, and that makes you play your best game."
Cougs look to rebound
Just as Washington State looked to be gaining some traction in the Pac-12 race, the Cougars slipped up on Sunday against No. 14 Arizona State.
"It's a disappointing loss," WSU coach June Daugherty said of the 63-45 loss. "The second half, (ASU's Sabrina) Haines was hitting threes, and we didn't handle that well."
"Right now, that's an issue for us to be able to play the whole 40 minutes, no matter what the other team is doing," Daugherty said after WSU fell to 11-5 overall and 2-3 in the Pac-12.
WSU freshman Borislava Hristova was the only Cougar scorer to reach double digits in the highly defensive battle, which included 12 steals by WSU.
WSU continues a four-game home stand against USC on Friday at 8 p.m. The game will be televised on the Pac-12 Networks. The Cougars will welcome the Women of Troy to Beasley Coliseum as part of Dads and Daughters Date Night with coverage on the Pac-12 Networks.
Meanwhile, senior guard Dawnyelle Awa has been selected to participate in the Women's Basketball Coaches Association's "So You Want To Be A Coach Program" program, the organization announced Tuesday.
Awa, who is set to graduate this spring, will take part in the program at the WBCA National Convention during the Final Four Weekend April 1-3 in Indianapolis, Indiana.
The program is a collaborative effort between the WBCA and the NCAA to provide female student-athletes with an experience that becomes the foundation of a successful coaching career.
EWU still unbeaten
The road tests continue this week for the EWU women, who are unbeaten in Big Sky Conference play following a big 74-66 win at Idaho.
"Anytime you can go on the road in the Big Sky and get a win is a good thing," coach Wendy Schuller said after the game, which left the Eagles (9-6 overall, 3-0 in the Big Sky) a half-game behind front-running Montana State.
Just as important, the Eagles welcomed back junior Tisha Phillips from injury, and she responded with nine points, six rebounds and three steals against the Vandals.
"We talked about being 'road warriors' all week heading into the game. I think our nonconference schedule really prepared us well to play in tough environments against good teams," Schuller said.
Next up is another tough trip, beginning Thursday at Southern Utah (3-11 overall, 0-3 Big Sky).
On Saturday, the Eagles are at NAU (5-9, 1-2).
With her 16 points against UI, senior guard Hayley Hodgins moved up to second on EWU's all-time scoring list with 1,473 points, passing Kathleen Nygaard, who scored 1,466 points between 2000-04.
Pirates back on road
Fresh off of its first Northwest Conference road win of the season, Whitworth returns to Oregon this weekend for a pair of games against surprising Willamette and league-leading George Fox.
Whitworth (8-5 overall and 3-1 in the NWC) is coming off a 62-45 win at Pacific in which guard K.C McConnell scored a game-high 17 points.
The Pirates open the trip against a Willamette team that is among the most improved in the country; the Bearcats hadn't won 10 games in a season since 2002, but are 10-3 overall and 2-2 in the NWC.
On Saturday, Whitworth visits third-ranked George Fox (13-0, 4-0).
Local journalism is essential.
Give directly to The Spokesman-Review's Northwest Passages community forums series -- which helps to offset the costs of several reporter and editor positions at the newspaper -- by using the easy options below. Gifts processed in this system are not tax deductible, but are predominately used to help meet the local financial requirements needed to receive national matching-grant funds.
Subscribe to the sports newsletter
Get the day's top sports headlines and breaking news delivered to your inbox by subscribing here.
---