News > Idaho
Zombie paranoia, abuse fueled Coeur d'Alene slayings, lawyer says
Wed., Jan. 13, 2016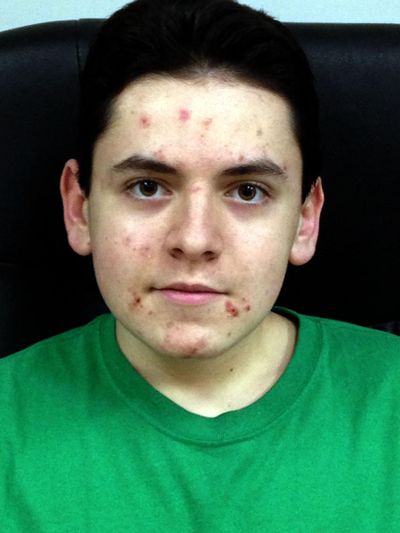 The parents of Eldon Gale Samuel III were abusive drug addicts constantly on the move in California, leaving their son to care for his autistic brother 11 months his junior.
The father, Eldon Samuel Jr., believed zombies were real and one day would come after them, and he instilled that paranoid fantasy in his boys. He also beat and threatened to kill his older son, who frequently missed school and suffered from poor dental care.
This dysfunctional family portrait painted by Samuel's defense attorney speaks to the Coeur d'Alene teenager's state of mind when he killed his father and brother two years ago in a dingy house at 1311 N. First St., Kootenai County Public Defender John Adams said Wednesday in his opening statement in Samuel's murder trial.
"Keep an open mind" about why Samuel, now 16, did what he did the night of March 24, 2014, Adams told jurors inside the former federal courthouse in downtown Coeur d'Alene.
When Samuel resisted his father's warnings that zombies were coming for them and they needed to flee, his father hit him and ordered him to strip off his clothes and leave the house, Adams said. The boy then shot his father in the stomach.
After the elder Samuel crawled into a bedroom and died from the wound, Samuel shot him twice more in the cheek and once in the temple to make sure he didn't come back to life as a zombie, Adams told the jury.
It was an act of self-defense, he said, and illustrates how the boy was isolated and influenced by his father's delusions, according to Adams. "He trained him for the zombie apocalypse. This guy believed zombies were real," Adams told the jury.
Samuel then went after Jonathan, who was under his bed in that same small room inside the emergency housing unit owned by St. Vincent de Paul North Idaho.
"He just loses it, he snaps," Adams said in explaining Samuel's behavior. "He goes into a rage" and shot his brother, as well.
Jonathan Samuel was shot five times with a shotgun and five more times with a .45-caliber semi-automatic handgun, before he was stabbed and hacked with a knife and machete scores of times, according to an autopsy.
Dr. Sally Aiken, the Spokane County medical examiner who performed autopsies on both victims, testified Wednesday about the large number of wounds she found on Jonathan's body. The majority of the stabbing and cutting wounds were inflicted after Jonathan had bled to death from his gunshot wounds, Aiken said.
In a series of gruesome autopsy photos shown in court, she pointed out how the boy's wrists were fractured and one was nearly severed, and how he suffered grievous wounds to his legs from close-up shotgun blasts. A large cavity in the back of the boy's skull was the result of repeated chops to the head, Aiken said.
Adams acknowledged Samuel killed his father and brother, but he questioned whether the motive warrants murder charges, as opposed to manslaughter. The jury must decide if Jonathan's death was calculated and premeditated, as the first-degree murder charge suggests, or "whether this was a rage killing," Adams said.
Samuel attacked and killed Jonathan "because he hated his brother, he blamed him for his family not being together," Kootenai County Deputy Prosecuting Attorney Art Verharen said. "He told police he just didn't want his brother around."
Adams also told jurors police investigators who questioned Samuel in the hours after his arrest used "psychological interrogation techniques" to coax Samuel into making subtle changes in his account of the killings. They persuaded Samuel to change "hit" to "push," for instance, in describing the father's physical contact with Samuel that night, he said.
"This is a 14-year-old boy who's just been through hell," Adams said.
Eldon Samuel Jr. had at least six narcotics and other prescription drugs in his system when he died, according to court testimony. Police found many pill bottles in kitchen cabinets inside the house.
In his opening remarks, Adams said the father had obtained at least 562 drug prescriptions from 36 doctors from 2003 through 2013, including over 19,000 doses of hydrocodone, a powerful narcotic. The boys' mother similarly amassed a large amount of prescription medicine, he said.
"They didn't work; they got high," Adams told the jury.
Jurors on Wednesday were shown a police video and photographs of the crime scene, including the two bodies, blood splatter, spent shells and a variety of weapons. They also heard Samuel's call to 911, when he quietly told a dispatcher he had shot his dad and brother and both were dead.
Coeur d'Alene Police Detective Jared Reneau testified about collecting Samuel's bloody clothes at the police station, and when asked about the boy's demeanor, he said, "He was very calm and quiet."
In court, Samuel wore a white dress shirt and slacks, and looked down at the table in front of him most of the day. His mother, Tina Samuel, sat a few feet away in the gallery for part of the day.
Local journalism is essential.
Give directly to The Spokesman-Review's Northwest Passages community forums series -- which helps to offset the costs of several reporter and editor positions at the newspaper -- by using the easy options below. Gifts processed in this system are not tax deductible, but are predominately used to help meet the local financial requirements needed to receive national matching-grant funds.
Subscribe now to get breaking news alerts in your email inbox
Get breaking news delivered to your inbox as it happens.
---