Sports
Arizona continues long-standing dominance of WSU
Jan. 16, 2016 Updated Sat., Jan. 16, 2016 at 11:12 p.m.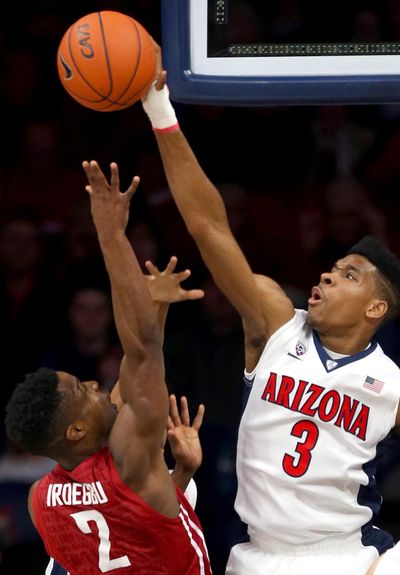 TUCSON, Ariz. – Washington State's trip to McKale Center went about the way it usually does for the Cougars against an Arizona program which once won 38 consecutive meetings between the schools.
But for once this year the Cougars faced the Pac-12's only monster program with their eyes wide open.
Not that it mattered much as No. 18 Arizona pasted the Cougars 90-66 for its ninth consecutive win over WSU.
Still, at least the Cougars (9-8, 1-4 Pac-12) came out swinging. WSU played almost even with the Wildcats for the first 10 minutes or so, and trailed just 32-26 when Ike Iroegbu hit a jump shot with 6 minutes, 35 seconds left in the first half.
For comparison's sake, the last time WSU visited Tucson the tentative Cougars managed just seven points in the first half of a 60-25 loss.
Freshman forward Robert Franks saw his first Pac-12 action on Thursday at Arizona State. He built on that with a strong first half, hitting two 3-pointers in just more than 2 minutes to keep the Cougars within shouting distance as the Wildcats heated up.
WSU's aggression on offense opened the door for the bigger, faster Wildcats to counterattack and create easy offense, so the final margin was similar to the last adventure in Tucson. UA finished with 17 points off 13 turnovers, scoring 10 fast-break points compared to two for WSU.
"When you've got a team like Arizona, if you slip up once, twice, three times, they come back and they'll hit four 3s on you," said Ike Iroegbu, who led the Cougars with 13 points.
Arizona hit nine 3-pointers and only needed 16 attempts to do it.
The defensive game plan against the Wildcats was try and take UA's considerably talented big men – athletic forwards Ryan Anderson and Mark Tollefsen, plus 7-footers Kaleb Tarczewski and Dusan Ristic – out of the game by double-teaming the post and leaving the guards not named Gabe York open.
Strategically, it was sound. But Kadeem Allen and Parker Jackson-Cartwright blew the plan apart by combining to make 4 of 7 3-point attempts, forcing WSU's guards to stay home on the perimeter. From there, UA's big men were able to do their thing on the interior, and the result was six Wildcats scored in double figures.
WSU's Charles Callison and Josh Hawkinson each added 12 points, although Hawkinson saw his school-record double-double streak end at 11 games.
Arizona won the rebounding battle 35-23 and had 13 second-chance points.
"Mentally, we had some slippage. And they're too good of a team to have some slippage down here in this building and on the defensive end of the floor," WSU head coach Ernie Kent said. "All of a sudden, you give up a 3. You give up another 3. We gave up three 3s in that first half that should not have happened, by three different players, and all of a sudden their confident, starting to feel good about themselves, and they controlled the first half down the stretch."
The Cougars shot 50 percent from the field in the first half against the Wildcats, albeit against a defense that UA coach Sean Miller has derided as the worst he's coached during his time in Tucson.
But the Wildcats were still tall, still supremely athletic and there were still 14,502 fans creating what will doubtlessly be the least-friendly environment the Cougars will encounter this season.
The Wildcats still have the longest home-court winning streak in the country, which stands at 49 games.
The contest gave way to a rout with 3:38 left in the half, when Tollefsen hit a jump shot to put UA up eight, sparking a 14-5 run that gave the Wildcats a 46-31 halftime lead. Tollefsen scored eight of those points, and York nailed a 3-pointer with 10 seconds left in the half.
The Cougars are still without sometime-starting center Valentine Izundu, who is expected to miss around three weeks or so with a foot injury.
The Cougars will host Utah and Colorado next week before returning to the road to face the Los Angeles schools for a second time, after splitting the series in Pullman to open conference play.
The road is a different animal, but no longer an unfamiliar one for the Cougars, whose seven first-year players completed their first Pac-12 road swing this weekend.
"It's mental fortitude that you need on road," Kent said. "And for new guys coming into the program who don't quite understand that, they have to go through it to understand. So, hopefully, the road will allow you to come back and regroup and play better next time we come down here."
Local journalism is essential.
Give directly to The Spokesman-Review's Northwest Passages community forums series -- which helps to offset the costs of several reporter and editor positions at the newspaper -- by using the easy options below. Gifts processed in this system are not tax deductible, but are predominately used to help meet the local financial requirements needed to receive national matching-grant funds.
Subscribe to the sports newsletter
Get the day's top sports headlines and breaking news delivered to your inbox by subscribing here.
---