A&E > Entertainment
MLK Family Outreach Center looks to rebuild
Sun., Jan. 17, 2016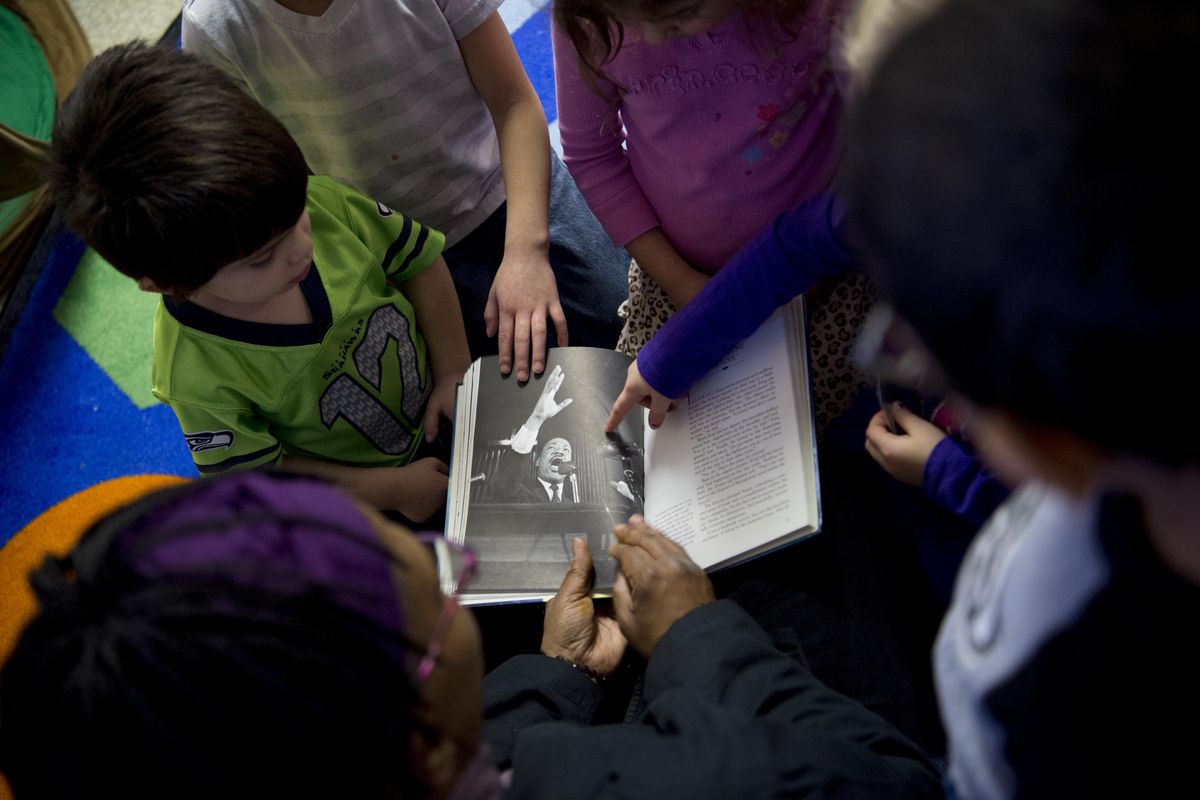 Teacher Talibah Adeeba's students point excitedly to a photo of Martin Luther King Jr. as Adeeba reads to them Friday at the Martin Luther King Jr. Family Outreach Center in Spokane. (Tyler Tjomsland / The Spokesman-Review)Buy a print of this photo
Talibah Adeeba directed her chorus with passion. The singers, ages 3 to 5, followed her cues with passion, too.
Hammering with their hands at the line "If I had a hammer."
Pretending to ring a bell at the line "If I had a bell."
Shouting "justice" as they sang "It's the hammer of justice."
The nine children attend Martin Luther King Jr. Family Outreach Center and rehearsed Friday morning for a performance at Monday's Martin Luther King Jr. Day celebration in Spokane.
"Awesome job, and everyone take a bow," Adeeba said as they finished the song in their crowded preschool classroom. "We'll be ready for Monday."
The celebration has an added significance to the outreach center. It's the official start of a $3.3 million fund-raising campaign to rebuild and significantly expand the center, which began in 1970.
It originally was in the basement of the Bethel African Methodist Episcopal Church. In 1981, it moved to its current location, a former fire station that city officials agreed to lease for $1 a year.
Inside, the former truck bay has been remade into a preschool classroom, but much of the building remains more like a fire station – in part because the city didn't allow major renovations of the structure, Executive Director Freda Gandy said.
The bathrooms are one example of the building's inadequacy for child care. All the pupils who attend must be potty trained. Altough the sinks outside the boys and girls rooms have been adjusted to accommodate the heights of preschoolers, the insides were designed for firefighters.
"We have 3-year-olds trying to use a urinal," Gandy said. "That's not good."
But the biggest problem, she said, is a lack of space.
There are 37 children who attend the center for three hours a day Monday through Thursday. Another 10 children attend all day, five days a week.
The center's before- and after-school program, which serves about 40 children, was moved to Grant Elementary School nearby because the center's after-school space in the basement was too small as numbers grew.
The proposed new center would be 12,000 square feet, triple the size. Gandy hopes the larger center will allow the number attending full time to double as well as extend the day for children in the part-day sessions. The center also plans to offer a year-round teen program.–
The center serves children from low-income families, and some are under significant stress, Gandy said. Some have been in multiple foster homes, and others have a parent in prison.
"That type of trauma can impair a child's learning," she said. "To only have three hours a day, four days a week can be challenging."
The center employs 14 full-time workers, including social workers who help families find other resources they need.
The fire station, which the city sold to the center just about a year ago, was built in 1959. An adjacent home owned and used by the center was built in 1900. Both will be torn down when the new center is built.
"They are very old buildings that need a lot of work – expensive work," Gandy said. "We sometimes have two or three people working out of one office. We're packed in here tight."
One goal is to have a center fully accessible to people with disabilities, she said.
"Our whole mission and our mission statement embodies (King's) life and his legacy of equal treatment and accessibility to all," Gandy said.
When the children finished practicing for Monday's performance, one boy asked Adeeba to read a book about Martin Luther King Jr. She agreed and sat down with him on the carpet. Most of the other children followed. They paged through the book, looking at black-and-white pictures of civil rights leaders. The pictures sparked all kinds of questions about King, Rosa Parks and others. Some required careful responses about the violence those leaders faced.
One boy asked Adeeba if King was her superhero.
"He is my superhero," she said.
Local journalism is essential.
Give directly to The Spokesman-Review's Northwest Passages community forums series -- which helps to offset the costs of several reporter and editor positions at the newspaper -- by using the easy options below. Gifts processed in this system are not tax deductible, but are predominately used to help meet the local financial requirements needed to receive national matching-grant funds.
Subscribe to the Spokane7 email newsletter
Get the day's top entertainment headlines delivered to your inbox every morning.
---