Sports
EWU's Hayley Hodgins definition of student-athlete
Tue., Jan. 19, 2016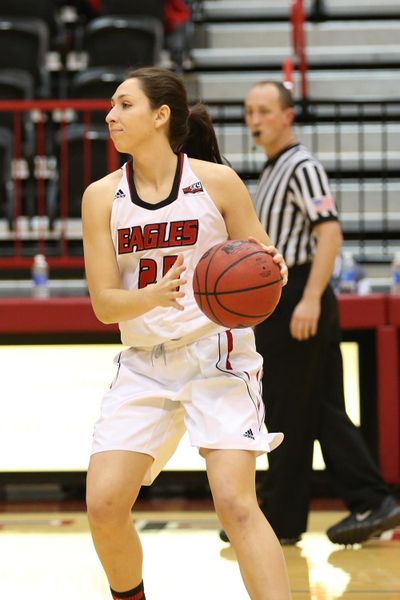 Hayley Hodgins is all about poise.
How else could she pull off this remarkable senior year at Eastern Washington, only part of which is happening on the basketball court?
Hodgins is scoring almost 20 points a game while finishing her degree – her master's degree in health services administration – all while planning her wedding and contemplating a pro career.
One thing she isn't contemplating is becoming the leading scorer in school history, but she's on track to do that, too. And when she's not leading by example, Eastern's lone senior is a reassuring voice on a court full of underclassmen.
"She even keeps me calm sometimes," EWU coach Wendy Schuller said.
The result has been the surprise of the Big Sky Conference. Going into this week's home stand against the Montana schools, the Eagles are 5-0 in the league, 11-6 overall and poised to make Hodgins' final season the best it can be.
Three months ago, Hodgins didn't know what to expect. The Eagles were coming off a 21-win season, but lost several players in the offseason and were picked to finish sixth by the Big Sky media and ninth by the coaches.
When the year began, the only returning starters were Hodgins and her younger sister Delaney, now a sophomore. Seven new players were in the mix, looking for leadership. And I learned to be more vocal," Hodgins said.
"Freshmen don't always do what they should, but they also step up when they have to," Hodgins said. "We all take criticism well and we can give it to each other without hard feelings."
Together, they've grown. Point guard Tisha Phillips and forward Ashli Payne have stepped confidently into their roles. Sophomore Mariah Cunningham from Central Valley is maturing, and Delaney Hodgins – last year's Big Sky Freshman of the Year – is averaging 15 points and seven rebounds.
"That's a tribute to our coaches," Hayley Hodgins said. "They're all on the same page."
So is Hodgins. "I'm an extension of that for some of the new girls," Hodgins said. "There's a balance this year of coaching the girls, but also focusing on myself."
For Hodgins, that means improvement – not numbers – though she's on track to break Brenda Souther's 29-year-old record for career scoring. She's 210 points away, "but it's not something I think about," Hodgins said.
She does think about how she wants the season to end. Last year, Hodgins was a first-team all-conference pick, but the Eagles lost at Montana in the semifinals of the Big Sky tournament. A stellar season was rewarded with a win at Washington State in the women's NIT, but she has a different postseason in mind.
"I want to win the Big Sky and go to the dance," Hodgins said.
There will be dancing. Later this year she'll marry Matt Middleton, her high school sweetheart from Pasco. She also has an invite to the WNBA combine in April. If that doesn't work out, she'll put that 3.73 grade-point average to work in the health services field.
"In so many ways she embodies everything that we want our student-athletes to be," Schuller said.
Gonzaga regroups
Even as they lost two games on the road last week Gonzaga did some things things right, coach Lisa Fortier said.
The Bulldogs played well at BYU for 35 minutes, but were outscored 17-1 down the stretch in a 58-54 loss. Two nights later, they outrebounded San Diego by the ridiculous 54-19 margin, but turned the ball over 25 times en route to a 63-54 defeat.
The losses dropped GU from sole possession of first place in the West Coast Conference down to a share of third place with their next opponent, the Saint Mary's Gaels. At 13-6 overall and 5-2 in the WCC, the Bulldogs have little margin for error should they fail to win the conference's postseason tournament.
After the San Diego game, Fortier said "We talked about the importance of doing multiple things. We can't rely solely on rebounding – we just need to continue to get better."
Injuries are part of the problem. With Elle Tinkle and Emma Wolfram out for the season with injuries, the Bulldogs have lacked a go-to player on offense. "We've got to do it by committee … we've got to shoot better," Fortier said.
In their last four games, the Bulldogs are shooting 37.3 percent (87-for-233) from the field and just 25.4 percent (15-for-59) from 3-point range.
Next up is another big game against Saint Mary's. The Gaels (14-4 overall, 5-2 WCC) lead the league in scoring and field-goal percentage, and get 19.3 points a game from senior guard Malina Hood. GU counters with the best field goal-percentage defense in the WCC (35.3 percent).
"We just have to shut them down and get some offensive continuity," Fortier said.
WSU looks to UW
Fresh off a near sweep of the Los Angeles schools, Washington State is riding some momentum going into Saturday's game at Washington.
I'm proud of our players," WSU head coach June Daugherty said after a 75-73 home loss to 17th-ranked UCLA that left the Cougars at 12-6 overall and 3-4 in the Pac-12.
"It's certainly a confidence-boooster, and it's not just the winning or being close," Daugherty said. "It's that we're playing at a pretty high level."
Two nights earlier, the Cougars throttled No. 25 USC, 73-61.
WSU freshman Borislava scored 40 points in the two games, earning her Pac-12 Freshman of the Week honors for the second straight week. Her 21-point effort against the Trojans gave her seven 20-point-plus games this year, the most by a freshman in school history.
On Saturday, the Cougars will try to avenge a 79-64 home loss to UW in their Pac-12 opener on Dec. 29.
In that game, Daugherty said, "We didn't do a good job of executing the game plan and we were careless with the basketball."
Local journalism is essential.
Give directly to The Spokesman-Review's Northwest Passages community forums series -- which helps to offset the costs of several reporter and editor positions at the newspaper -- by using the easy options below. Gifts processed in this system are not tax deductible, but are predominately used to help meet the local financial requirements needed to receive national matching-grant funds.
Subscribe to the sports newsletter
Get the day's top sports headlines and breaking news delivered to your inbox by subscribing here.
---
Subscribe and log in to the Spokesman-Review to read and comment on this story