News > Spokane
Race for McMorris Rodgers' seat draws new, old challengers
Wed., Jan. 20, 2016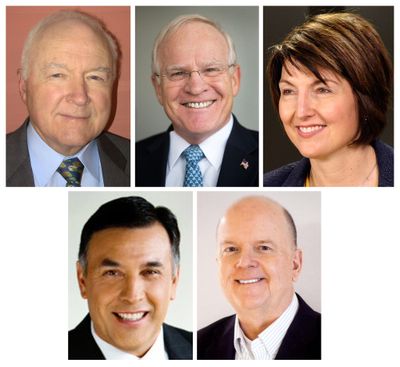 Rep. Cathy McMorris Rodgers has drawn four challengers hoping to unseat the high-ranking Republican in Congress.
Joe Pakootas, Dave Wilson and Tom Horne all will make a second attempt to oust McMorris Rodgers after failing in 2014. Democrats will have another choice in addition to Pakootas: First-time politician David Kay, a U.S. Army and Foreign Service veteran who describes himself as a moderate.
"I will not be liberal enough for some. I will not be conservative enough for others," said Kay, 59, a North Carolina native who moved to Spokane in 2000 with his wife. "I'm running as a moderate Democrat. I hope I will be American enough for everybody."
Kay announced Tuesday his intentions to seek the seat McMorris Rodgers, 46, has held since 2005. He joins Pakootas, 58, who has campaigned for the office since losing to McMorris Rodgers with 40 percent of the vote in the November 2014 election; independent Wilson, 62, who finished third in the August 2014 primary; and Horne, 66, a Republican who finished fourth.
Kay, a retired U.S. Army officer who attained the rank of major and worked as a physician's assistant at the Mann-Grandstaff VA Medical Center before joining the Foreign Service, described himself as a moderate on social issues in an interview before his announcement.
"We don't need to go out, for example, under gun control, and threaten people's Second Amendment right to bear arms," Kay said. "Under Planned Parenthood, whatever the discussion is, don't make it so politically partisan that we affect women's access to health care, especially in underserved areas."
Kay signaled he would attack McMorris Rodgers, the fourth-ranking GOP member in the House of Representatives, as an entrenched politician, a strategy used by Pakootas, Wilson and Horne in 2014.
"I think the timing is right," Kay said. "I think the people in Eastern Washington can be better served. There's a lot of partisanship in the Congress, and a lot of political maneuvering that doesn't get a lot done."
McMorris Rodgers, in a written statement through her campaign, responded to Kay by saying that she was working to remove government restrictions in people's daily lives.
"I'm fighting for greater opportunities for everyone. I trust people to make the best decisions for themselves, not a government that decides for them. I believe we need to return decision-making to the state and local governments – and to families and individuals. We shouldn't have our lives decided by agencies in D.C.," McMorris Rodgers said.
Kay said he hoped his background growing up in a working-class family, and his time served in the Army and in Iraq as a member of the Foreign Service, would resonate with voters around the district.
"I really want to try to give back," Kay said.
Susan Brudnicki, manager of the Pakootas campaign, said the former chief executive of the Colville tribe had not stopped campaigning since November 2014. He's appeared at several events with the local Democratic Party this year and has the support of the regional party members, she said.
"We're looking forward to bringing up the difference between Joe's experience and Dave's experience," she said. "The main difference is Joe was born and raised in Eastern Washington."
Wilson, who has an event planned next week to publicly announce his campaign, ran on a platform criticizing the leadership in Congress in his 2014 effort. The founder and former owner of Interface College said in a news release announcing his candidacy he would again run on promises of bringing a new governing style to Washington, D.C.
"I am running for the U.S. House as an Independent candidate to offer a viable alternative to a broken Congress. We need better leadership in Congress – leadership that is not so partisan or ideological," Wilson said in his statement.
Horne, a retired U.S. Marine Corps veteran, said in a statement on his campaign website that his reasons for running in 2016 have remained unchanged from two years ago. He called GOP leadership in Congress "inept, gutless, bought off and frequently stupid," citing what he sees as a fumbled investigation on the attacks of the Benghazi, Libya, consulate in 2012 and threats of a government shutdown over the national debt as examples.
McMorris Rodgers has won at least 60 percent of the vote in the general election since 2008, when she defeated Mark Mays in her third campaign. The closest anyone has come to unseating the former Washington state representative was in 2006, when current Commissioner of Public Lands Peter Goldmark took 43.6 percent of the popular vote.
But McMorris Rodgers' margin of victory has diminished with every campaign since 2008. The five-term representative said she looked forward to returning to the campaign trail this fall.
"I always take each campaign seriously and this year is no exception. It is my best opportunity to discuss with people accomplishments and the goals I have as their representative," she said in a statement.
The challengers face an uphill money battle against McMorris Rodgers. In her year-end report to the Federal Election Commission, McMorris Rodgers reported $1.2 million in campaign contributions for the 2016 campaign. Wilson reported raising $26,600, about half of which is his own money. Pakootas reported raising $16,800. Kay and Horne have not reported earnings yet.
Kay said he realized the difficulty of the road to the nation's capital.
"It's a daunting task," he said. "I will be a David, against a Goliath."
Local journalism is essential.
Give directly to The Spokesman-Review's Northwest Passages community forums series -- which helps to offset the costs of several reporter and editor positions at the newspaper -- by using the easy options below. Gifts processed in this system are not tax deductible, but are predominately used to help meet the local financial requirements needed to receive national matching-grant funds.
Subscribe now to get breaking news alerts in your email inbox
Get breaking news delivered to your inbox as it happens.
---