Sports > Gonzaga women
Gonzaga women's last-second shot just off mark in loss to Gaels
Thu., Jan. 21, 2016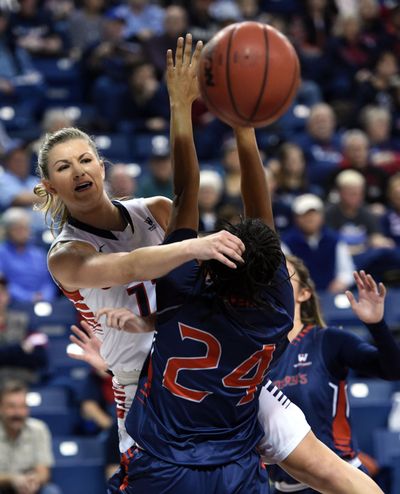 As the final seconds ticked away Thursday night, the Gonzaga women had one last chance to make things right.
Down by a point to Saint Mary's and with the McCarthey Center crowd of 5,536 in full roar, the Bulldogs needed just one play to atone for the missed free throws, spotty defense and errant 3-point shooting.
For a moment, it looked as if they had it. With 4 seconds left, freshman forward Jill Barta sliced past two defenders and and into the clear. Gliding toward the basket, Barta laid the ball up off the glass – but just a bit too strongly, and it glanced off the far iron.
Final score: Saint Mary's 69, Gonzaga 68.
As the reality sank in, Barta slumped to the floor. Her teammates were quickly at her side, and together they retreated to the locker room for a few words with coach Lisa Fortier.
"It was another lost opportunity," Fortier said after GU lost its third straight West Coast Conference game in a row.
The Bulldogs (13-7 overall. 5-3 WCC) are in uncharted territory: Not since 2006 have they lost three WCC games in a season, and not since 2002 have they dropped three conference games in row. After back-to-back losses last week at BYU and San Diego, the Bulldogs came home to the Kennel with a sense of urgency.
Tough defense carried them through the first half. But even as they led 37-33 at the break, two disturbing trends continued. GU was 3 for 6 from the free-throw line and 2 for 9 from beyond the arc.
Those stats got no better in the second half – GU finished 9 for 17 from the line and 5 for 17 from long range.
"You can't shoot 50 percent from the free-throw line and expect to win close games," said Fortier, who called a special practice for Friday ahead of Saturday's game against Pacific.
Saint Mary's (15-4, 6-2) made its move in the third quarter. The top shooting team in the WCC, the Gaels shot 52 percent in the second half. Guard Lauren Nicholson, in particular, found some holes in the GU defense en route to a game-high 25 points.
"It's really frustrating," said post Shelby Cheslek, who took no satisfaction from getting a team-high 20 points and 13 rebounds. "We had a lapse of concentration – what we need to do is execute," Cheslek said.
Down 54-51 going into the fourth quarter, the Zags quickly climbed out of the hole. Winning the 50-50 balls and forcing turnovers, they scored the first eight points of the fourth quarter.
GU still led 68-61 with 4:05 left, but came up empty on its last six possessions.
The Bulldogs clung to a 68-65 lead inside two minutes, but Barta missed a layin and Georgia Stirton misfired on a wide-open 3 with 1:31 left.
At the other end, Saint Mary's appeared to lose possession, but officials ruled the ball went off a GU defender.
Nicholson took full advantage with a layin that made a one-point game.
The final drama was set up when Kudron missed a short jumper and Nicholson connected from 12 feet to give Saint Mary's a 69-68 lead with 16 seconds left.
After each team called timeout, Fortier set up the play.
"We were trying to come off the ball screen," Fortier said. "We wanted to get any good look or draw a foul – our high-ball screen has been good."
Stirton bobbled the ball at the top of the key but managed to pass to Barta as two defenders converged. Barta moved between them and "got a good look at the basket," Fortier said.
"I was thinking, 'It's got a shot' – there are some players that you're not optimistic, but when Jill is there I'm confident it's going to happen.
"It just didn't happen on this play."
Local journalism is essential.
Give directly to The Spokesman-Review's Northwest Passages community forums series -- which helps to offset the costs of several reporter and editor positions at the newspaper -- by using the easy options below. Gifts processed in this system are not tax deductible, but are predominately used to help meet the local financial requirements needed to receive national matching-grant funds.
Subscribe to the sports newsletter
Get the day's top sports headlines and breaking news delivered to your inbox by subscribing here.
---