Sports
Tyler Harvey still firing away, but working on defense in D-League
Thu., Jan. 21, 2016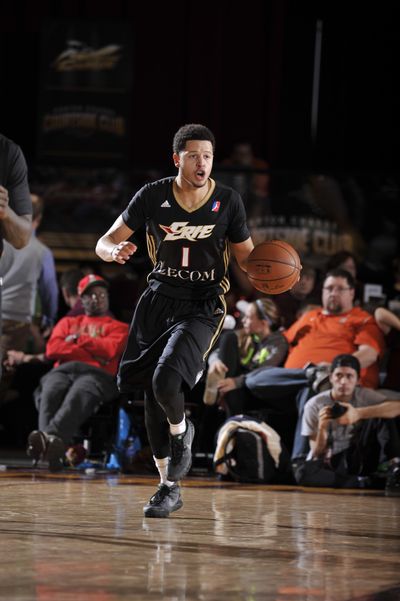 Tyler Harvey is still a shooting star.
Three weeks ago, the former Eastern Washington star became a media sensation in the NBA Developmental League when he sank eight 3-point shots in the final four minutes to rally his Erie BayHawks to a win over the Texas Legends.
When it was over, Harvey faced the cameras with the same matter-of-factness that followed his heroics in the Big Sky Conference. It was as if to say, "I'm just trying to help my team and play my game."
That still includes the step-back 3-pointer – often from a ridiculous distance – that made him the leading scorer in the nation last year and helped lead Eastern to a spot in the NCAA Tournament.
The game has changed for Harvey since the Orlando Magic picked him in the second round of the NBA Draft. "It's a business now," Harvey told The Spokesman-Review. "It's 24/7."
The transition began last summer. Even as he earned his EWU degree online last summer, Harvey plunged full-time in pursuit of his basketball dreams.
"It's different than college, because you focus everything on basketball," Harvey said. "You have to balance your life, and even when you're not on the court, you have to work on your diet."
Adds Harvey: "I've managed to lose some body fat."
The skinny on the 6-foot-4, 185-pound Harvey is that he's still a work in progress, with his shooting touch offset by deficiencies on defense. Both Harvey and the Magic knew as much last summer after he played in the NBA's summer league.
Orlando opted not to invite Harvey to fall camp, but asked him to play in the D-League with a possible invite to training camp next year.
Harvey cannot play for another NBA team this year as the Magic retains his rights. To keep them, the Magic were required to offer him a tender – a one-year unguarateed contract. Harvey could have accepted it, which would have allowed him to attend training camp and try to earn a spot on the regular-season roster.
Instead, Harvey opted for Erie. "I'm looking at this as my redshirt year – this is the best thing for me to get better," he said.
In his epic game against Texas, Harvey was making 3s in every way imaginable. He was coming off screens, ready to fire, and making the same difficult step-backs he drained at Eastern.
Most nights, he's struggling to get down his shots; he averages 11.5 points a game while playing 25 minutes, but is shooting just 35.7 percent from the field and slightly better (37.1 percent) from long range.
"I've been working really hard on my defense and on being smart offensively," said Harvey, who added that he's never looked back at his decision to give up his senior year at EWU.
"I was all in from the beginning," Harvey said.
There's plenty of time: Erie is 22 games into a 50-game season that ends in April. "I've just got to improve in everything I do and be more consistent," Harvey said.
Even while living and breathing the game, Harvey found time to exhale last month when Eastern played at Pittsburgh. He rejoined coach Jim Hayford, the staff and former teammates, the ones he calls "brothers for life."
Only nine months ago, they were making history at Eastern.
"That will be with us for the rest of our lives," Harvey said.
Local journalism is essential.
Give directly to The Spokesman-Review's Northwest Passages community forums series -- which helps to offset the costs of several reporter and editor positions at the newspaper -- by using the easy options below. Gifts processed in this system are not tax deductible, but are predominately used to help meet the local financial requirements needed to receive national matching-grant funds.
Subscribe to the sports newsletter
Get the day's top sports headlines and breaking news delivered to your inbox by subscribing here.
---