News > Idaho
Man gets life in prison for killing wife, stepdaughter in North Idaho
Mon., Jan. 25, 2016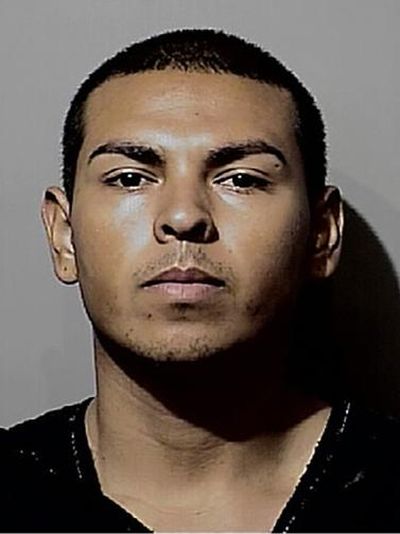 A judge in Coeur d'Alene imposed a sentence Monday of life in prison for a Mexican man who admitted killing his wife and stepdaughter a year and a half ago.
Angel Albertico Morales-Larranaga, 26, will serve two consecutive life sentences with no chance of parole for the strangling deaths of Facunda Valenzuelaleon, 24, and Dyanna M. Valencia, 6, inside a Post Falls apartment on July 8, 2014.
Morales-Larranaga, who's living in the country illegally, read a handwritten statement in Spanish saying he can't explain why he committed the crimes.
"For 10 minutes a demon took over me and had me finish off what I love most in life," he said.
With tears running down his cheeks, he faced his late wife's parents in the courtroom and asked them for forgiveness.
Earlier in the hearing his father-in-law, Gilberto Valenzuela, described the close bond he shared with his daughter.
"Every day, I mean, she was the apple of my eye," Valenzuela said, speaking through an interpreter. "I would tell her all the time she was beautiful."
He also spoke of how the murders have hurt his family.
"Everything has changed completely," he said. "It is very painful to live without a loved one. It's an internal pain that's there all the time."
Gabby Gonzalez, Morales-Larranaga's sister, also spoke at the sentencing. She said her brother never ran afoul of the law growing up in Mexicali, Mexico, despite the influence of gangs and drugs in the city. He was "very noble" and focused on his studies and keeping good friends, Gonzalez said.
She said she lived with her brother and sister-in-law for six months and saw that Morales-Larranaga loved his wife, their two daughters and his stepdaughter, Dyanna. He treated all three of the girls equally, Gonzalez said.
"They were his life," she said. "He always loved them."
Morales-Larranaga on Jan. 6 changed his plea to guilty to two counts of first-degree murder, and he waived his right to appeal the conviction and sentence. Kootenai County Prosecuting Attorney Barry McHugh withdrew his intent to seek the death penalty.
On Monday, McHugh told 1st District Judge Fred Gibler that the violence in the case, including head trauma suffered by the victims, was "very disheartening, very troubling."
It's appropriate, he said, to demonstrate for the public that domestic violence resulting in death is a crime that can lead to life in prison.
Kootenai County Public Defender John Adams disagreed with the effect of the sentence. "Rage killings aren't deterred by life sentences," Adams told Gibler.
He also said the binding nature of the plea agreement blackmails Morales-Larranaga into agreeing to "die in a cage."
"I think it lacks dignity, I think it lacks grace, I think it lacks the maturity of a civilized society to do this," Adams said.
Gibler said it's unusual to impose a life sentence on a man who had no apparent criminal history prior to the murders.
"To his credit, Morales has accepted responsibility," the judge said. "It is obvious he does feel remorse. There is no explanation for the crimes."
Gibler accepted the binding agreement for two life sentences to be served consecutively.
The killings took place early in the morning in an apartment at Tullamore Commons at 4172 E. Laurelbrook Drive. Morales-Larranaga took the couple's younger two daughters, then ages 1 and 3, to a friend's house before he returned to the apartment to commit the crimes, court records show.
According to investigative records in the court file, Morales-Larranaga may have been distraught over his wife's infidelity. He told a friend he strangled his wife first, then killed his stepdaughter after "she got up and started hitting me," investigators said.
His wife's head and face were swollen and bruised and both her wrists had been deeply cut, according to a detective's account of the body. Dyanna had cut marks on her neck and chin and was found with an electrical cord wrapped tightly around her neck, police said.
Morales-Larranaga was arrested later that day after the friend called police. He had self-inflicted cuts on his wrists when taken into custody.
In court Monday, standing with his hands and feet shackled, he said he has attempted suicide. "I tried to take my life on several occasions, but I'm still here, thanks to God," he said.
Morales-Larranaga has been studying the Bible and praying in jail, said Pastor Raymond Duran of Candlelight Christian Fellowship, a Coeur d'Alene church.
Duran said he has been ministering to him for about 10 months and believes Morales-Larranaga is repentant. "I have seen a man who is completely broken," he said.
Morales-Larranaga told the judge he wants to live for his other two daughters.
"They are my motive for living," he said. "I failed them once. I won't fail them again."
Local journalism is essential.
Give directly to The Spokesman-Review's Northwest Passages community forums series -- which helps to offset the costs of several reporter and editor positions at the newspaper -- by using the easy options below. Gifts processed in this system are not tax deductible, but are predominately used to help meet the local financial requirements needed to receive national matching-grant funds.
Subscribe to the Coronavirus newsletter
Get the day's latest Coronavirus news delivered to your inbox by subscribing to our newsletter.
---
Subscribe and log in to the Spokesman-Review to read and comment on this story