News > Spokane
Body found in Spokane River identified as missing VA hospital surgeon
Jan. 26, 2016 Updated Tue., Jan. 26, 2016 at 4:10 p.m.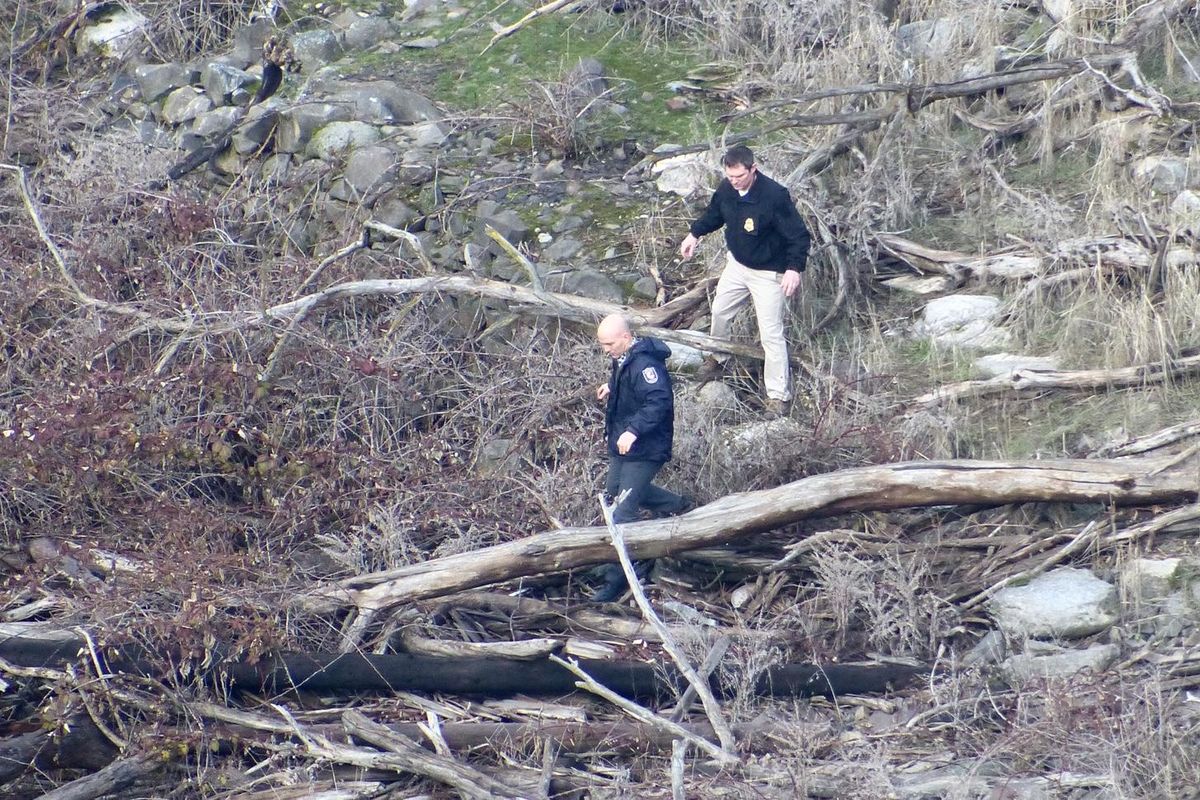 Police and emergency personnel find a body on the north bank of the Spokane River on Tuesday morning, Jan. 26, 2016. (Jesse Tinsley / The Spokesman-Review)
A body recovered from the Spokane River on Tuesday morning is believed to be that of missing Veterans Affairs hospital surgeon Dr. John Marshall.
Marshall went missing Monday morning and was believed to be jogging in the area. A passer-by found his body around 9 a.m. floating next to the bushes on the north bank of the river, just downriver from the Monroe Street Bridge.
Interim Spokane police Chief Rick Dobrow said the man's clothing matched what Marshall was wearing when he left the YMCA in central Spokane to go for his early morning run.
Police are investigating the death as suspicious. Dobrow said there were no obvious injuries or other indications that Marshall jumped into the river. His clothes were intact and there were no signs of significant force, he said.
"I don't want to make any assumptions about the direction this might lead," he said.
Dobrow said investigators are not sure where Marshall went into the river, but the fast current may have moved his body.
"He could have entered the river quite a ways upstream," Dobrow said.
Major crimes detectives photographed the scene before a Spokane Fire Department team pulled the body from the river just after 10 a.m.
The Spokane County Medical Examiner's Office will confirm Marshall's identity and release a cause of death.
Marshall, 49, had a 10-year-old daughter and a 13-year-old son. His wife, Dr. Suzan Marshall, is also a surgeon.
His wife said in an interview Monday that Marshall served with the Marines for five years before becoming an Army surgeon from 2004-09. He had worked at the Mann-Grandstaff Veterans Affairs Medical Center for the past five years and was named acting chief of surgery a year ago.
When Marshall was seen leaving the YMCA just after 5:30 a.m. Monday, the National Weather Service was reporting thick freezing fog at the Spokane International Airport with visibility less than a tenth of a mile.
However, Riverfront Park facility and grounds foreman Dave Randolph said the ground was not icy when he made his rounds around 4:30 a.m. Monday even though it was foggy. His crew only applied de-icer to the suspension bridges that cross the river.
"Everything else was pretty good," Randolph said.
Marshall's wife, co-workers and VA police searched the area along the Centennial Trail west of downtown Monday afternoon without success. A Spokane County Sheriff's Office helicopter searched along the river Monday night.
Dr. Scott Nye, who was chief of surgery before Marshall took over the position, said he got to know Marshall personally during the five years the two worked at the VA together.
"It's amazing how many people he touched," Nye said.
Hospital administrator Frank Paulsen said Marshall was well-liked by the staff and the veterans he treated. Many of his patients took the time to mail in comment cards extolling the excellent care Marshall provided, Paulsen said.
"You can't say enough," Paulsen said. "He was a good man, a good father. We're sad today."
VA hospital spokesman Bret Bowers released a statement calling Marshall a fantastic surgeon who will be deeply missed.
"Patients and staff alike talked regularly about his conscientious, empathetic and respectful nature," Bowers said. "A Marine, Army doctor and combat veteran, Dr. Marshall was an outstanding surgeon and consummate professional who cared about his patients and dedicated team of VA co-workers.
"We express our deepest sympathy to his family and all those who were close to him."
Local journalism is essential.
Give directly to The Spokesman-Review's Northwest Passages community forums series -- which helps to offset the costs of several reporter and editor positions at the newspaper -- by using the easy options below. Gifts processed in this system are not tax deductible, but are predominately used to help meet the local financial requirements needed to receive national matching-grant funds.
Subscribe now to get breaking news alerts in your email inbox
Get breaking news delivered to your inbox as it happens.
---