Sports
Kenny Love's explosiveness gives Whitworth that extra edge
Tue., Jan. 26, 2016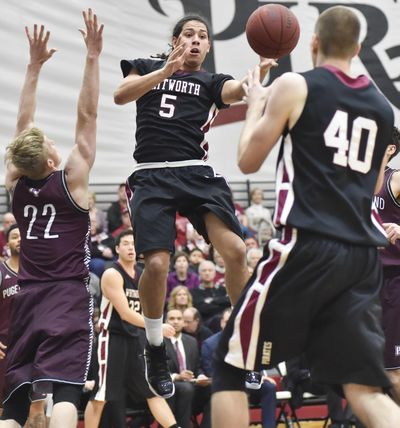 Break his ankles, Kenny.
That's what Whitworth students yell whenever guard Kenny Love gets the ball at the top of the key for the No. 1 Pirates.
Love then takes the ball and feints a drive. If the defender bites, Love backs up and nails a 3-pointer. If not, Love launches toward the hoop with hands reaching for the rim.
It's that versatility that convinced opposing coaches to vote him the Northwest Conference Player of the Year last season … as a sophomore.
"Kenny is a pretty explosive athlete," coach Matt Logie said. "He's got a gear that you, quite frankly, don't see a lot at this level."
Love, a 6-1, 195-pound junior, is averaging 14.5 points, 3.5 rebounds and a team-leading 3.6 assists for the undefeated Pirates (17-0, 8-0 NWC).
Combined with 6-5 wing Christian Jurlina (16.6 points, 5.1 rebounds) and 6-4 senior forward George Valle (15.6, 7.5 rebounds), the Pirates have a three-headed scoring attack that can leave opposing coaches mumbling gibberish on their way back to the team bus.
Kenny "is physical and strong," Logie said. "That allows him to get places on the court that others can't. Add to that his ability to shoot the basketball, and the attention that must be given to that by the defense, and it makes his first step that much quicker."
Last Friday night, the Pirates opened the game against Pacific Lutheran with a jumper from Valle.
Love got a steal from the Lutes on their first possession and he pushed it up the floor to score a layup.
Love then got fouled and hit both. The next time the Pirates got the ball, Love hit a 3-pointer and the Pirates were up 9-0 before the fans had time to taste their popcorn.
"We are a difficult team to guard," Love said. "We pride ourselves in making that extra pass and finding whoever is open."
Finding Love
Recruiting talented players for basketball is hard enough when coaches can offer them paid scholarships at huge schools with prestigious names and games on television.
But at a Division III school like Whitworth, coaches can't offer scholarships and instead must sell the winning program and academics.
The Pirates have won six consecutive Northwest Conference regular season titles and have earned bids into the NCAA Division III Tournament all four years since Logie was hired to replace Jim Hayford, who left to coach Eastern Washington.
That gave the Pirates some clout when Love, who grew up in Santa Rosa, Calif., got an e-mail from assistant coach Damion Jablonski.
"I gave coach Jablonski a call. I had a couple Division II schools back home and some scattered across the county who were talking to me," Love said. "But I wasn't really interested in going across the country."
Jablonski and Logie talked to Love about the school and its academics and eventually got the kid to Spokane. But Logie didn't try to sell Love on always reaching the tournament.
"Coach Logie talked about how he saw the team and where it could go and how I could fit in those plans," Love said. "It was more about future possibilities than harping on what they did in the past.
"Of course it was appealing they were a good program and building a tradition," Love said.
Asked about how Jablonski found Love, Logie said recruiting never stops.
"At this level you have to turn over every stone. Kenny's name came to the surface kind of late in the recruiting cycle," Logie said.
Jablonski called Love's coach and found out how Kenny agreed to lessen his role as a scorer his senior season so that his team could have more success.
"In addition to his obvious abilities, that made us very interested really quickly," Logie said.
Now Love is well on his way to a degree in accounting with grades that are good enough to land him on the Dean's list, Logie said.
"It's about finding the right fit," Logie said. "Kenny was mature enough to understand that just getting a few thousand dollars in academic aid would not make up for the academic experience you get here."
Eye popping
Love scored 24 points in the first game of the season against La Verne. But he got poked in the eye in practice and had to undergo surgery.
Love missed four games and it took a while for him to again find his groove. He scored three points each against Colorado College and Millsaps.
"I couldn't touch a ball for 14 or 15 days," Love said. "When I came back, that was the worst I had ever felt. I eased my way back into it."
Love then exploded for 28 points against Calvin, his third game back, and he's been "breaking ankles" ever since. He's even shed the protective goggles.
"Being away, it renewed my appreciation for the game," he said. "It was fun to finally get back into my routine. Not being able to be here with the rest of the team was pretty tough."
Local journalism is essential.
Give directly to The Spokesman-Review's Northwest Passages community forums series -- which helps to offset the costs of several reporter and editor positions at the newspaper -- by using the easy options below. Gifts processed in this system are not tax deductible, but are predominately used to help meet the local financial requirements needed to receive national matching-grant funds.
Subscribe to the sports newsletter
Get the day's top sports headlines and breaking news delivered to your inbox by subscribing here.
---