Sports
Cougars unable to make key plays in 81-71 loss to balanced USC
Thu., Jan. 28, 2016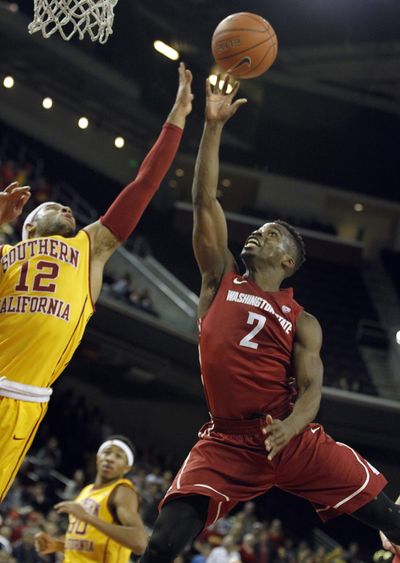 LOS ANGELES – In Washington State's first chance during its second run through the Pac-12, the Cougars showed significant improvement, playing nearly even for about 37 minutes with a team that browbeat them in the first matchup.
Similar to last season, when the Cougars collected most of their conference wins in the second half of the Pac-12 schedule, WSU showed on Thursday that it can adapt and that an opponent that has already beaten the Cougars won't intimidate them.
But the Cougars also still have a glaring problem: periods of offensive incapability that stick out because Cougars obviously have a talent for scoring. In fact, they have second-best shooting percentage in the conference.
They also have a unique ability to wither during key stretches, and that is why the Cougars are alone at the bottom of the conference standings after Thursday's 81-71 loss at UCLA.
In losses at Arizona State and at home against Colorado, scoring droughts of five or more minutes cost the Cougars in otherwise close games. The critical stretch did not last so long against USC (16-5, 5-3), but it did not need to, because of the Trojans' impressive speed and athleticism.
The Cougars stayed within four points of the Trojans for the game's first 17 minutes, until Katin Reinhardt stole the ball from Josh Hawkinson as the WSU post tried to spin on the low block with 2:47left in the half, passing the ball ahead to freshman Chimezie Metu, who capped the play with a powerful dunk.
WSU coach Ernie Kent called for a 30-second timeout on the following possession, but the Cougars turned the ball over once again, and the Trojans again capitalized as Elijah Stewart made a pair of free throws to push USC's lead to eight points.
Que Johnson made two free throws for WSU, but on the next two USC possessions the Trojans misses shots, secured offensive rebounds and scored on their second attempt, breaking open what had been a close game.
"We turned it over, we missed some rotations," Kent said. "They made us pay, got the 11-point lead, and there was the difference. We outscored them in the second half but we could not close that deficit that got away from us in the three minute span."
The Cougars (9-11, 1-7 Pac-12) are the only remaining Pac-12 team with just one conference win after Arizona State's blowout win over Oregon State earlier Thursday evening.
"I thought we played better. This team is still looking for a breakthrough game," Kent said. "I still feel we're going to be a factor in this, somewhere, either knocking off a team that's in the hunt for the conference championship, and obviously getting an opportunity to grow."
The team's best players rose to the challenge for WSU, but USC's superior depth was apparent. Ike Iroegbu ripped through the Trojans defense faster than Hollywood executives can OK another buddy-cop movie, using his assortments of floaters and scoops to lead all scorers with 21 points, including 16 in the first half.
One can set one's watch by Hawkinson's double-doubles, and his presence of course guarantees the Cougars a certain ration of points and rebounds (he had 16 and 11, respectively). Furthermore, Que Johnson spent enough time in attack mode to contribute 16 points.
But six Trojans score in double figures on an average night – the starting five, plus Stewart – and a hot night from Reinhardt (18 points on 6-of-12 shooting) was enough of a counter to Iroegbu's outburst.
Forwards Bennie Boatwright, Metu and Nikola Jovanovic each scored in double figures while making better than 50-percent of their field goal attempts and the Trojans were able to find successful offense seemingly everywhere they turned.
The Cougars nearly made a game of it at the end anyway. When Johnson squared his feet as he received a pass at the top of the key and drained a 3-pointer, he pulled WSU within 70-62 with just under seven minutes left in the game, and Josh Hawkinson scored after an offensive rebound on the next possession to make it a six-point game.
The Cougars got a defensive stop and could have gotten even closer, but Hawkinson missed the first free throw in a one-and-one situation the next trip down the floor and USC point guard Jordan McLaughlin drained a 3-pointer to give the Trojans their footing.
"We've got a lot of new guys and we're making a lot of strides in the right direction every game," Iroegbu said. "We've just got to get over the hump."
Local journalism is essential.
Give directly to The Spokesman-Review's Northwest Passages community forums series -- which helps to offset the costs of several reporter and editor positions at the newspaper -- by using the easy options below. Gifts processed in this system are not tax deductible, but are predominately used to help meet the local financial requirements needed to receive national matching-grant funds.
Subscribe to the sports newsletter
Get the day's top sports headlines and breaking news delivered to your inbox by subscribing here.
---