News > Business
Airport security fix: better training – for humans and dogs
Fri., July 1, 2016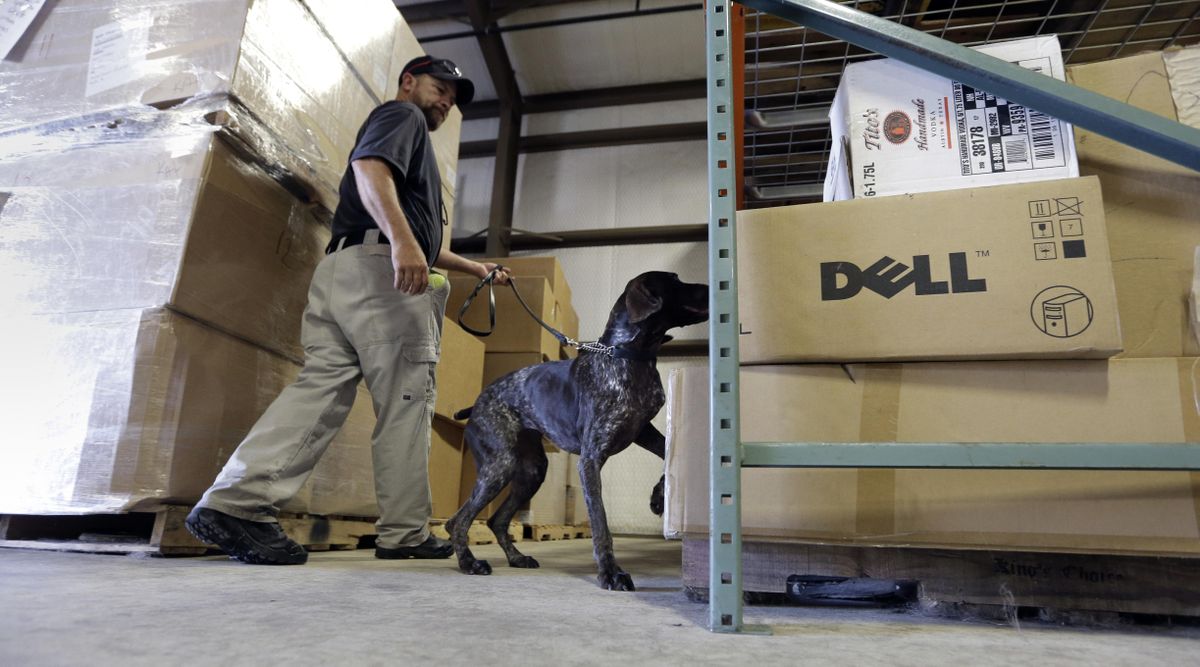 In this Thursday, June 9, 2016, photo, Transportation Security Administration dog trainer Ford Rinewalt works with Sylvia, a bomb-sniffing dog, in a makeshift warehouse during a drill at Lackland Air Force Base in Texas. (Eric Gay / Associated Press)
GLYNCO, Ga. – Covering their ears, 192 future airport security officers watched from a grandstand as Larry Colburn detonates a plastic-explosives device like the one carried by the underwear bomber in a failed attempt to blow up a plane on Christmas Day 2009.
A tremendous boom was accompanied by a plume of black and gray smoke. A wave of blast pressure ripples through the air, hitting the spectators.
Colburn, a former Memphis police bomb squad commander, tells his audience that a very small amount of the explosive, PTEN, can do tremendous damage.
"That is an eye-opener," says Betsy Bueno. "That makes you want to do the job."
Bueno is joining the Transportation Security Administration, the agency responsible for protecting the traveling public from terrorists. Many travelers associate the TSA with long lines and uncomfortable pat-downs. Critics say the agency gives the appearance of airport security without doing much to make air travel safe.
Screeners performed dismally in tests last year involving mock weapons and bombs being smuggled through checkpoints. The TSA suffers from understaffing, low morale and high turnover. Peter Neffenger, the agency's sixth and current administrator, wants to hire more enthusiastic agents like Bueno and train them better, and also make greater use of bomb-sniffing dogs as ways to improve TSA performance.
Since January, almost all new hires have gone through a two-week course at a sprawling federal installation in Georgia. And TSA recently opened a new facility in Texas to train more dogs in bomb detection. The Associated Press took a look behind the scenes at both operations.
The TSA was created after the September 2001 terror attacks, and screeners have been trained piecemeal at airports around the country. Neffenger decided to centralize and standardize training at a former naval air station in Glynco that is used by more than 90 other law enforcement agencies. TSA said it spends $2,400 per trainee on travel and lodging for their nine-day course at Glynco.
"By bringing them here to the academy, we're sure that all of the officers are getting the exact same training, the exact same procedures," says Douglas Yates, who worked at Palm Beach (Florida) International Airport and is now an instructor at the Georgia center. Under the airport-based approach, he says, "there is always the possibility that some of the local things might creep in that are not proper or not according to the program."
There is classroom instruction on reading X-ray images, detecting explosives and other weapons, methods that terrorists use to conceal weapons, and handling hostile travelers.
Instructors say the hardest part for trainees is interpreting X-ray images. That could explain screeners' poor performance in audits – according to published reports, screeners working at airports across the country missed banned objects 67 out of 70 times in one test, a 96 percent failure rate.
Trainees must pass written and hands-on tests during the course to be hired. The washout rate is remarkably low, just 1 percent. Instructors say that is partly because trainees get remedial help if they fail part of the course.
Anthony Roman, an aviation-security expert who runs an investigative consulting firm, says recent audits like the one with a 96 percent failure rate prove that TSA training has been poor. He says the creation of a central academy was a good first step.
"I don't think nine days is long enough, but we need many, many more TSA officers and we need them now," he says.
The agency has about 42,000 screeners, but retention has been a problem. In figures provided to The Associated Press, TSA disclosed that more than 18,000 full-time and 16,000 part-time screeners have quit or been fired since October 2010.
In that time TSA hired only 2,534 full-time replacements but added more than 34,000 part-timers. The agency converted 26,371 part-time officers – including ones hired before 2010 – to full-time jobs.
A TSA spokesman says full-time screeners start at $25,000 to $30,000 a year. On the federal government's jobs website, slightly higher salaries are listed in some high-cost areas. The vast majority of listings, however, are for part-time jobs paying $15 to $22 an hour.
Screeners must be at least 18 years old and hold a high school degree or the equivalent or have one year of full-time experience in a related field such as airport security or reading X-rays. Some new hires are in their 50s. The average new hire is 32, and 17 percent of screeners are veterans, according to TSA.
Halfway across the country, at Lackland Air Force Base in Texas, TSA handlers at a new $14 million facility are training more dogs to sniff out explosives. The training costs $30,000 to $55,000 per dog and, officials said, is constantly tweaked to keep up with changes in the materials and methods used by terrorists.
Dogs speed up the checkpoints because travelers who pass the canine smell test can be moved to expedited-screening lanes where they don't have to remove shoes, belts and jackets or take laptops out of their bags.
The dogs' usefulness goes beyond convenience. TSA officials believe that dogs, along with uniformed police officers, are a deterrent to would-be attackers.
Local journalism is essential.
Give directly to The Spokesman-Review's Northwest Passages community forums series -- which helps to offset the costs of several reporter and editor positions at the newspaper -- by using the easy options below. Gifts processed in this system are not tax deductible, but are predominately used to help meet the local financial requirements needed to receive national matching-grant funds.
Subscribe now to get breaking news alerts in your email inbox
Get breaking news delivered to your inbox as it happens.
---