News > Spokane
Nonprofit helps disabled vets with handyman services
Fri., July 1, 2016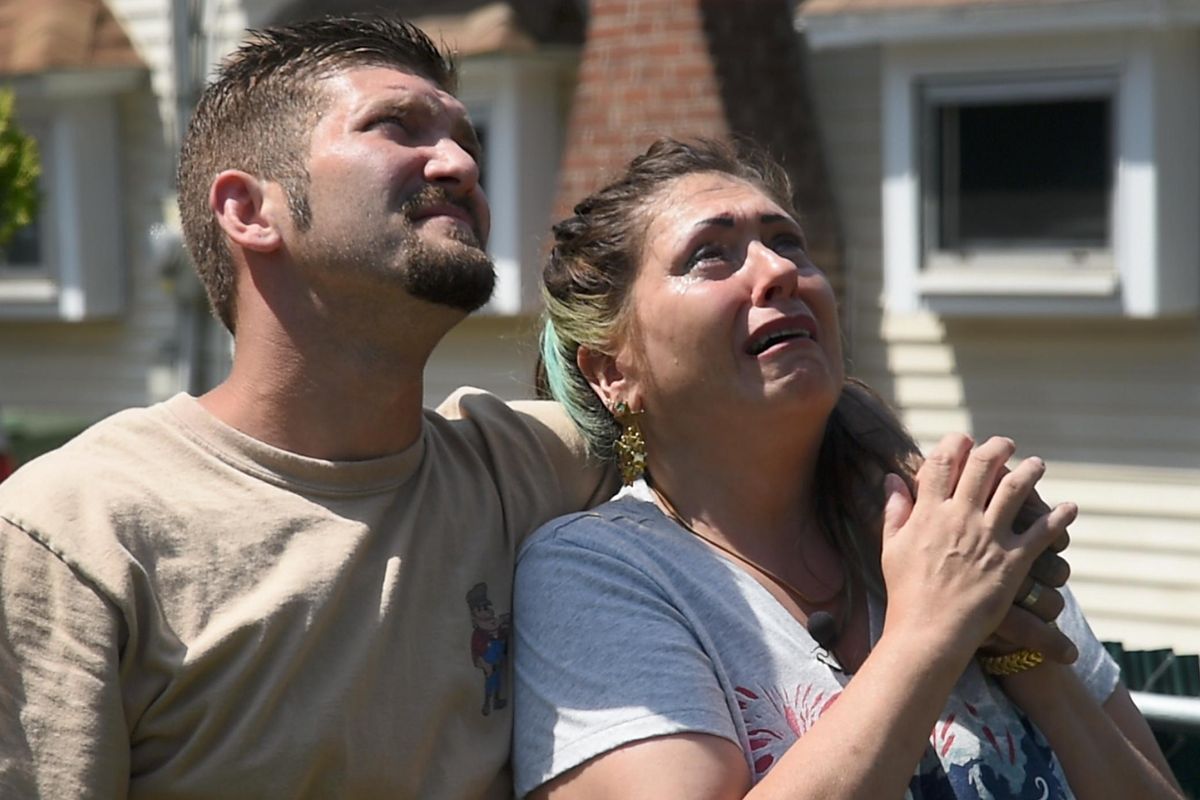 Branden Rosen, representing Free Handyman for Disabled Veterans, and Tina Barritt, a disabled Navy veteran, watch the American flag wave atop a flagpole the volunteer organization installed in Barritt's front yard on Friday. (Colin Mulvany / The Spokesman-Review)
Tina Barritt stood in her north Spokane yard Friday morning clutching an American flag to her chest, tears streaming down her face, as she watched a crew put the finishing touches on her new flagpole.
A veteran of the Navy, Army National Guard and Army Reserves, Barritt finally gave in to the sobs building in her chest as the flag rose to the sky.
"It's even more beautiful than I thought," she said.
Just then a breeze came up and extended the flag into the wind. "Oh my gosh, thank you God," she said.
The flagpole was installed by a crew from Free Handyman Service for Disabled Veterans, a new nonprofit organization based in an office at Pines Road and Trent Avenue in Spokane Valley.
Barritt received the flagpole as a birthday gift from her mother and wanted it installed before the Fourth of July, but didn't know how she was going to be able. She has degenerative disk disease and the pain has limited her arm movement.
But recently Barritt took a wrong turn on her way back from an eye doctor appointment in Spokane Valley and found herself at the intersection of Trent Avenue and Pines Road. She spotted someone holding a sign advertising free handyman services for disabled veterans.
"When I went in there, I met the most wonderful people," she said. "I've never asked for help before."
Since then she's had workers come to mow her large lawn. They're putting risers in her kitchen so she can more easily reach her cupboards and they plan to install donated steps to replace the plastic ones leading up to her porch.
But the installation of the flagpole was what meant the most to Barritt.
"I'm just a proud American," she said. "I never expected people to help me. I'm almost embarrassed that I have this help, but I'm so grateful."
The nonprofit was launched in March by Kevin Oxley, who hired a crew and started doing jobs for veterans in May. He's been making connections with local contractors so if he can't do a job, it will still get done.
His first project was a man with a leaking pipe and Oxley was able to find a plumber to come and fix it for free. Since then Oxley estimates he's done 50 projects for veterans, including building wheelchair ramps and doing yardwork.
"I've got about 60 or 70 waiting," he said.
The organization got its start in California, where Oxley was a volunteer driver for the Veterans Administration. The veterans he drove often talked about small repairs they needed done.
"I started fixing stuff and became known as the free handyman," he said. "It became a very expensive hobby."
Now he's working to get donations, including building materials and tools, to continue his work.
"I've got faith that the community is going to support us," he said.
Barritt donated tools from her backyard woodshop that she can no longer use and she said she hopes others step forward to help the organization that has been so helpful to her.
"These guys are wonderful," she said.
Local journalism is essential.
Give directly to The Spokesman-Review's Northwest Passages community forums series -- which helps to offset the costs of several reporter and editor positions at the newspaper -- by using the easy options below. Gifts processed in this system are not tax deductible, but are predominately used to help meet the local financial requirements needed to receive national matching-grant funds.
Subscribe now to get breaking news alerts in your email inbox
Get breaking news delivered to your inbox as it happens.
---