News > Spokane
Security images show blood on robbery suspect's sweatshirt
Fri., July 1, 2016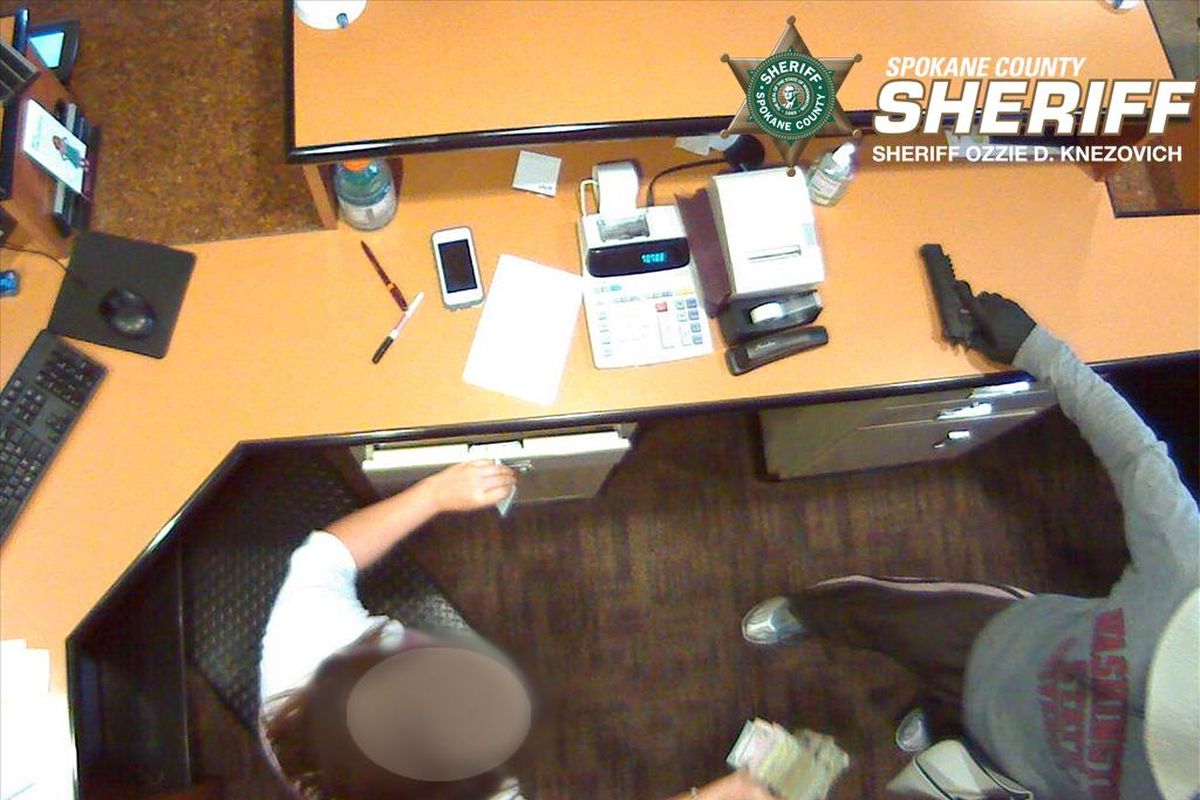 Images from a surveillance camera during a bank robbery in Spokane Valley on Thursday, June 30. (Spokane County Sheriff's Office / Courtesy)
The Spokane County Sheriff's Office has released images from security footage that show a robbery suspect holding a gun Thursday afternoon at STCU's South Valley branch.
One image also shows the customer who shot the suspect. A dark patch of what appears to be blood can be seen on the suspect's Washington State University sweatshirt. Investigators also found blood at the scene.
The customer, a man wearing shorts and a blue T-shirt, had a permit to carry a concealed handgun, according to the Sheriff's Office. It's not clear whether he fired while the robbery was underway or when the suspect was running away.
Deputy Mark Gregory said he could not comment on details of an ongoing investigation.
"To use lethal force, (citizens) must believe they are in imminent or immediate danger of death or substantial bodily harm," Gregory said. "A citizen is no different from a deputy."
The customer has spoken to investigators and retained a lawyer. He has not been charged with a crime.
The suspect was last seen running north, and deputies are searching for him.
"Really, our concern now is, is he alright?" Gregory said. "Although he committed a crime, we don't want him to die. And if he's not hurt that bad, we don't want him to go out and hurt someone else."
The suspect was described as a white man, between 5-foot-8 and 5-foot-10, weighing about 160 pounds. He was wearing a gray WSU sweatshirt, black pants with white stripes on the legs, black gloves and a light canvas hat, the Sheriff's Office said. A blue bandanna covered his face.
The credit union is expected to reopen after the Fourth of July holiday.
Local journalism is essential.
Give directly to The Spokesman-Review's Northwest Passages community forums series -- which helps to offset the costs of several reporter and editor positions at the newspaper -- by using the easy options below. Gifts processed in this system are not tax deductible, but are predominately used to help meet the local financial requirements needed to receive national matching-grant funds.
Subscribe now to get breaking news alerts in your email inbox
Get breaking news delivered to your inbox as it happens.
---