Sports
Brad Keselowski finally earns first Daytona victory
Sat., July 2, 2016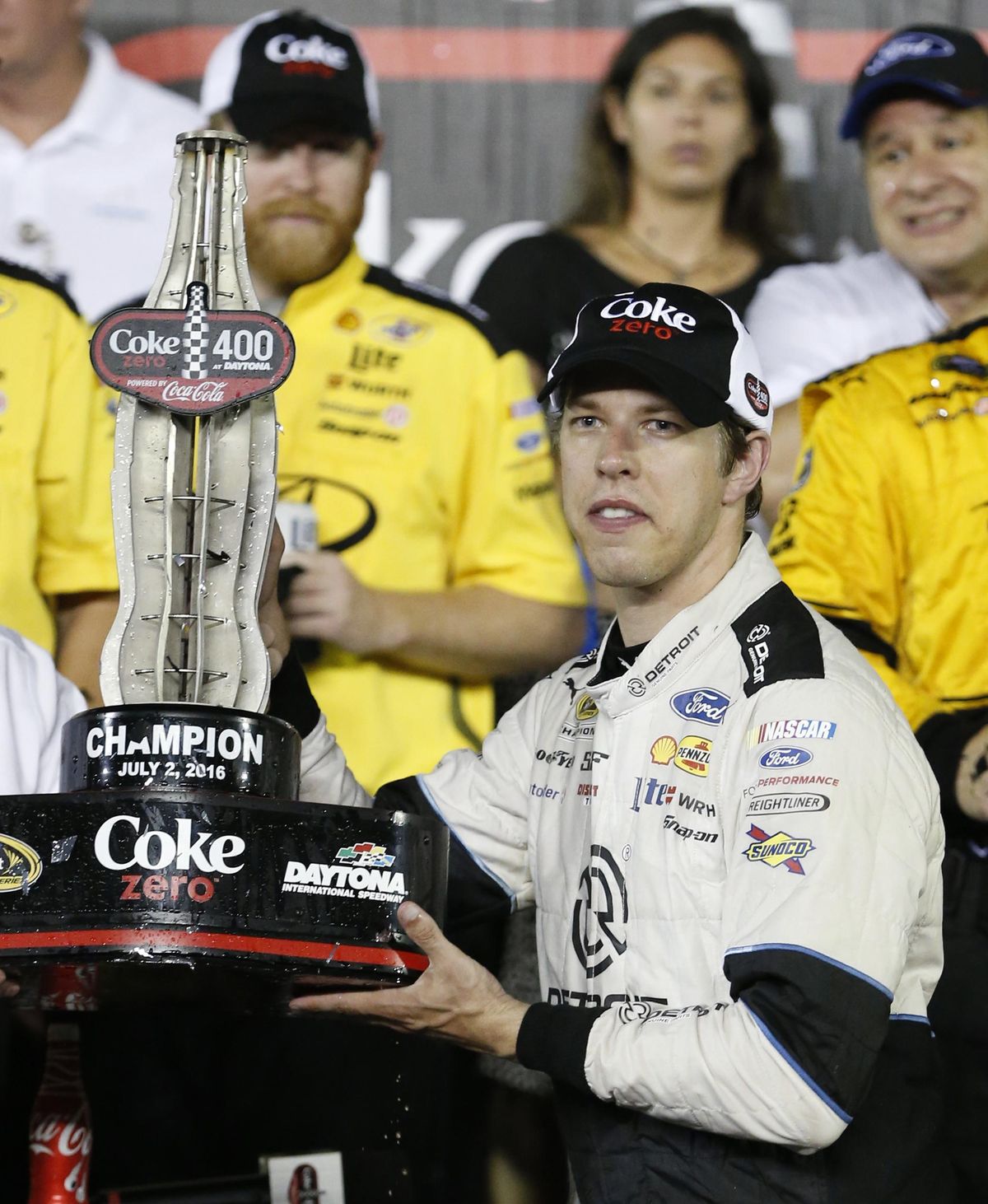 Brad Keselowski holds his trophy after winning the NASCAR Sprint Cup auto race at Daytona International Speedway. (Wilfredo Lee / Associated Press)
DAYTONA BEACH, Fla. – Brad Keselowski had his confidence shaken at Daytona International Speedway more than once.
He was a good plate racer, but never could find his way to victory lane at NASCAR's most famous track.
That changed Saturday night with a dominating performance that gave Team Penske its 100th career Sprint Cup Series victory – a win that Roger Penske celebrated in victory lane by participating in the traditional champagne spray.
More important, it gave Keselowski his long-awaited first win at Daytona.
Keselowski led a race-high 115 laps then held off Kyle Busch on a two-lap shootout that sent the race into overtime for one additional lap. It gave him his fifth career Cup win in a restrictor-plate race, but all the others had come at Talladega. He won on the Alabama track most recently in May.
"I don't care if it's not the 500. It's Daytona. This is huge," he said. "I love this place."
He loved it even when he came up frustratingly short, or not even close at all.
Keselowski said his futility at Daytona was "a kick in the you-know-what," but he and his No. 2 Ford crew kept chipping away at it even after he had a disappointing run in the season-opening Daytona 500.
"To win 100 races with the competition we have in this sport is amazing," said Penske. "Sixteen years ago we won our 100th race on the IndyCar side, it took us some time to catch up over here. Pretty important night for us."
The race was marred by a 22-car accident that collected more than half the field and thinned the competition for Keselowski. It really only left Kyle Busch as a legitimate contender, but a restart for a two-lap shootout that sent it into overtime forced Keselowski to earn the win.
He easily held off Busch, and challenger Kurt Busch was eliminated when he was knocked out of line by Joey Logano as they headed to the checkered flag.
"I don't remember a whole lot. It gets kind of crazy," said Kyle Busch, who crashed his primary car Friday morning and raced in a backup.
"You just tried to play it as safe as you could but as smart as you could, and being as aggressive as you could without trying to tear up any cars. If we could have got the 2 car out of there, it probably would have been a decent race, but that thing was just so strong that there wasn't much passing him.
"Really it took a lot of guys ganging up and getting together in order to make a move on him. He was pretty smart about where he positioned his car on the racetrack, and I could see that, and I tried to do some of those same things, but man, it just never really worked for me as good as he could handle it."
Trevor Bayne finished third and was followed by Keselowski teammate Logano and Ricky Stenhouse Jr. as Ford drivers took four of the top five spots.
Keselowski credited a push from his teammate for helping him shake the Busch brothers on the final restart.
"I was able to get Brad a good push to clear and get a Penske car to victory lane, which is really cool," Logano said. "The 2 was the fastest car and he deserved to win the race."
It was a plan to work together and disrupt the Toyota contingent that used teamwork to dominate the Daytona 500. Instead, Kyle Busch was the only Toyota driver to finish inside the top 10.
Kyle Larson was sixth and the highest-finishing Chevrolet. He was followed by Austin Dillon, who ended last year's race in an airborne accident, then pole-sitter Greg Biffle and Clint Bowyer.
Michael McDowell was 10th.
Tony Stewart, seeking his fifth victory in his final race at Daytona, was in contention until a late accident. He finished 26th.
Dale Earnhardt Jr. was the defending race winner, but never contended Saturday night and finished 21st. He was involved in the 22-car accident – his third consecutive crash in a plate race – but was able to continue to the finish this time.
"Miserable night," Earnhardt tweeted. "Had some gremlins in the steering."
Local journalism is essential.
Give directly to The Spokesman-Review's Northwest Passages community forums series -- which helps to offset the costs of several reporter and editor positions at the newspaper -- by using the easy options below. Gifts processed in this system are not tax deductible, but are predominately used to help meet the local financial requirements needed to receive national matching-grant funds.
Subscribe to the sports newsletter
Get the day's top sports headlines and breaking news delivered to your inbox by subscribing here.
---