Sports
Celtics land Horford for four years, $113 million
Sat., July 2, 2016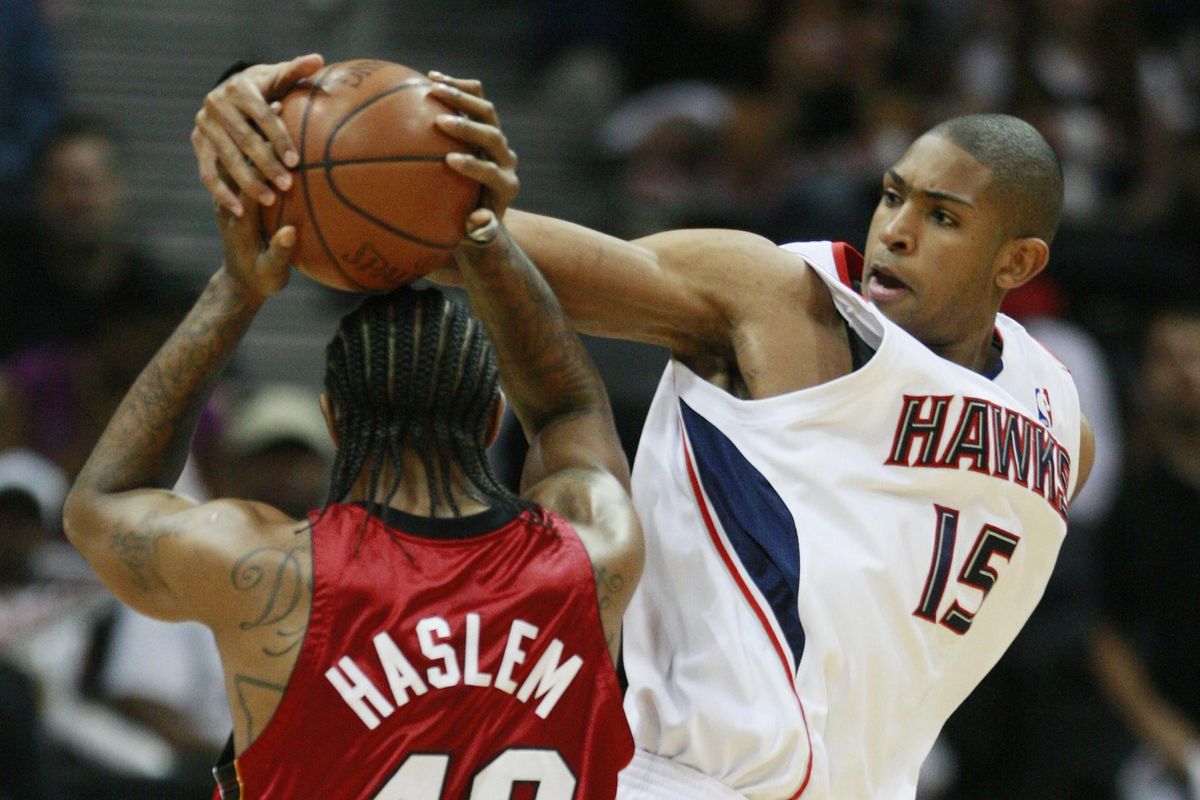 Al Horford, right, is heading from Atlanta to Boston, where the Celtics are becoming a popular choice to challenge for the Eastern Conference championship. (John bazemore / Associated Press)
Al Horford ended the waiting game with a simple tweet: "Celtic Pride," it said, followed by 18 shamrocks.
The number might not have been a coincidence.
A franchise with 17 NBA championships may have gotten closer to contending for an 18th on Saturday, when Horford decided to accept a four-year, $113 million offer to join the Boston Celtics. Horford made the announcement on Twitter, and the terms of the detail were confirmed to The Associated Press by a person with direct knowledge of the negotiations.
As with nearly all free agent deals, sources are speaking on the condition of anonymity because no deals can be finalized until at least Thursday under league rules.
Horford wasted no time in changing his Twitter bio, which now says he is "Boston Celtics star Forward/Center Al Horford." And the reactions came in swiftly as well, after one of the biggest prizes in this year's free-agent sweepstakes decided to leave Atlanta.
"Let's get it," Celtics guard Isaiah Thomas wrote.
The Celtics won 48 games last season, finishing in a four-way tie for the third-best record in the Eastern Conference. They have a strong young core already, a highly regarded coach in Brad Stevens, and had the money to land a huge free agent.
Horford also met with the Washington Wizards as well as the Hawks, the team that drafted him and the team he's now leaving. Horford spent his first nine NBA seasons in Atlanta, but the Hawks agreed to terms with Dwight Howard and Kent Bazemore on big-money deals, leaving them little room for their centerpiece.
Atlanta could have made a trade or two to create enough room to keep him as well, but by Saturday Horford was already starting to look elsewhere.
The four-time All-Star averaged 15.2 points and 7.3 rebounds last season. He gives the Celtics a formidable presence on both ends of the floor as they try to vault into the top tier of the East.
In other dealings subject to Thursday's official announcements:
The Los Angeles Lakers have agreed to terms with veteran forward Luol Deng on a four-year contract worth $72 million.
The 31-year-old Deng averaged 12.3 points and 6.0 rebounds for Miami last season. He has spent the last two years with the Heat.
The Houston Rockets have agreed to terms with power forward Ryan Anderson on a four-year, $80 million contract.
The 28-year-old Anderson spent the past four seasons with New Orleans. He averaged 17 points and six rebounds last season.
The Detroit Pistons and free-agent forward Jon Leuer have agreed on a four-year, $42 million contract.
Leuer averaged 8.5 points and 5.6 rebounds for the Phoenix Suns last season, his fifth in the league
The Orlando Magic are landing free agent center Bismack Biyombo with a four-year deal to leave Toronto.
The Sacramento Kings agreed to terms on a two-year, $25 million deal with guard Arron Afflalo and a two-year, $16 million deal for Anthony Tolliver.
Afflalo averaged 12.8 points and shot 38 percent on 3-pointers for the New York Knicks last season, his ninth in the NBA.
Tolliver spent the past two seasons in Detroit, playing about 20 minutes a night as a reserve.
The Charlotte Hornets agreed to terms with veteran forward Marvin Williams on a four-year deal worth $54 million. He averaged 11.7 points and 6.4 rebounds for the Hornets last season.
Kevin Durant's free agency meetings continued in the Hamptons where reports say the four-time scoring champion and 2014 NBA MVP for the Oklahoma City Thunder met with the San Antonio Spurs and the Boston Celtics.
The Dallas Mavericks have informed representatives of Golden State's Harrison Barnes that they intend to sign the restricted free agent to an offer sheet for a four-year, $95 million contract.
Local journalism is essential.
Give directly to The Spokesman-Review's Northwest Passages community forums series -- which helps to offset the costs of several reporter and editor positions at the newspaper -- by using the easy options below. Gifts processed in this system are not tax deductible, but are predominately used to help meet the local financial requirements needed to receive national matching-grant funds.
Subscribe to the sports newsletter
Get the day's top sports headlines and breaking news delivered to your inbox by subscribing here.
---