News > Spokane
Spin Control Files: John Sonneland was the man behind Spokane's term limits
Sun., July 3, 2016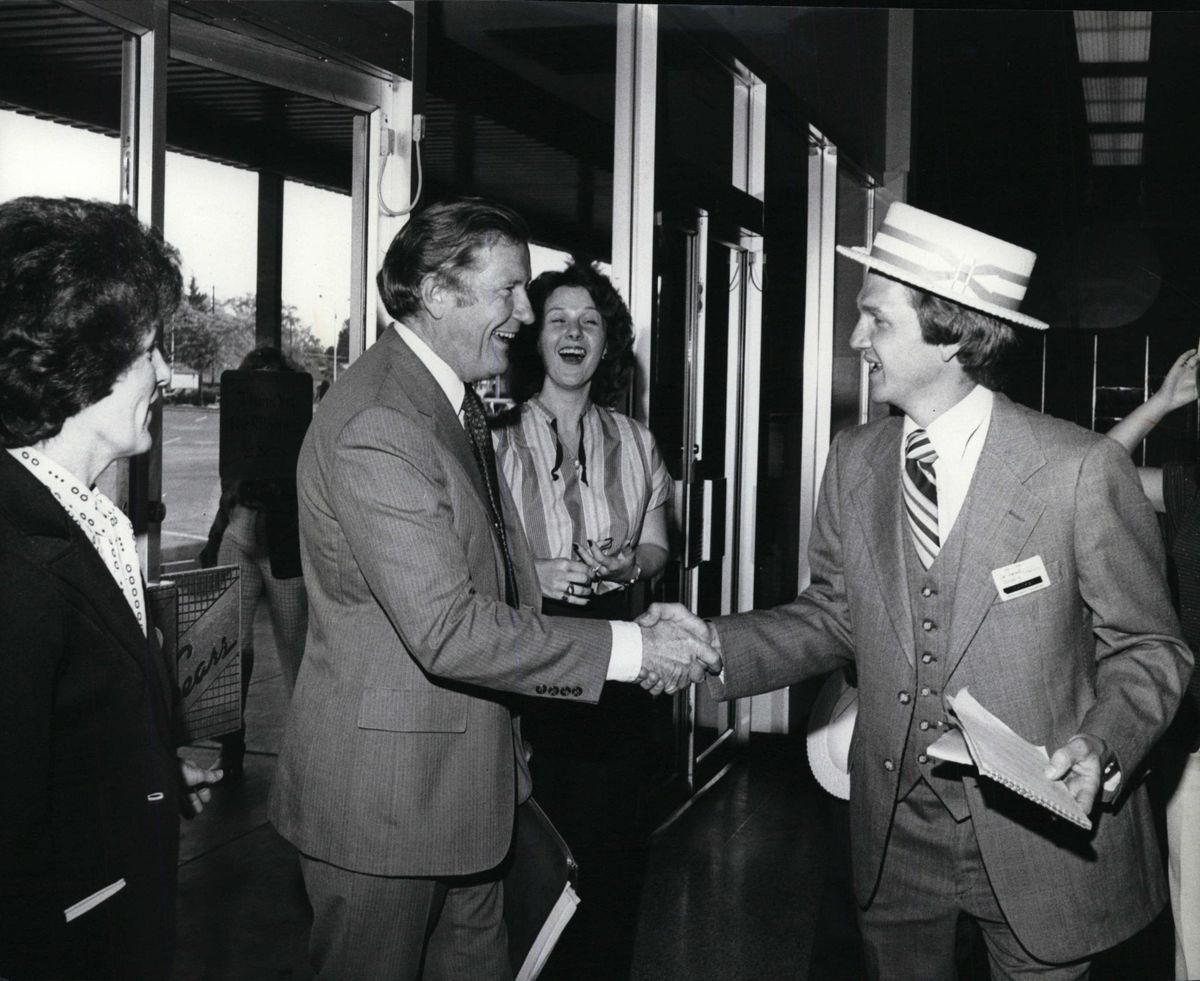 John Sonneland shaking hands with Warren Olson of Sears in 1980. (The Spokesman-Review / PHOTO ARCHIVE)
If John Sonneland had been as successful in politics as he had been in business, he'd have won a seat in Congress in 1980.
Or in 1982, 1992 or 1994.
But while he failed to gain Eastern Washington's 5th District congressional seat in those years, Sonneland was not Harold Stassen, Pat Paulsen or Lyndon LaRouche – perennial candidates drawn like moths to the flame of a personal political campaign.
He made his mark on local politics by limiting the number of years a mayor or city councilman in Spokane can stay in office.
Term limits were a form of good government to Sonneland, whose nonpolitical life involved being a successful surgeon, turning property in the Spokane area into residential or commercial developments and operating a failing telephone messaging and paging company.
Sonneland, who died May 19 at 92, was a conservative. His kind of conservative used to be called "rock-ribbed Republican" at a time when that party affiliation didn't preclude one from membership in a good-government group like Common Cause, which he had.
He ran for Congress at a time when Eastern Washington's electorate was less conservative than it is today. And he ran against Tom Foley, an incumbent Democrat who had plenty of campaign money and, until 1994, strong approval from the local voters and an establishment who might've backed Sonneland for other offices.
He ran first against Foley in 1978, but didn't survive the Republican primary. Undeterred, he took another shot in 1980, making the general election ballot in a year of voter discontent that fueled the Reagan Revolution. Sonneland came within 8,800 votes of Foley, and beat him in six of the district's 14 counties.
He went for a rematch in 1982, when conditions for Republicans weren't nearly so favorable, and lost almost 2-to-1.
I hit the campaign trail that fall with Sonneland, who was tall, silver-haired and well-spoken. He had a sharp mind and well-researched positions – arguably too well researched. Sometimes he would back up a stance by citing specific articles or books and urge voters in an audience to check them out. When I suggested it was a bit unusual to cite references in an age of sound bites, he said it stemmed from academic training in which papers were footnoted and medical research referenced.
The 1982 campaign had a quixotic feel, and Sonneland didn't tilt at the windmill again until 1992, when the Spokane GOP was looking at the prospect of a third straight attempt by abortion foe Marlyn Derby. In the previous 10 years, Sonneland had invested in cellphone licenses and sold his share of one in Puerto Rico for $1.6 million. He plunged enthusiastically into the race, easily beat Derby and two other Republicans in the primary and essentially self-financed his campaign to "fire the speaker." He was a happy warrior that year and gave Foley the closest race since 1980.
Also in 1992, Washington voters passed term limits for federal and state elected officials, something Sonneland vigorously supported as much as Foley opposed. Two years later, Sonneland was in the middle of a campaign for a term-limit ordinance in the city of Spokane when he sought a fourth rematch in what was shaping up to be a bad year for Democrats and incumbents.
He was again mostly self-financed. His name recognition gave him an early boost, but he temporized on the key issue of gun rights, saying he might support restrictions on individual ownership of machine guns. One of his primary opponents refused to draw the line at bazookas. The National Rifle Association endorsement went to a fresh Republican face, George Nethercutt, who beat Sonneland and another former Foley foe, Duane Alton, and went on to win the general election.
During the primary, the candidates had pledged to support the winner financially. It's the kind of pledge any candidate will make who expects to win and many conveniently forget after losing. Sonneland and his wife, Holly, did not forget, and gave the maximum contribution allowed to the Nethercutt campaign.
The city charter change instituting term limits passed. It remains on the books today, although the state's term limit law was tossed by the U.S. Supreme Court.
Sonneland sponsored another term limits-themed state initiative in 1996 that failed, but the 1994 campaign was his last run for office. He concentrated on business, including the Quail Run development on the South Hill, but kept abreast of local politics and civic issues.
He would call from time to time when he thought I'd strayed too far to the left in a story. He usually had a book or an article I should read for another, better perspective on the issue.
Local journalism is essential.
Give directly to The Spokesman-Review's Northwest Passages community forums series -- which helps to offset the costs of several reporter and editor positions at the newspaper -- by using the easy options below. Gifts processed in this system are not tax deductible, but are predominately used to help meet the local financial requirements needed to receive national matching-grant funds.
Subscribe now to get breaking news alerts in your email inbox
Get breaking news delivered to your inbox as it happens.
---