News > Voices
Spokane library Outreach team member Al Kiefer closes book on 32-year career
Wed., July 6, 2016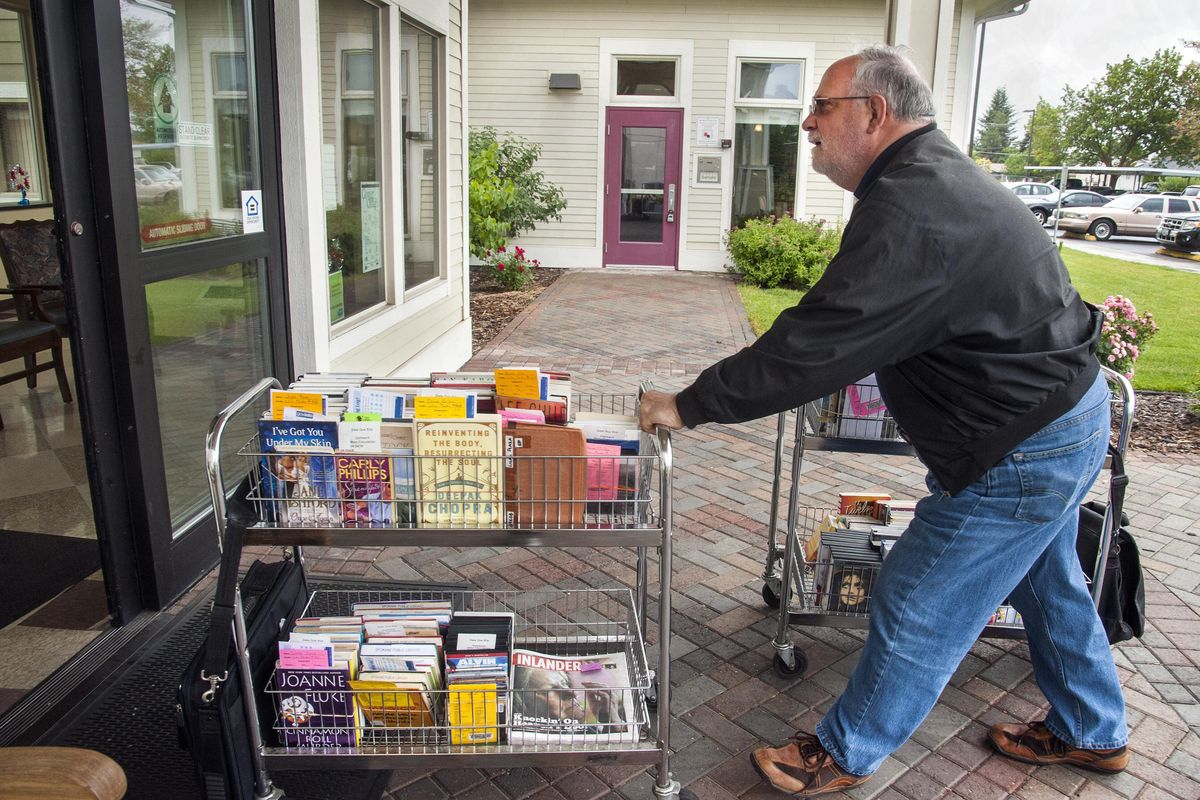 Al Kiefer rolls a cart of books into Lilac Plaza on June 24, 2016, in Spokane. (Dan Pelle / The Spokesman-Review)
Al Kiefer often gets hugs as he goes about his work, but on a recent Friday afternoon the hugs were especially heartfelt. Residents of Lilac Plaza Retirement Community had learned Kiefer was retiring after 32 years with Spokane Public Library.
For the past 20 years, Kiefer, 62, has worked with the library Outreach team, taking the library to retirement communities, nursing homes and rehabilitation clinics throughout the city.
"I'm really going to miss him," Lilac Plaza resident David Griffin said. "I've known Al for about 10 years. He always brings the right books for me to read. He's been a great friend and confidant."
The time Kiefer has invested in getting to know library customers is evident.
"He knows us all by name and he knows what we like to read," Cheryl VanCamp said. "Once I requested a popular book and it wasn't available, so he brought me his own copy. That's going above and beyond."
That kind of service comes naturally to Kiefer, who said he's felt privileged to hear the stories of so many library customers over the years.
"They changed my life for the better," he said.
Kiefer also served at the library's telephone reference desk for several years.
"This was before the internet," he said. "It was kind of like a radio show. I was the voice of the reference desk."
Armed with a stack of atlases and city directories, he fielded questions about everything from the weather in Ohio to the phone number of a local plumber.
"I was a literary bartender," he said. "Now, I'm a literary chef, and nobody goes away hungry."
Speaking of hunger, VanCamp said if she'd known it was Kiefer's last visit to Lilac Plaza she would have baked him cookies as she's done in the past.
"Al is a wonderful friend to us," she said. "I'm working on reading all the classics before I die; it's my bucket list of books. Al printed me out a five-page list and I'm almost done."
Andrew Chanse, director of Spokane Public Library, said Kiefer will be missed.
"What's essential to Al and the Outreach team is growing relationships. It's in their hearts," Chanse said. "They deliver individual service and care to customers and become part of their lives in many ways."
Though Kiefer is retiring, Outreach will continue bringing the library to people who otherwise wouldn't be able to check out books, magazines, movies and music.
"We're expanding our capacity for Outreach and began offering a pop-up library at the West Central Community Center on Wednesdays in the last month," Chanse said. "We're continuing the legacy Al created."
At Lilac Plaza, yet another customer hugged Kiefer and said, "I'm going to miss you."
He grinned and replied, "You be nice to the newbie!"
As he reflected on his 32 years with the Spokane Public Library, Kiefer said, "I feel very humbled and honored to have had this gig; it's been great. Like the old Beatles' song, 'The love you take is equal to the love you make' – that's been my career."
His long-term retirement plans involve travel, and in the short term he said he's going to sleep in, downsize clothing, shred papers and go through his "book fort."
"I'll finally have time to read," he said.
Local journalism is essential.
Give directly to The Spokesman-Review's Northwest Passages community forums series -- which helps to offset the costs of several reporter and editor positions at the newspaper -- by using the easy options below. Gifts processed in this system are not tax deductible, but are predominately used to help meet the local financial requirements needed to receive national matching-grant funds.
Subscribe now to get breaking news alerts in your email inbox
Get breaking news delivered to your inbox as it happens.
---