News > Spokane
Former longtime SR editorial cartoonist Shaw McCutcheon dies at 94
Wed., July 6, 2016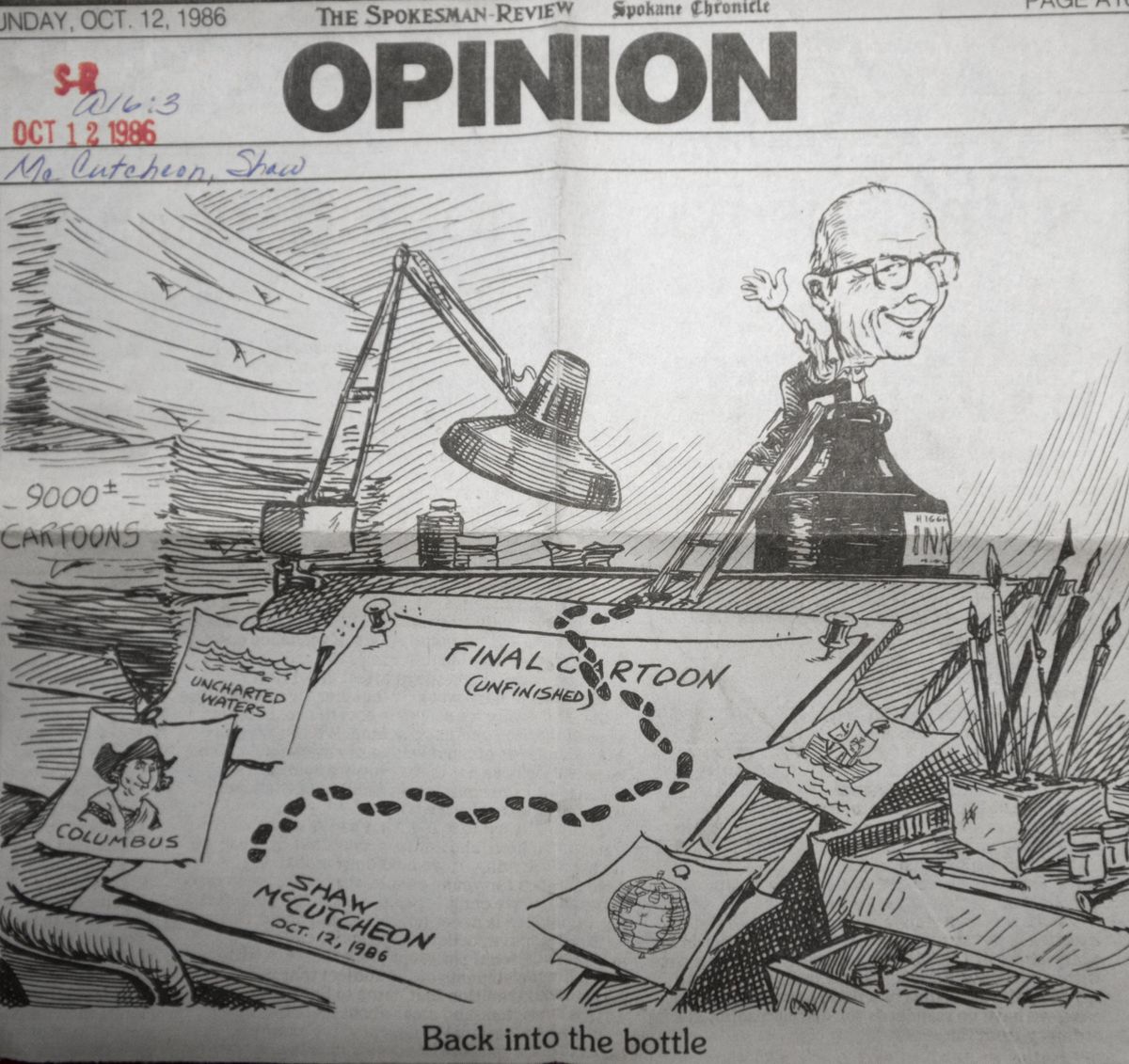 Shaw McCutcheon cartoon (The Spokesman-Review / File)
Former editorial cartoonist Shaw McCutcheon, who worked for The Spokesman-Review for 36 years before retiring in 1986, died Wednesday in Spokane. He was 94.
McCutcheon was unusual in that he also wrote editorials for the newspaper in addition to drawing cartoons. He also, by all accounts, played a mean game of golf.
"He was pretty good," said former Spokesman-Review editorial board member Steve Witter. "I just remember he had a great personality and a great sense of humor."
When he retired in 1986, then-publisher W.H. Cowles, 3rd called him a "marvelous talent" in a newspaper story.
Former Spokesman-Review editorial board member Doug Floyd said McCutcheon especially liked maple bars, which he called caramel bars, that staffers took turns bringing in every Friday.
"He was an institution there before I started with the editorial board," Floyd said.
While some cartoonists had a confrontational or antagonistic style, McCutcheon didn't, Floyd said.
"What controversy he engendered was not deliberate," he said.
McCutcheon had been living in Florida in the winter and Spokane the rest of the time for many years, said his daughter, Caren Furbeyre. In recent years, he lived with her and her family when he was in Spokane. He was doing well – and his golf game was still strong – until last month, when he got sick while she was out of town for a couple of days.
"He was out on the street and he collapsed," she said.
A passer-by called 911, and McCutcheon was found to have a gastrointestinal infection. He also developed pneumonia and meningitis, Furbeyre said.
McCutcheon was born and raised in Chicago, where his father John T. McCutcheon won a Pulitzer Prize for cartooning at the Chicago Tribune. Shaw McCutcheon got a degree in mathematics from Harvard University. After he served in the military in World War II, he decided to become a cartoonist.
In 1945, he married his wife, Nancy, who would become an accomplished artist. The couple moved to Spokane in 1950 when McCutcheon was hired at The Spokesman-Review. It's estimated that he drew more than 9,000 cartoons and wrote about 1,000 editorials during his career.
When he retired, McCutcheon taught himself computer programming and developed an accounting system that was used in the businesses run by his wife's family. That lasted about 15 years, and then he began playing the piano at local retirement centers for the "old people," as he called them.
"He didn't consider himself old," his daughter said. "He would play for old people, but he wasn't old."
McCutcheon and his wife were longtime supporters of education and were involved in St. George's School. McCutcheon was present earlier this year when the school named a building after the couple. It was a surprise to him, but one he enjoyed.
His wife died in 2009 at the age of 86 after he had been her caregiver for many years. "They really had a long, passionate marriage," Furbeyre said.
McCutcheon didn't slow down after his wife's death. He practiced golf and also traveled. He spent a lot of time with his four grandchildren.
"He continued to live a very active, robust, connected life," she said. "He had a deep curiosity about life. He was kind of ageless."
A few years ago, a television program sparked an avid interest in UFOs. Furbeyre said that for the past five years he would travel to Phoenix for an annual UFO convention. Furbeyre tagged along for the trip last year.
"It's a remarkable experience," she said.
McCutcheon is survived by his daughter; a son, Shaw McCutcheon Jr. of Boca Raton, Florida; and four grandchildren. The family will have a private service. Memorial contributions can be made to St. George's School of Spokane.
Local journalism is essential.
Give directly to The Spokesman-Review's Northwest Passages community forums series -- which helps to offset the costs of several reporter and editor positions at the newspaper -- by using the easy options below. Gifts processed in this system are not tax deductible, but are predominately used to help meet the local financial requirements needed to receive national matching-grant funds.
Subscribe now to get breaking news alerts in your email inbox
Get breaking news delivered to your inbox as it happens.
---