News > Idaho
Man arrested in drug death of grandson of former Post Falls mayor
Wed., July 6, 2016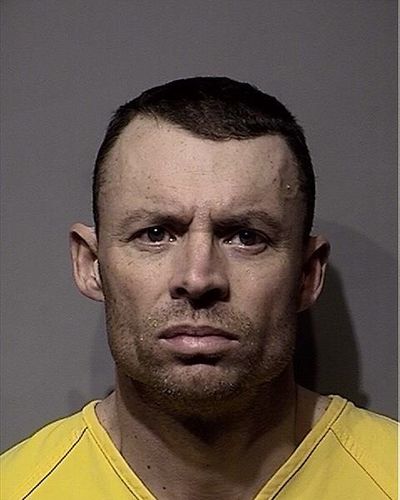 The grandson of a former Post Falls mayor died last August after investigators say he was forced at gunpoint to eat a fatal dose of methamphetamine.
Now authorities have arrested a felon they believe was responsible for the death of 22-year-old Evan Mychal Larkin, whose grandfather Clay Larkin served 13 years as mayor.
Shaun Patrick Kelly, 43, was arrested Friday night by the Spokane County Sheriff's Department and is being held without bond. He was wanted on a Kootenai County felony warrant for second-degree murder, aggravated assault and unlawful possession of a firearm. Kelly agreed Tuesday to be extradited to Kootenai County to face those charges.
Larkin died Aug. 23, three days after he was left unconscious in his running Isuzu pickup truck outside the Kootenai Health emergency department. A Coeur d'Alene Police detective used hospital surveillance video to identify Rathdrum resident Joshua David Brown, the man who dropped Larkin off and fled the scene.
Brown told investigators he and Larkin went to Kelly's mobile home on West Hudlow Drive in Post Falls to "get high," court records state. Kelly allegedly told the men to strip naked and turn off their phones, then ingest a large amount of "dope" to prove they weren't police informants, Brown said.
Kelly allegedly gave Larkin a 1.8-gram rock of meth and told him to eat it, records show. When Larkin refused, Kelly retrieved a gun and ordered him to consume the drug, according to Brown's account to detectives.
After eating the meth, Larkin "began to act strangely and overheat," and was foaming at the mouth, Brown told a detective. Kelly refused to call an ambulance, and he and Brown put Larkin in the shower to try to cool him down, Brown said. When Larkin didn't improve, Brown drove him to the hospital in Larkin's truck and left him sitting outside.
Larkin never regained consciousness after he was admitted to the hospital, and he died from hypoxic encepalopathy and meth toxicity, according to the county coroner.
Kelly first was arrested Dec. 28 in Spokane on suspicion of manslaughter, aggravated assault and related charges. Investigators at that time confiscated five cellphones in his possession and obtained search warrants to examine records from use of those phones. That case was closed as prosecutors prepared new charges against him.
Kelly has previous felony convictions, including injury to a child in 2007 and burglary and grand theft in 2006.
Larkin, the son of Lori Larkin and Scott Smith, grew up in Coeur d'Alene, Post Falls and Harrison. He attended Post Falls New Vision High School and Post Falls High School, and worked at several restaurants and bars in the area, according to his obituary.
Local journalism is essential.
Give directly to The Spokesman-Review's Northwest Passages community forums series -- which helps to offset the costs of several reporter and editor positions at the newspaper -- by using the easy options below. Gifts processed in this system are not tax deductible, but are predominately used to help meet the local financial requirements needed to receive national matching-grant funds.
Subscribe now to get breaking news alerts in your email inbox
Get breaking news delivered to your inbox as it happens.
---