News > Spokane
Four initiatives likely headed for ballot in Washington
Fri., July 8, 2016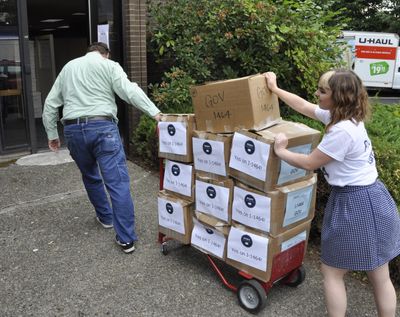 OLYMPIA – Four initiatives are likely to be added to Washington's November ballot later this month after state officials verify voter signatures.
I-1501, which supporters say would enhance consumer protection for seniors and other vulnerable people, and I-1464, which supports say would lessen the influence of money in elections and make politics more transparent, both submitted signatures before the Friday afternoon deadline.
Earlier in the week, sponsors also turned in petitions on I-1433, to raise the minimum wage, and I-1491, to restrict gun sales and possession by people a court rules are a danger to themselves or others.
All four have significant cushions of signatures above the 246,372 needed to qualify for the ballot. They will join two initiatives first sent to the Legislature but never acted on, a proposal for a carbon emissions tax and a call for Congress to enact a constitutional amendment on campaign contributions.
Local journalism is essential.
Give directly to The Spokesman-Review's Northwest Passages community forums series -- which helps to offset the costs of several reporter and editor positions at the newspaper -- by using the easy options below. Gifts processed in this system are not tax deductible, but are predominately used to help meet the local financial requirements needed to receive national matching-grant funds.
Subscribe to the Coronavirus newsletter
Get the day's latest Coronavirus news delivered to your inbox by subscribing to our newsletter.
---