Sports
Rain wreaks havoc on Olympic track and field hopefuls
Fri., July 8, 2016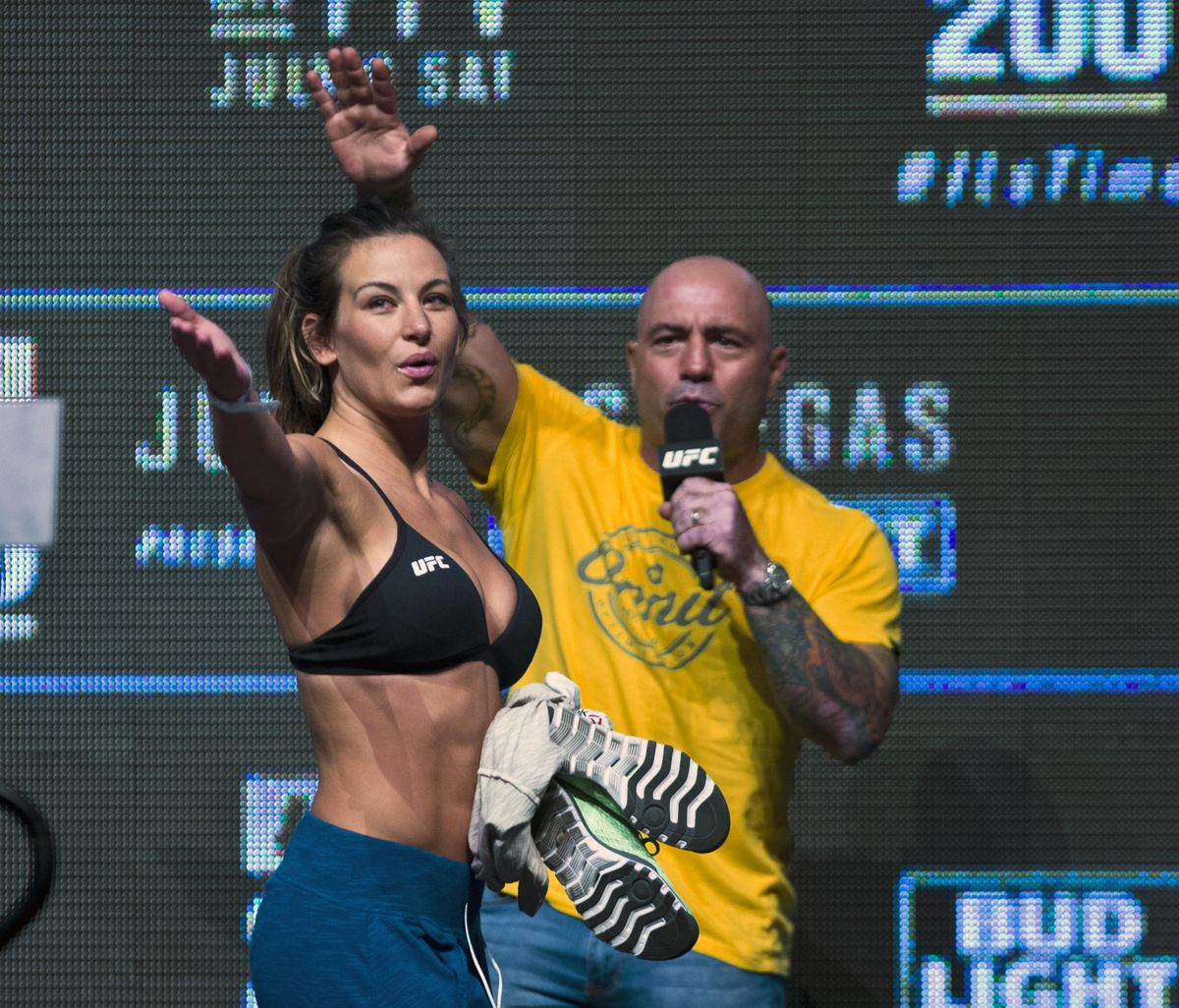 Miesha Tate salutes the fans after an interview with Joe Rogan during the UFC 200 weigh-ins in Las Vegas on Friday. (L.E. Baskow / Associated Press)
EUGENE, Ore. – The defending Olympic pole vault champion warmed up, cooled down, then ran through the whole process again, as the driving rain pelted the field Friday at the U.S. Olympic Trials.
"The more time you have to think, the more you're like, 'Wow. This is how bad things happen,' " Jenn Suhr said.
Suhr escaped the badness. Several other big-name athletes weren't as lucky on a rain-drenched afternoon at Hayward Field.
On a day that saw LaShawn Merritt lower his world-best mark at 200 meters to 19.74 seconds – in a semifinal heat, no less – and two high-school kids, Michael Norman and Noah Lyles, earn spots in the final, there was just as much buzz about those whose chances got washed away in the rain.
First among them was hurdler Dawn Harper-Nelson, whose run at a third Olympic medal came to a stunning halt in the 100-meter semifinals, when she finished third – not good enough to make the eight-woman final.
"Tears are going to come," she said. "Right now, I'm just in shock."
Later, after the rain had stopped but the track was still slick, American record-holder Keni Harrison stumbled to a sixth-place finish and a spot on the couch next month. Brianna Rollins, the 2013 worlds gold medalist, won in 12.34 seconds, a comfortable .16 ahead of Kristi Castlin, who was considered a bigger threat four years ago at trials.
Harrison was supposed to be the woman to beat this year.
"It happened so fast," she said, clearly holding back tears. "I'll have to watch film. It's unfortunate, because my season was going so well. But this stuff happens."
It also happened to Shamier Little. The worlds silver medalist in the 400-meter hurdles didn't make it out of her semifinal heat.
Allyson Felix took to the track well before the rain hit, and coasted through her 200-meter qualifying heat in 22.93 seconds. It was her first race in nearly a year at her favorite distance. She said "nothing's really changed" with her aching right ankle, despite four days of rest.
"Just trying to see how it does on the curve, and all that," she said, as she moved ahead in her quest for the 200-400 double at the Rio Games.
Shortly after Felix's race, the sky opened, and everybody's outlook changed. The discus and pole vault competitions were delayed. The 100-meter hurdle semifinals turned into even more of an adventure than usual.
"I couldn't see through my race," said Nia Ali, who got safely through the semifinal, then finished third in the final, too, to make the Olympics.
Suhr, whose gold medal in London came in a windy rainstorm, only needed one jump to qualify for the final.
"I'm thankful to make it, because you never take it for granted," she said.
Also waiting out the rain was Tavis Bailey, who finished second in the discus finals – one of the most competitive contests on the card.
"When raindrops are hitting the discus in your hand, that will get to you," said Bailey, who finished behind Mason Finley.
Not so fortunate was defending national champion Jared Schuurmans, who finished fifth.
Others with decent chances who didn't make the team included high jumpers Jesse Williams, the 2011 world champion, and Randall Cunningham, who was hoping to join his sister, Vashti, on the trip to Brazil.
"When you landed on the mat, you landed in puddles," said Cunningham, who does the bulk of his training in bone-dry Las Vegas. "Your whole body was soaked."
Such is life in track and field – and everything is amplified in the no-excuses world of U.S. Olympic qualifying, where the top three finishers make it and no exceptions are made for injuries, past performances – or weather.
Nobody felt worse than Harper-Nelson, who burst onto the scene eight years ago at the Bird's Nest in Beijing, crossing the line first after her more-ballyhooed teammate, Lolo Jones, tripped on the second-to-last barrier. That day, Harper-Nelson crossed the line and could be seen mouthing the words "What? What?"
She was every bit as dumbfounded by this finish.
"Complete disbelief," she called it. "I've never been in a position where someone is pulling away and I wasn't able to react."
Local journalism is essential.
Give directly to The Spokesman-Review's Northwest Passages community forums series -- which helps to offset the costs of several reporter and editor positions at the newspaper -- by using the easy options below. Gifts processed in this system are not tax deductible, but are predominately used to help meet the local financial requirements needed to receive national matching-grant funds.
Subscribe to the sports newsletter
Get the day's top sports headlines and breaking news delivered to your inbox by subscribing here.
---