Sports > Outdoors
Over-the-hill biking group has rule: 'Never pedal uphill'
Sun., July 10, 2016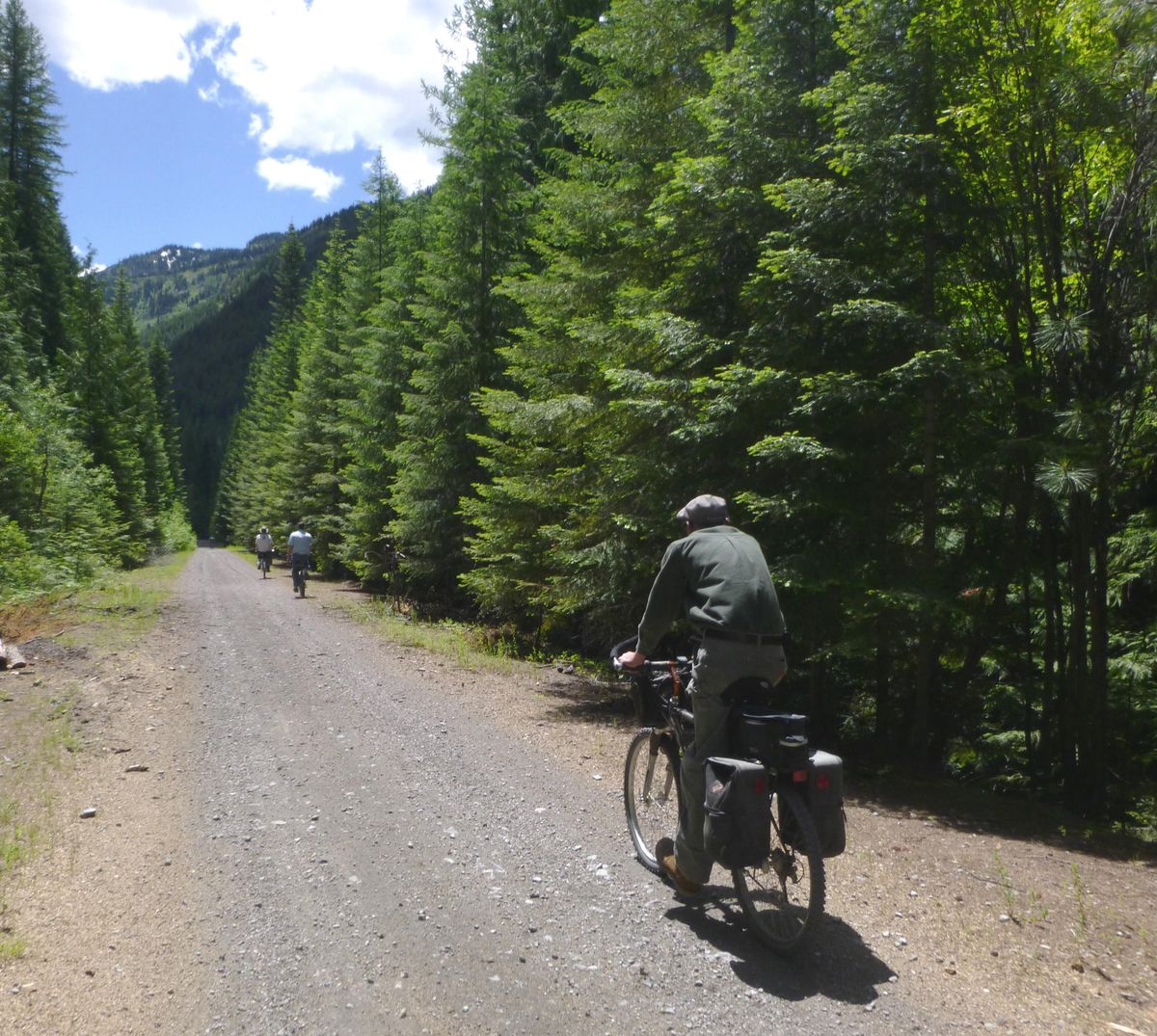 Over-the-Hill Downhillers coast down from Lookout Pass on the Northern Pacific Multi-use Trail. (RICH LANDERS richl@spokesman.com)
After receiving the invitation to bicycle with the North Idaho Over-the-Hill Downhillers, I had just one day to train.
I went home, checked the brakes on my mountain bike and got a workout coasting down the driveway.
To continue the exercise I strolled into the house, sat down on an uncomfortable chair and had a beer.
I was ready. Or at least I thought I was tuned up for joining this rugged group consisting mostly of retired mining-industry workers.
Turns out, I should have drank another beer.
The Silver Valley is a mecca for a bicycling group that has only one rule, said Mike Green: "We don't pedal uphill."
Scanning the horizon from his home in Wallace, he noted that virtually everything is uphill from there.
That translates into a downhill ride from everyplace to which you can shuttle a bicycle.
The Over-the-Hill gang was founded in 2003, when some were merely anticipating fitting the profile. It's an informal group that is organized just enough to know what day to meet at Green's – and who's spouse or friend will drive the shuttle rigs.
Needing reminders to turn off turn signals when driving cars is a prerequisite for full membership.
"We're so old, many are without cell phones," Green said. "Sunday is our usual day."
No women showed up for last Sunday's ride. "That's less pressure on us men," said Axel Carlson.
The shuttle pickups whisked the group of seven on that day up I-90 to the Lookout Pass Ski Area. "This is our favorite of all the routes we do," Green said.
It's an 18-mile downhill dream ride often spiked with viewpoints, wildlife sightings and a detour through The Tunnel of Love.
"Most people don't know about the Tunnel of Love unless they grew up around here," Carlson said.
From the parking lot they headed west on a graveled abandoned railway, known as the Northern Pacific Multi-use Trail, that somewhat parallels I-90. At Mullan, they picked up the paved Trail of the Coeur d'Alenes for the last 7 miles back to Wallace.
The first rest stop was only a mile down the route at their "Canyon Vista" overlook of the Silver Valley. Dick Caron, the group's unofficial historian, could point out sites and names of once-thriving mines.
Carlson filled in details about conditions miners endured working far underground "where we couldn't touch anything in some places because the rocks were too hot."
But the group knew how to get relief from heat on their bike route. It was just a mile or so farther down the railway where they could sit in the shade on a log over a cool creek lined with ferns and devils club.
I began to understand why most of the riders had paniers on the back racks of their bikes as they popped open a cold beer.
"Our beer-stops time far exceeds our biking time," Green said. The group can while away five hours on the 18-mile ride.
Downhillers members ride comfortable hybrid or cruiser bikes with wide tires to handle their favorite routes, which can be rough in stretches.
"We've had a few casualties over the years," said Jim See, noting that he survived an epic wipe-out one year on a tight paved curve off Thompson Pass. "I was racing. Got some good speed. Then there was that tight curve," he said.
They had a story about every view and bend in the route off Lookout Pass, including the site where an avalanche wiped out a huge S-curve trestle in 1903. The accident was made famous by a photo showing one of the coach cars dangling from the sheered off trestle high above the creek below.
Nowadays you have to know where to look to see any sign of the removed structure.
"We've had some encounters with deer, elk and bears on our rides," Green said. "Moose are the most unpredictable. They might trot ahead of you or turn at you – never know what to expect."
The Downhillers picked a few huckleberries as they continued and they stopped at the Stevens Lakes Trailhead to use the vault toilet and chat with a few backpackers in the parking area.
The buzz picked up about getting closer to The Tunnel of Love. With so many winks and smiles, I started working my way back so I could make sure I was at the end of the pack with NO ONE BEHIND ME.
Carlson soon stopped the group in the proper spot. Everyone dismounted and started walking their bikes over the edge of the rail-trail and down a steep slope into a cedar grove along a creek. Another perfect spot for a break.
"Discovered!" said See as he walked around picking up empty beer cans and some other trash. "Who could desecrate a place as beautiful as this?"
"There it is," Green exclaimed, and virtually the entire group looked downstream as though they were coasting their bikes back through memories.
The Tunnel of Love is a walk-through concrete culvert that ushers the stream under the railway into the fish hatchery areas at East Shoshone County Park.
"When the Elks Club or the mining companies would have their big picnics up here – and they were big deals years ago – entire families would be here," Carlson said.
"Some teenagers would always find their way up to The Tunnel of Love," where more than a few first kisses have been smacked.
The Downhillers didn't really need to stop in Mullan for a beer at the Outlaw Bar and Grill, but they did anyway. One member had been passing around whole trout he had pulled out of his smoker that morning and that makes a bicyclist thirsty, even if you've been riding only downhill.
"Nobody in the Valley has a better hamburger than they do right here at the Outlaw," Caron said.
From Mullan, the group steered onto the paved Trail of the Coeur d'Alenes, where they actually had to pedal although the route is technically downhill all the way.
"This is a great trail," said Caron, noting that about 80 percent of the people who follow the beach ball down stream in the annual Lead Creek Derby fundraiser are on bicycles nowadays. "Everybody used to be in vehicles and it got pretty crazy. Turning the railroad into a trail made a big difference."
About a mile down the rail trail from Mullan, after pausing to visit with kids at the local swimming hole in the creek, the group pulled over to another rest spot at a pair of parallel bridges. Green pulled out a little bag of pennies. "I even have some quarters when I feel lucky," he said.
They gathered on one bridge and pitched coins to a "wishing well" opening above a beam on the other bridge. "It makes my day when I hit the well," Green said.
"We're hoping the EPA doesn't become concerned because we're tossing heavy metals into the creek."
The rest of the wild ride was a breeze, ending in the civilization of an establishment in downtown Wallace, where the Downhillers could regroup, rehash the day's experiences and give another shot at quenching their insatiable thirst.
"It's all uphill from here," Caron said.
Local journalism is essential.
Give directly to The Spokesman-Review's Northwest Passages community forums series -- which helps to offset the costs of several reporter and editor positions at the newspaper -- by using the easy options below. Gifts processed in this system are not tax deductible, but are predominately used to help meet the local financial requirements needed to receive national matching-grant funds.
Subscribe to the sports newsletter
Get the day's top sports headlines and breaking news delivered to your inbox by subscribing here.
---