News > Nation/World
'Far and away the best': Sanders finally endorses Clinton
Tue., July 12, 2016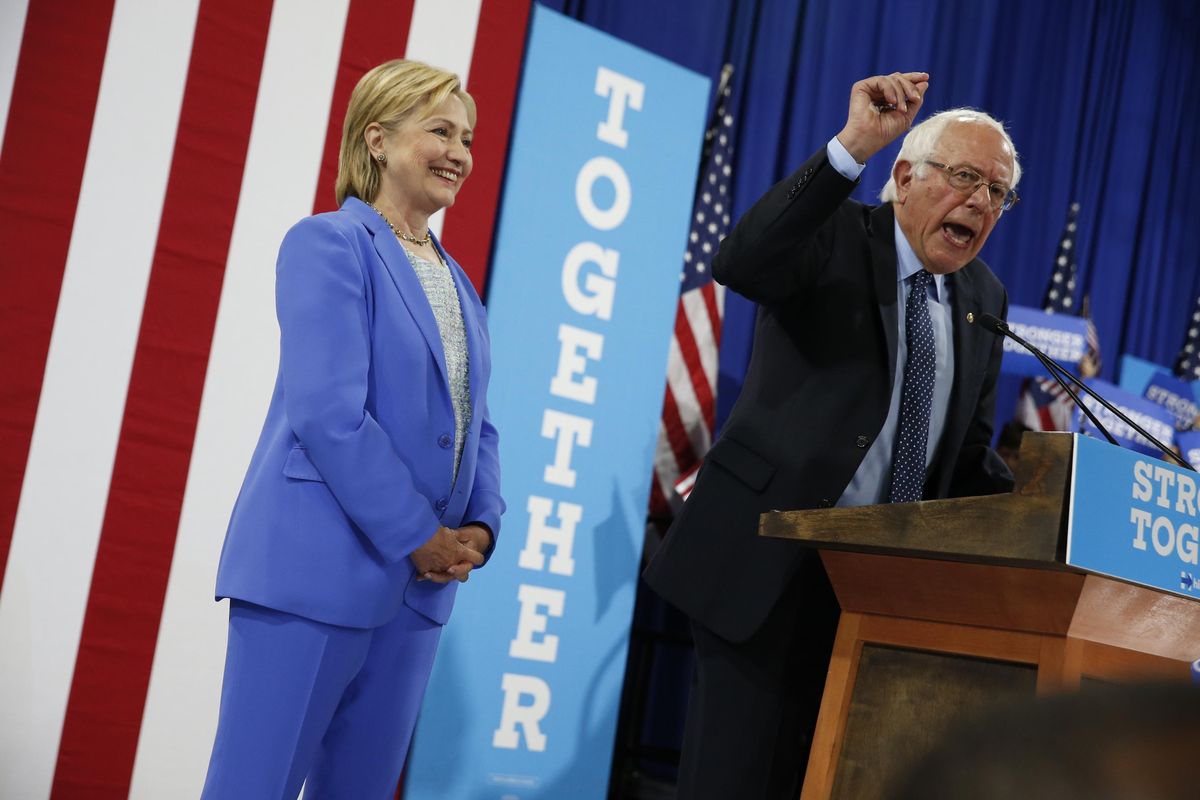 Democratic presidential candidate Hillary Clinton listens as Sen. Bernie Sanders, I-Vt. speaks during a rally in Portsmouth, N.H., Tuesday, July 12, 2016, where Sanders endorsed Clinton. (Andrew Harnik / Associated Press)
PORTSMOUTH, N.H. – With hugs and handshakes, Bernie Sanders endorsed Hillary Clinton for president on Tuesday and emphatically told his supporters their "political revolution" must now turn to electing his Democratic former rival.
Sanders bestowed his long-awaited support before a boisterous New Hampshire crowd, declaring he wanted to make it "as clear as possible as to why I am endorsing Hillary Clinton." He congratulated her for securing enough delegates to win the Democratic nomination and vowed to do everything he could to help her defeat Republican candidate Donald Trump.
"This campaign is not really about Hillary Clinton, or Donald Trump or Bernie Sanders, or any other candidate who sought the presidency. This campaign is about the needs of the American people and addressing the very serious crises that we face," Sanders said.
He added: "And there is no doubt in my mind that, as we head into November, Hillary Clinton is far and away the best candidate to do that."
As Sanders delivered the endorsement just two weeks shy of the Democratic National Convention in Philadelphia, Clinton offered a huge smile, embracing him as they raised their arms in unity. The former secretary of state said the final four months of the campaign would be "much more enjoyable" working alongside Sanders.
During much of her remarks, Clinton embraced many of Sanders' causes, vowing to oppose trade deals like the Trans-Pacific Partnership, fight to raise the federal minimum wage and overhaul the campaign finance system.
"These aren't just my fights. These are Bernie's fights. These are America's fights," Clinton said.
Sanders has vowed to continue on until the convention, and even though he endorsed Clinton, he is still an active candidate, his campaign said after the joint appearance. Spokesman Michael Briggs said Sanders still supports holding a roll call vote at the convention.
Democrats have coalesced around Clinton's candidacy since she defeated Sanders in primaries last month in California and five other states, helped along by endorsements from President Barack Obama, Vice President Joe Biden and others.
The event at a Portsmouth high school sought to project Democratic unity before Republicans formally nominate Trump next week in Cleveland, but some Sanders supporters in the crowd did not appear to be ready to move on.
Chants of "Bernie" broke out in the gymnasium while opening speakers addressed the crowd, prompting Clinton's faithful to chant "Unity."
"It's like he's giving up if he endorses her," said Steve Rand, a hardware store owner from Plymouth, New Hampshire. "She stands for everything that I am against."
But James LePage, a 25-year-old teacher from Denver, said he felt Clinton was "genuine" in her remarks.
"I heard a lot of Bernie in her voice, which I wasn't willing to listen to before," LePage said.
Trump, who has courted Sanders backers as the primaries have winded down, wasted little time going after Sanders.
"Bernie Sanders, who has lost most of his leverage, has totally sold out to Crooked Hillary Clinton," Trump wrote on Twitter.
Local journalism is essential.
Give directly to The Spokesman-Review's Northwest Passages community forums series -- which helps to offset the costs of several reporter and editor positions at the newspaper -- by using the easy options below. Gifts processed in this system are not tax deductible, but are predominately used to help meet the local financial requirements needed to receive national matching-grant funds.
Subscribe now to get breaking news alerts in your email inbox
Get breaking news delivered to your inbox as it happens.
---