A&E > Food
Just Picked: Sunchokes may look weird, but they have a place in the kitchen
Tue., July 12, 2016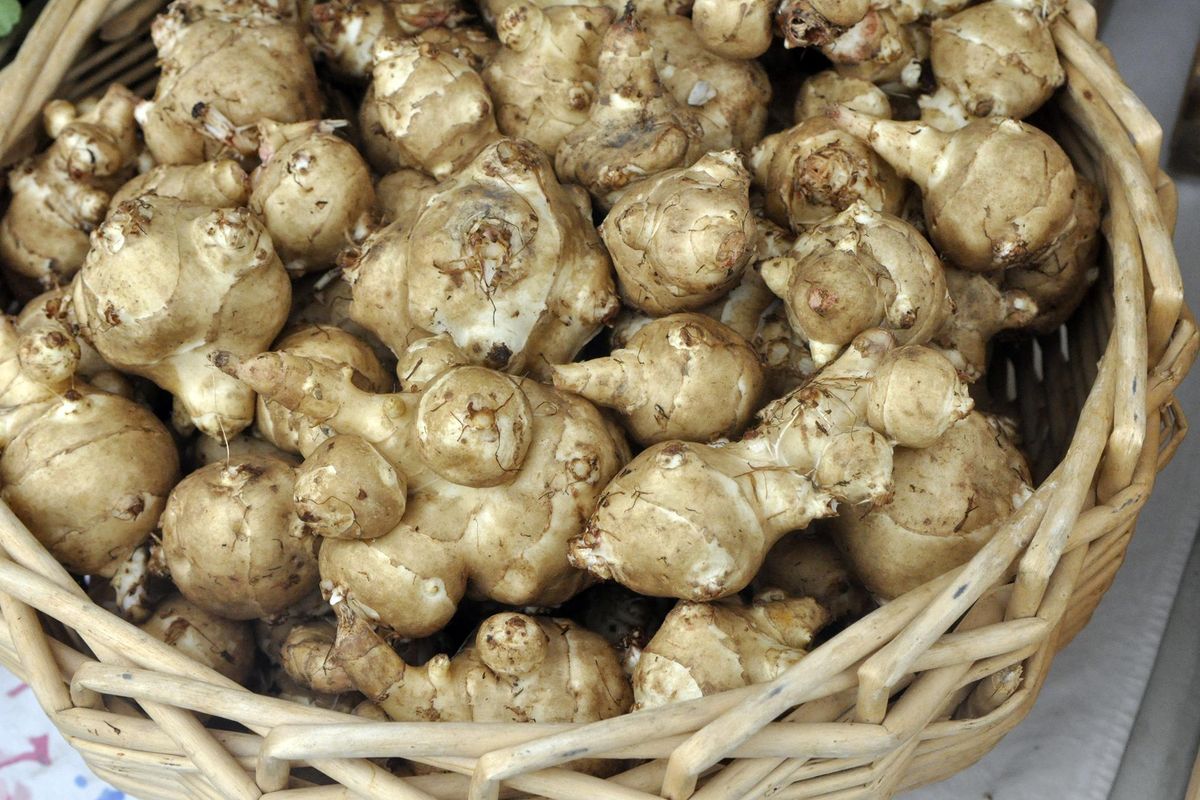 Sunchokes or Jerusalem artichokes. (Adriana Janovich / The Spokesman-Review)
They look a little alien, with their squat shape, protruding eyes and rough ridges – hiding places for dirt.
To some, they resemble ginger root. To me, they seem somewhat stubborn and strangely reminiscent of Jabba the Hutt: coarse, wrinkled, wide in places.
I like to think of sunchokes as happy little Jabbas, though – not the massive, vile "Star Wars" gangster. They're cute in a way that's beigy, bumpy and obstinate yet weirdly pleasing, almost as if they're challenging home cooks to make something of them.
Sunchokes are also known as Jerusalem artichokes, even though they don't look like artichokes and have nothing to do with Jerusalem. Raw, they're similar in texture to jicama or parsnips and very mild in flavor with just a whisper of sweetness. They're sometimes compared to water chestnuts, although they aren't as watery.
Slice them into thin discs using a mandoline, and they'll add a subtle crunch to salads. Chop them into tiny cubes and toss them into salsas. Use them as a low-cal and low-carb alternative – read: vehicle for flavor – for dipping into hummus or homemade ranch or other dressings.
One cup has just over 100 calories. Sunchokes are also a good source of iron, B vitamins and phosphorus. And their primary carbohydrate – inulin – has a minimal effect on blood sugar and is often touted as being diabetic friendly. But, it's also known to cause uncomfortable side effects: gas, bloating, flatulence. (Chowhound.com has dubbed the tubers "fartichokes.") So consider consuming sunchokes in moderation until you know how this digestive downside affects you.
Roasted, sunchokes taste a little like steamed artichoke hearts with an ever-so-faint flavor of sunflower seed – not the toasted, salted kind, but the mild and raw kind.
Chop them up, drizzle extra-virgin olive oil over them, then sprinkle them with freshly cracked pepper, sea salt and thyme for a satisfying side dish with a gentle, nutty flavor.
Or, peel, puree and mix them with butter and cream, like mashed potatoes. Sautée slices with other vegetables and greens. Include them with Yukon gold potatoes in a gratin with milk, crème fraiche and Gruyere cheese, maybe some water chestnuts, too.
Sunchokes make wonderfully creamy soups, too. Pair them with asparagus or actual artichokes, or simply a potato or two, garlic, onion, shallot, maybe some leeks or celery. Top the pureed soup with microgreens, pumpkin seeds, pistachios or sautéed mushrooms and a drizzle of olive oil or swirl of heavy cream.
Shaved Vegetable Salad with Sunchokes
From "My French Family Table" by Beatrice Peltre
The gingery dressing gives this crunchy, refreshing salad an Asian flavor.
For the dressing
1 teaspoon minced fresh ginger
1 garlic clove, peeled and finely grated
Pepper
3 to 4 tablespoons lime juice, to taste
2 teaspoons brown sugar
2 teaspoons fish sauce
6 tablespoons olive oil
2 teaspoons finely chopped cilantro
For the salad
8 small sunchokes, peeled and thinly sliced with a mandoline
3 cups arugula
2 carrots, peeled and thinly sliced lengthwise with a vegetable peeler
1 zucchini, thinly sliced lengthwise with a vegetable peeler (See notes)
4 pink radishes, thinly sliced with a mandoline
2 tablespoons pomegranate seeds
1 red apple, cored and thinly sliced with a mandoline
Make the dressing: In a small bowl, combine the ginger and garlic. Season with pepper and add the lime juice. Stir in the brown sugar and fish sauce. Add the olive oil and whisk to emulsify. Stir in the chopped cilantro; set aside.
Make the salad: In a salad bowl, gently toss the sunchokes, arugula, carrots and zucchini. Add the radishes and pomegranate seeds and apple. Drizzle with the dressing and toss gently. Serve immediately.
Yield: 4 large servings (6 to 8 smaller servings)
Notes: Slice the zucchini until you reach the soft center of the vegetable. I added shaved fennel, too, about half of 1 bulb, and I substituted 1 cup watercress in place of 1 cup of the arugula. (Baby spinach or mizuna would also work.) Sliced pear is a nice addition, too.
Warm Salad of Crispy Smoked Bacon and Jerusalem Artichokes with a Wicked Balsamic Dressing
From www.jamieoliver.com
2 handfuls large Jerusalem artichokes or new potatoes
Sea salt
Freshly ground black pepper
1 radicchio or treviso, outer leaves discarded
3 little gem lettuces, leaves washed, dried and stalks removed
1 small handful fresh flat-leaf parsley or chervil, leaves picked and finely sliced
Extra-virgin olive oil
8 thick slices smoked bacon or pancetta
1 small red onion, peeled and finely sliced
3 tablespoons balsamic vinegar
Scrub your Jerusalem artichokes or potatoes and boil them in salted water until tender. Once cool, cut them in half and set aside. Meanwhile, carefully remove the core of the radicchio or treviso, then halve, break apart and finely slice. Wash and dry in a salad spinner. Put the gem lettuce leaves in a large bowl with the radicchio or treviso and the parsley or chervil.
Cut your bacon into about ½-inch slices. Pour a small amount of olive oil into a nonstick frying pan and fry the bacon. When it's lightly golden, add the sliced onion and your cooked and drained Jerusalem artichokes or potatoes. Fry on a medium heat until the bacon is golden and crisp, the onion is sticky and soft and the Jerusalem artichokes have sucked up all the flavors and turned crispy. The important thing to remember here is that you need enough color, but not so much that you're on the edge of burning everything.
Now is the time to get everyone round the table, holding their knives and forks ready to tuck in. Divide half the contents of your pan between four plates, then add 5 tablespoons of olive oil and the balsamic vinegar to the pan, with a little pinch of salt and pepper. Mix everything together so the flavors improve and then pour immediately over the salad leaves waiting in the bowl. Toss lightly and quickly so each leaf is coated in the tasty balsamic dressing. Put a nice handful of the salad leaf mixture on top of the hot bits and pieces that are already on each plate. Eat at once as it is, or quickly shave over a little Parmesan – nice both ways.
Note: This is Oliver's favorite warm salad – but have a go at finding your own versions. Instead of bacon, try opening out some good-quality sausages and frying the meat until crisp. Or some nice crispy roasted meat like chicken, duck, quail or even game birds, torn up, with some sautéed mushrooms and roasted tomatoes, would go really well in a salad like this.
Yield: 4 servings
Jerusalem Artichokes and Potato au Gratin
From Emeril Lagasse
For Emeril's Creole Seasoning
2 1/2 tablespoons paprika
2 tablespoons salt
2 tablespoons garlic powder
1 tablespoon black pepper
1 tablespoon onion powder
1 tablespoon cayenne pepper
1 tablespoon dried leaf oregano
1 tablespoon dried thyme
For gratin
6 Jerusalem artichokes, peeled and cut into 1/4-inch slices (about 3/4 pound)
2 large baking potatoes, peeled and cut into 1/2-inch slices (about 1 1/4 pounds)
Salt
Black pepper
Cayenne
1/4 cup olive oil
1 tablespoon butter
1/2 cup chopped onions
2 teaspoons chopped garlic
1 cup grated cheddar cheese
1 tablespoon flour
1/2 cup milk
1 cup dried fine bread crumbs
2 tablespoons chopped parsley
To make the seasoning: Combine all ingredients thoroughly and store in an airtight jar or container.
Yield: about 2/3 cup
To make the gratin: Preheat the oven to 400 degrees.
Place the Jerusalem artichokes and potatoes in a mixing bowl and season with the salt, black pepper and cayenne. Mix in 2 tablespoons of the olive oil and toss to coat.
Butter the bottom and sides of a 2-quart baking dish. Put half of the artichoke-potato mixture in the bottom of the pan, then sprinkle with 1/4 cup of the chopped onions, 1 teaspoon of the chopped garlic, and 1/4 cup of the cheese and the flour. Top this with the remaining artichoke-potato mixture. Sprinkle with the remaining 1/4 cup onions, 1 teaspoon garlic, and 1/2 cup cheese. Pour the milk over the mixture.
In a bowl, mix together the remaining 2 tablespoons olive oil with the bread crumbs and parsley and season with Creole seasoning. Spread this topping evenly over the mixture. Bake for 1 hour, or until the potatoes are tender.
Yield: 6 servings
Jerusalem Artichoke Soup
2 tablespoons unsalted butter
1 cup chopped onion
2 celery stalks, chopped
2 large garlic cloves, chopped
2 pounds Jerusalem artichokes, peeled and cut into chunks
1 quart stock (chicken, vegetable or gluten-free)
Salt and black pepper to taste
Heat the butter in a soup pot over medium-high heat and cook the onions and celery until soft, about 5 minutes. Do not brown them. Add the garlic and sauté for 1 minute. Sprinkle with salt.
Add the Jerusalem artichokes and the chicken stock to the pot and bring to a simmer. Reduce the heat to low, and simmer, covered, until the Jerusalem artichokes begin to break down, 45 minutes to an hour.
Using an immersion blender or upright blender, purée the soup. If using an upright blender, fill the blender bowl up only to a third of capacity at a time, if the soup is hot, and hold down the lid while blending. Alternately, you can push the soup through the finest grate on a food mill, or push it through a sturdy sieve. Add salt to taste. Sprinkle with freshly grated black pepper to serve.
Yield: 4 servings
Local journalism is essential.
Give directly to The Spokesman-Review's Northwest Passages community forums series -- which helps to offset the costs of several reporter and editor positions at the newspaper -- by using the easy options below. Gifts processed in this system are not tax deductible, but are predominately used to help meet the local financial requirements needed to receive national matching-grant funds.
Subscribe to the Spokane7 email newsletter
Get the day's top entertainment headlines delivered to your inbox every morning.
---