Homes being moved for car wash in West Central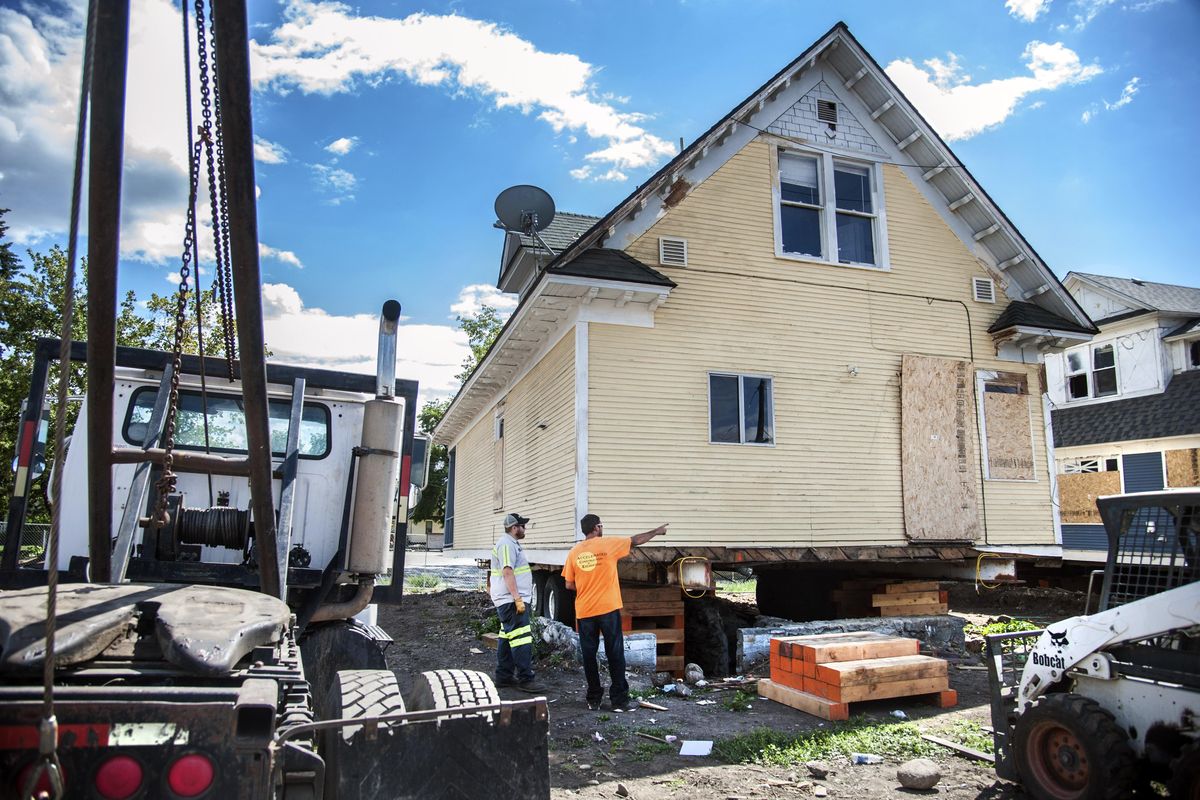 Two years ago, a block of low-income houses in the West Central neighborhood was filled with tenants who couldn't afford Spokane's increasing rent.
Today, it's a mostly empty patch of dirt and machinery, where a few houses on stilts remain. The tenants are long gone.
Neighbors who remember the empty lot as another block of West Central sprawl were glad to see some of the dilapidated and run-down buildings demolished and the previous tenants relocated to newer low-income housing around Spokane.
But the project that's replacing them – a Mega Wash Express car wash – isn't exactly what a lot of people had in mind.
"I guess I'd like to see it," said Bill West, who lives across the street from a sign proclaiming "Mega Wash Express Coming Soon" on the corner of West Gardner Avenue and North Maple Street. "But I think it's selfish that people have to move out of their home."
In summer 2014, Larry Sarff and his two brothers began meeting with landlords of the houses bounded by Maple and Ash streets, and Boone and Gardner avenues. They saw an opportunity to open a second car wash location after their first in Spokane Valley.
The land already was zoned for commercial development, and Sarff said he liked the idea of his business being between six lanes of busy traffic. Plus, he said the houses that occupied the spot were so run-down he was surprised people were even allowed to live there.
"That block right there was not a really good block in that neighborhood," he said. "I've had a lot of people come by and thank us."
Last summer, Sarff and the Spokane City Council began working with the residents to find new, low-income housing. In addition to giving tenants more than the legally required 20-day notice to vacate, he said he also hired a moving company to help the displaced residents into their new homes, free of charge.
Once everyone was moved out, Sarff hoped to break ground in May with construction finished in October this year.
But what he and his brothers didn't necessarily expect was a community rally that would end up saving six of the 13 homes from demolition – a process that's set construction of the car wash back several months, and put the new completion date at around January 2017.
"It's been quite a hold-up," he said. "But I think it's worth it. It's good for the neighborhood and community."
The Sarffs were approached by Deb Conklin of Oak Tree, a local nonprofit, and Keith Kelley, who owns Kelley Developments, a general contracting company. Their solution: To buy the homes for $1 apiece and move them to different lots throughout West Central.
"Realistically, most of the houses, or a lot of the houses, weren't even worth $1," Sarff said, adding that he was always interested in keeping the homes that could be saved, but had nowhere to put them.
The next step was to find viable lots in West Central big enough to fit the two-story and one-story homes. Building codes have evolved since the houses were built in the early 20th century, so the community had to request that the city offer an exception on allowing the homes to occupy the newer spaces.
City Councilwoman Karen Stratton represents the district where the car wash project will be built and has been working on finding new locations for the remaining houses, in addition to granting the move without the need for updated construction to meet code. With funding help from the St. Paul's United Methodist Church, five of the six houses still waiting to be moved have prospective lots lined up, she said.
"They're beautiful old homes," she said. "It's nice to see them back."
Conklin's and Kelley's best estimates have the remaining five homes moving within the next several weeks – one house was already transported to a private owner near Gonzaga University. Don Shaw, owner of Advanced Moving and Rigging, said to safely move the 40 tons of wood and steel, he'll have to shut down sections of North Maple Street and surrounding routes.
Some neighbors have grumbled about the car wash, saying they'd prefer a grocery store or retail development.
But Kelley, the general contractor, is quick to point out how little community-driven commercial development has happened in West Central over the years, despite gripes from concerned residents.
"For as critical as people are about a car wash in their neighborhood, people aren't opening up their pocketbooks to make an investment," he said. "This investment is as symbolic as some of the other investments that have been going on in the neighborhood for the past 15 years."
---