Sports
Digest: Hyo Joo Kim, Mirim Lee, Haru Nomura share Marathon Classic lead
Thu., July 14, 2016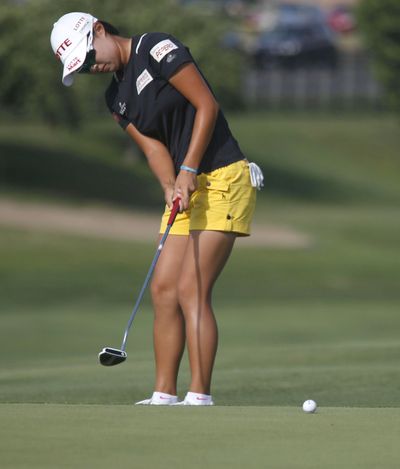 Golf: Hyo Joo Kim bogeyed her final hole Thursday for a 5-under 66 and a share of the Marathon Classic lead with fellow South Korean player Mirim Lee and Japan's Haru Nomura.
Celebrating her 21st birthday, Kim had four birdies in a six-hole stretch on her second nine at rain-softened Highland Meadows in Sylvania, Ohio.
"Last night, it was raining, so it's little bit more softer green," Kim said through a translator. "I hit good shots, a lot of good shots, good drives, good putts, but on the last hole I missed a putt. … Best part of game was tee shot, which is driver shot and iron shot. I'm not complaining about any shot today."
She won the season-opening event in the Bahamas for her third career title.
"It was long time ago, so I forgot kind of what feel it was," Kim said.
Nomura won the Women's Australian Open in February for her first LPGA Tour title and took the Swinging Skirts LPGA Classic in April in California.
"Today par-putter is good," Nomura said. "Shots good, second numbers, and everything smooth."
Ariya Jutanugarn, the long-hitting Thai player who won three straight events in May, was a stroke back at 67 along with American Kelly Shon and France's Celine Herbin.
"I played pretty good," Jutanugarn said. "My tee shot was good and I make some putts."
Top-ranked Lydia Ko birdied her final two holes to join second-ranked Brooke Henderson in the group at 68.
"Hopefully, I'll have a few more birdies tomorrow," Ko said. "It's a solid start. I'll take the 3 under today, but I think because of the weather and if there are no thunderstorms the course will probably play drier. That will make it tougher if the greens get much firmer."
Ko won in consecutive weeks in Southern California this year, the second the major ANA Inspiration. The 19-year-old New Zealander tied for third last week in the U.S. Women's Open in California.
Henderson is making her first appearance in the event.
Cbrera, Vegas tied for lead: Angel Cabrera and Jhonattan Vegas dominated the par-5 holes in steamy conditions to share the Barbasol Championship.
Cabrera, from Argentina, eagled the par-5 13th on Grand National's Lake Course in Opelika, Alabama, holing a 60-footer from the fringe, and birdied the two other par 5s in a bogey-free 6-under 65.
Cabrera left the course after his morning round without speaking to the media. The 2007 U.S. Open champion and 2009 Masters winner, he's one of two major champions in the field at the PGA Tour event played opposite the British Open.
Vegas, from Venezuela, also eagled the 13th – making a 20-footer – and birdied the other par 5s in a bogey-free round. He won the 2011 Bob Hope Classic for his lone tour title.
NBA earns grade of A in diversity hiring
NBA: The NBA remains the best among its professional sports peers when it comes diversity hiring.
According to the report released Thursday by the Institute for Diversity and Ethics in Sport, the NBA received an A-plus for the second year in a row for racial hiring and dropped to a B in gendering hiring practices. The league's overall grade of A was its eighth in row as the NBA scored higher than other professional sports league in all three categories.
Reports are also issued on the NFL, MLB, MLS, WNBA and college sports.
Judge moves Green case: A judge has agreed to move a hearing for Golden State Warriors star Draymond Green in his misdemeanor assault and battery case before he leaves next month for the Olympics.
The Lansing State Journal reported that a pre-trial conference originally set for Aug. 4 will be held next Thursday. The former Michigan State basketball player is accused of striking former Spartans football player Jermaine Edmondson in the jaw during a weekend confrontation near the East Lansing campus.
Green's attorney says it would be difficult for his client to communicate while he's out of the country.
Summitt remembered at public ceremony
Women's basketball: Pat Summitt was remembered as a loving mother, a loyal friend and a tireless fighter as well as a champion coach in a public ceremony honoring the person who built Tennessee women's basketball dynasty.
"She was the epitome of what being great is all about," said Indiana Fever forward Tamika Catchings, one of the dozens of former Lady Volunteers who paid respects to Summitt at a "Celebration of Life" ceremony at Thompson-Boling Arena in Knoxville, Tennessee.
Catchings later added that "this is not a goodbye, but until we meet again."
The ceremony at Thompson-Boling Arena gave the public a chance to honor Summitt, who won eight national titles and a Division I record 1,098 games in her 38-year tenure. A private funeral was held June 30, two days after Summitt died at the age of 64.
The list of speakers included recently retired quarterback Peyton Manning, a former Tennessee football star who called Summitt "someone who literally changed history." Manning said the only pieces of sports memorabilia he keeps in his office are two basketballs Summitt signed for his children.
Manning discussed visiting Summitt late in her fight against Alzheimer's disease, when she couldn't remember Manning's name. He talked about attending Summitt's private funeral and hearing from former Lady Vols star Chamique Holdsclaw, who told him that even as Summitt's memory faded, the coach still could point to the screen when one of Manning's games or commercials aired on television and would say, "That's my friend who comes to visit me. There goes my friend."
"Pat Summitt didn't just change the history of Tennessee basketball or made this arena known well beyond the borders of this state," Manning said. "She changed the history of the sport she loved – and of sports in general. She almost singlehandedly made women's sports relevant well beyond mothers, daughters, sisters and grandmothers."
Thursday's event attracted Tennessee Gov. Bill Haslam, U.S. Senators Lamar Alexander and Bob Corker and a star-studded list of women's basketball coaches that included Connecticut's Geno Auriemma, who served as Summitt's greatest rival. They were among several thousand spectators to honor Summitt at an arena where she orchestrated some of her greatest victories.
The stage for Thursday's event included each of the Lady Vols' eight national championship trophies plus a stool and whistle used by Summitt, who coached Tennessee from 1974-2012.
Broncos offer $70M guaranteed to Miller
NFL: A person with knowledge of the negotiations tells The Associated Press that the Denver Broncos have upped their offer to Von Miller by offering to guarantee a record $70 million of the six-year deal.
The person spoke to the AP on condition of anonymity to share candid details of the blockbuster offer, which was also reported by ESPN and the NFL Network.
The sides agreed to the parameters of a $114.5 million deal last month but Miller's camp rejected Denver's offer of $38.5 million in guarantees.
GM John Elway's offer now surpasses the $63 million in guarantees that Philadelphia's Fletcher Cox received last month and represents the most money ever offered a non-quarterback.
The sides have until 4 p.m. EDT Friday to get a signed deal into NFL headquarters.
Defense wants D.A.'s office off Smith case: Defense attorneys are trying to get the New Orleans District Attorney's Office removed from the case of Cardell Hayes, the man charged in the shooting death of former Saints star Will Smith.
Their motion was disclosed in open court, but their reasons were not discussed and the motion was not available at the court clerk's office as of midday. The next hearing is July 20.
Hayes is charged with second-degree murder in Smith's death, and with the attempted second-degree murder of Smith's wife, who was shot in the legs.
Prosecutor Jason Napoli has said the evidence shows Hayes provoked the April 9 confrontation by intentionally ramming Smith's SUV – after Smith had earlier bumped Hayes's Hummer – and then threatening the unarmed man with a loaded .45-caliber handgun.
Defense attorney John Fuller has said he believes there is a strong case to be made that Hayes fired in self-defense, fearing for his life after Smith struck him several times and went to get his gun, too. A detective testified he saw no evidence Hayes had been injured.
Police have said that Smith's 9 mm handgun, loaded but not fired, was found inside the SUV.
State District Judge Camille Buras ordered Hayes held on $1.75 million bond and scheduled trial for Sept. 20.
U.S. jumps to No. 25 in FIFA rankings
Soccer: United States has jumped six spots to No. 25 after its semifinal finish at Copa America in the FIFA rankings and European champion Portugal has risen two places to No. 6.
Argentina remains No. 1 despite losing to Chile in the Copa America final for the second straight year. Chile stays at No. 5. Belgium holds at No. 2 after losing to Wales in the European Championship quarterfinals. Wales climbed 15 places to No. 11.
Colombia at No. 3 and Germany at No. 4 are in an unchanged top five. Euro 2016 runner-up France is No. 7, up 10 places. Iceland, a huge surprise at Euro 2016, is No 22, a leap of 12 spots for its best ranking ever.
Mexico leads CONCACAF nations at No. 14, and Algeria is Africa's best at No. 32. No. 39 Iran leads Asia, and Oceania champion New Zealand has soared 54 places to No. 93.
Local journalism is essential.
Give directly to The Spokesman-Review's Northwest Passages community forums series -- which helps to offset the costs of several reporter and editor positions at the newspaper -- by using the easy options below. Gifts processed in this system are not tax deductible, but are predominately used to help meet the local financial requirements needed to receive national matching-grant funds.
Subscribe to the sports newsletter
Get the day's top sports headlines and breaking news delivered to your inbox by subscribing here.
---