Sports
Led by Patrick Reed, Americans rule again at Royal Troon
Thu., July 14, 2016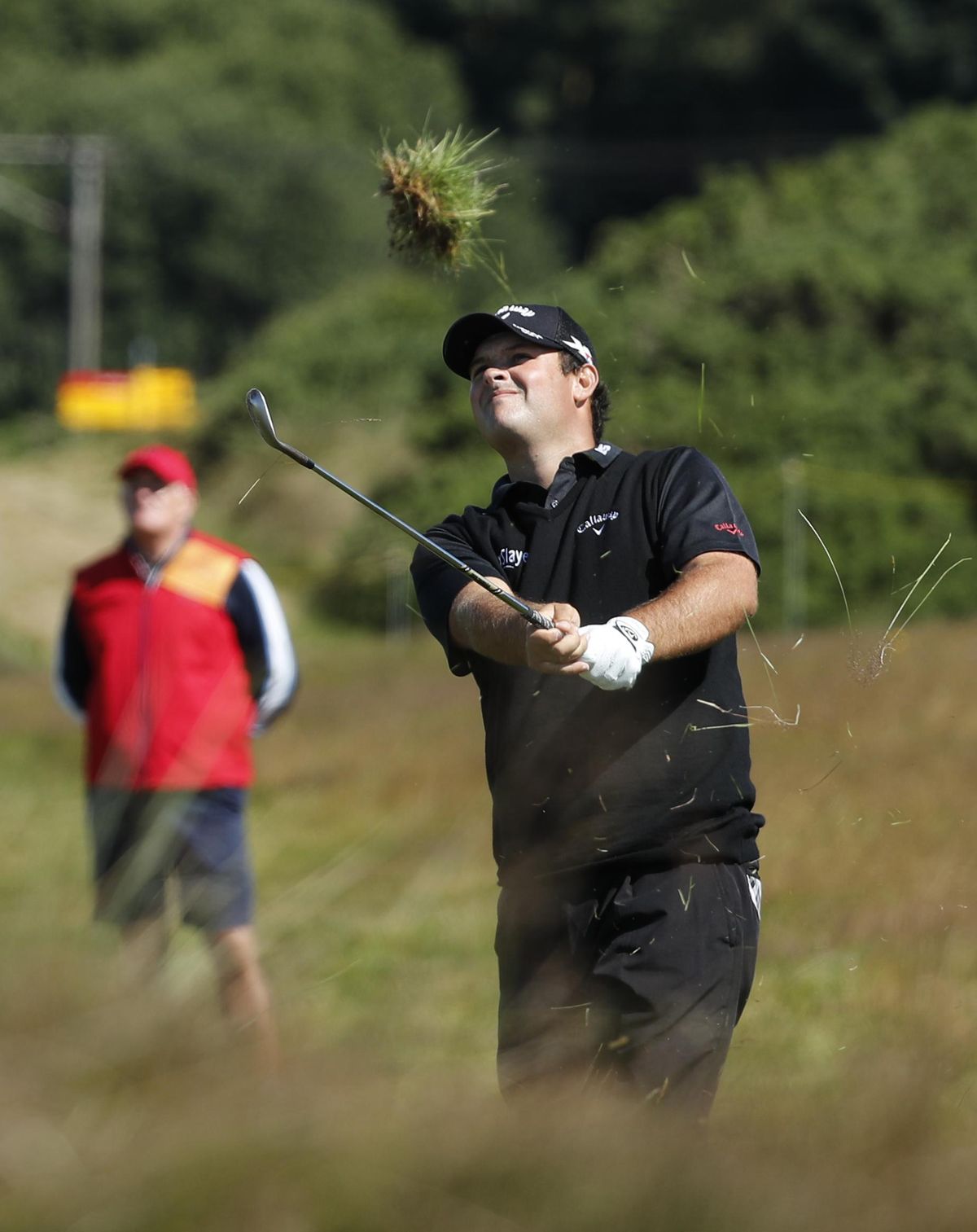 Patrick Reed of the U.S. plays out of the heavy rough on the 12th fairway during the first round of the British Open Golf Championship at the Royal Troon Golf Club in Troon, Scotland on Thursday. (Ben Curtis / Associated Press)
TROON, Scotland – Phil Mickelson smiled and joked like a man who shot 63 in the opening round of a major championship.
He'd done it over a brilliantly played 18 holes at Royal Troon on Thursday to take a three-stroke first-round lead in the 145th British Open.
That was the facade. Inside, he would admit, he wanted to cry.
"It was just heartbreaking," said the man who's had his share of shattering experiences to go with a bagful of magical moments.
There are putts to win golf tournaments, putts to win major championships. And then there are putts to achieve a certain immortality.
Mickelson had one of those putts. If he could roll in an 18-foot birdie on the 18th hole, he would become the first player in major championship history to record a score of 62. It is the single-round Holy Grail in golf.
In 437 previous majors, dating back to the inaugural British Open in 1860, no one had done it. Twenty-seven men had shot 63.
Not all had a putt to card 62, but Mickelson got that chance, and until the last few inches of his roll, he thought the ball would drop dead center. In fact, Mickelson began to raise his putter to walk it in.
But at the last moment the ball turned slightly and caught the right edge of the cup. It whipped a couple inches around the rim and came out, settling just behind the hole.
Mickelson put his hand to his face and mouthed, "Oh my god." His caddie, Jim "Bones" Mackay, toppled backward onto the grass in disbelief.
History was there for the 46-year-old, and then it was gone.
"It was one of the best rounds I've ever played and I was able to take advantage of these conditions, and yet I want to shed a tear right now," Mickelson said. "That putt on 18 was an opportunity to do something historical.
"I knew it, and with a foot to go I thought I had done it. I saw the ball rolling right into the center. I went to go get it. I had that surge of adrenaline that I had just shot 62, and then I had the heartbreak that I didn't and watched the ball lip out. It was . wow, that stings."
When Mickelson won his first major, the 2004 Masters, he made a birdie putt on the 72nd hole, his ball catching the lip and toppling in. He later claimed it was divine intervention by his grandfather, who died a few months earlier.
This time, Mickelson could feel the several thousand fans in the stands trying to lift him up as they cheered his approach to the green. He got help from playing partner Ernie Els, who even though he had a longer putt chose to go first to show Mickelson the line.
In the fairway, he and Mackay decided they'd look over the putt together.
Recalled Mickelson: "I said, 'I need your best read. I don't know if you know this . 'He says, 'Oh, I know.' "
Mickelson had putted sharply all day in making eight birdies and no bogeys.
"I felt focused," he said.
But for all the work, he missed 62 by no more than half a ball.
"Well, it was obvious right there – there's a curse, because that ball should have been in," a smiling Mickelson said to laughter.
He was asked if he believes in the golf gods.
"I didn't," he said. "But I do now."
Heavy rain is expected on Friday. Mickelson got a day at Troon made for a Southern Californian. The sun bathed the course in warmth, the breeze light, and the greens smooth and receptive. Winless in three years since his 2013 British Open victory, Mickelson had been trying to piece a full game together.
The vibe at Royal Troon was good for him. It was here in 2004, when Mickelson finished third, that he said he truly began to understand links golf. In that year, Mickelson made one bogey over the last 55 holes.
The back nine is supposed to expose Troon's teeth, but that's where Mickelson thrived on Thursday. In making four birdies, including three straight from Nos. 15-17, to shoot 31 on the inward half, the left-hander gained nearly six strokes on the field.
"The golf course plays a lot different for me than I think right-handed players, because going out with that wind off that slice wind for the first eight out of nine holes, I'm more cautious on the birdie holes," Mickelson explained. "I feel much more comfortable on the inward nine, where the wind is kind of a hooked wind off the water for me."
Mickelson played wonderfully in all facets, never threatened with a bogey. He didn't find trouble with the driver – a frequent bugaboo – and thus hit 16 of 18 greens in regulation. After practicing his lag putting late into the evening on Tuesday, he rolled the ball precisely.
"The way he played out there today, it's amazing he's only won one Open Championship," Els said. "It was beautifully played. He was in total control of his ball.
"I don't know how that putt didn't go in on 18. That would have been something. That was a great, great round."
Americans have won six straight Opens played at Royal Troon, and they dominated the leaderboard again, manning eight of the top 11 spots.
Patrick Reed played early and shot 66, later tied by German Martin Kaymer. American Zach Johnson, the defending Open champion, along with Justin Thomas, Steve Stricker, Billy Horschel, Tony Finau and Keegan Bradley, were among eight players tied with 67s.
Reed, a 25-year-old, four-time PGA Tour winner who professes to love links golf, took advantage of his early tee time. His round including holing out his second shot from the fairway at the third hole for an eagle. Reed capped the round with a birdie at 18.
"To come over here and see the sun, I felt like today was a lot easier than what I've had to deal with all last week (at the Scottish Open)," Reed said. "So it kind of allowed me to be a little more aggressive on lines with iron shots into the greens, because I wasn't trying to play too much of wind or trying to really shape a ball or trying to hole it into things because really the wind was only blowing 5 of 10 (mph) out there today."
Thomas, a 23-year-old playing in his first Open, roared to a 31 on his front nine, but ran into trouble on the par-4 15th and made a double-bogey.
Stricker, the 49-year-old who is playing in his 14th Open, birdied three of his last five holes.
Among the higher-ranked players, Rory McIlroy posted the best score with a 2-under 69. No. 2 Dustin Johson and No. 3 Jordan Speith scored 71, and No. 1 Jason Day struggled to a 2-over 73.
Local journalism is essential.
Give directly to The Spokesman-Review's Northwest Passages community forums series -- which helps to offset the costs of several reporter and editor positions at the newspaper -- by using the easy options below. Gifts processed in this system are not tax deductible, but are predominately used to help meet the local financial requirements needed to receive national matching-grant funds.
Subscribe to the sports newsletter
Get the day's top sports headlines and breaking news delivered to your inbox by subscribing here.
---