A&E > Entertainment
Meet Annie of Sweet Annie's Artisan Creamery
Thu., July 14, 2016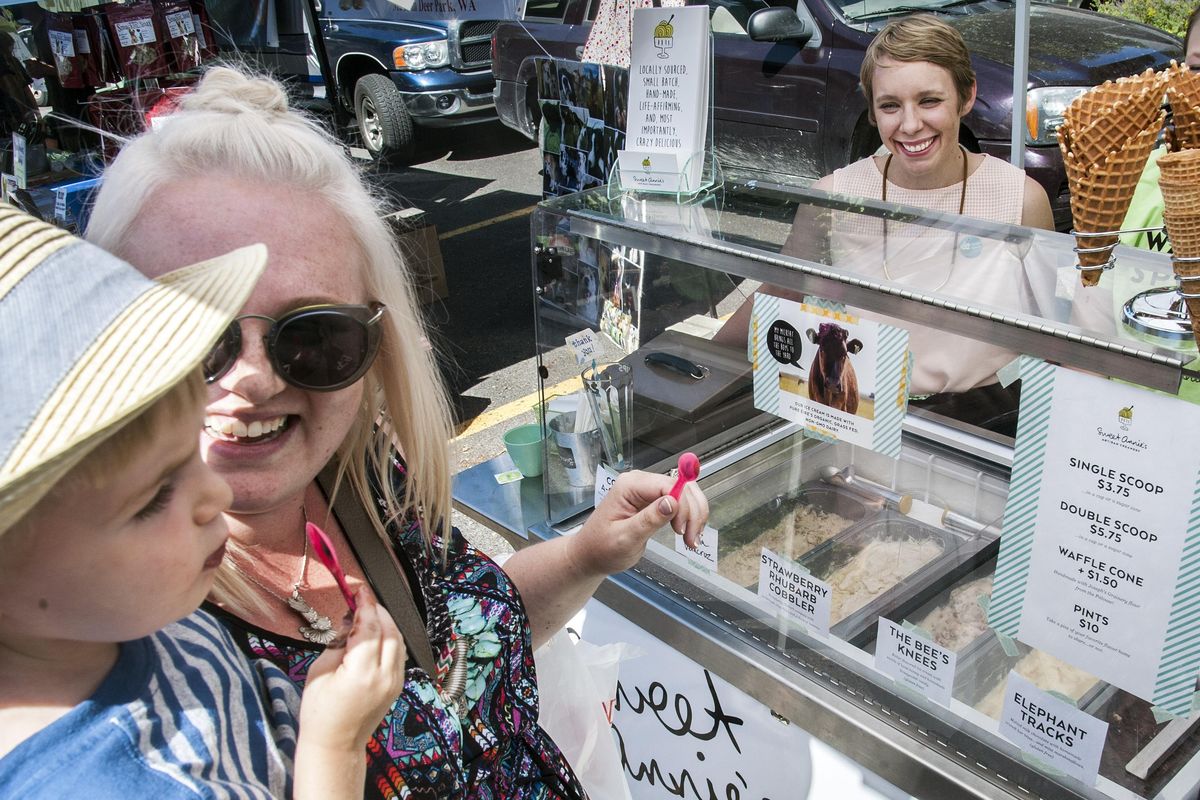 Elliot and Anna Pearson enjoy a taste of Elephant Tracks ice cream from Sweet Annie's Artisan Creamery, June 30, 2016, at the South Perry Farmers Market. Owner Annie Stranger is at right. (Dan Pelle / The Spokesman-Review)
Sweet Annie's is the Bee's Knees.
It's an Empire Builder, too – as well as Elephant Tracks and the nutty Coco A-Go-Go with a hint of heat. Like spice? Might want to say Hello, Ginger.
But Bee's Knees is the top-seller so far.
Sweet Annie's Artisan Creamery first sold the honey-swirled, butter-flavored ice cream in cones and cups at the Thursday Market in the South Perry District, where the new ice cream cart made its debut in mid-June. In the past month, its popularity has been picking up.
There's often a line for the creamy honey-butter flavor as well as other handcrafted combinations at Sweet Annie's, named for sole proprietor and ice cream maker Annie Stranger.
"Ice cream just makes people happy," she said.
Stranger, 36, started Sweet Annie's last year after moving back to her native Inland Northwest. She had spent the bulk of the last decade working as a graphic designer in New York City, where she was inspired by the ever-changing food scene, farm-to-table movement and ice cream trucks such as Coolhaus, Big Gay Ice Cream and Van Leeuwen Artisan Ice Cream.
When she would return home to visit, she and her mom would throw old-fashioned ice cream socials – not the kind of parties that include picking up gallons of ice cream at the store, but churning their own in small batches in vintage ice cream makers on the back porch with sometimes up to 16 flavors.
"We would use my mom's raspberries from her garden," Stranger said. "We would try anything – sorbets, (ice cream with) eggs, no eggs.
"We were testing what things worked, what didn't work. Problem is we didn't know why things worked or didn't work.
"Mostly, it was an excuse to get together, to throw a fun summer party."
After graduating from Coeur d'Alene High School in 1998, Stranger spent a year on the West Side before moving to San Francisco for art school. Her first job after college was in New York City, designing packaging for Martha Stewart Omnimedia. From there, she joined a small marketing and design agency on Madison Avenue, working for clients such as Fidelity and American Express. In 2008, she launched her own freelance business, doing design work for – among others – Kate Spade, MM.LaFleur, Draper James and BaubleBar.
But she missed the natural beauty and pace of life of the Inland Northwest and – after eight years in the Big Apple – decided to move back. While she retained some of her graphic design clients, she also became interested in finding a new creative outlet.
Enter ice cream
"Ice cream brings a feeling of nostalgia and memory. It brings us back to childhood," Stranger said. "To me, it's about creating that experience. It's about creating the best possible ice cream as I can."
Plus, she said, "I think ice cream has staying power."
Stranger began seriously experimenting with flavors last fall. She took a small business boot camp in Spokane as well as an ice cream-making workshop at the University of Wisconsin. And, she worked with experts at Eastern Washington University on market research.
"We're not Portland or Seattle. We don't have a huge concentration of wealth," Stranger said. "But Spokane is a place where the local food world is growing. People are willing to seek out quality products. People here appreciate things that are done with love and care and are locally made. Local pride is a thing here."
So, she said she wondered: "Why doesn't anybody serve ice cream at the farmers market? It seems like a no-brainer."
Today, she has more than 20 flavors in her repertoire.
Sweet Annie's exclusively uses milk and cream from Othello's grass-fed, organic Pure Eire Dairy, which makes the egg-free base for all of Sweet Annie's ice creams.
Stranger also sources other ingredients locally and seasonally "as much as I can," she said.
That's included fruit from Walters' Fruit Ranch on Green Bluff and goat cheese from Chattaroy Cheese Co.
Stranger is working on a waffle cone with Joseph's Grainary in Colfax and planning to attend ice cream school at Pennsylvania State University. The annual, weeklong Ice Cream Short Course features more than 20 specialized sessions on ice cream technology. Past participants have included representatives of Baskin-Robbins, Ben and Jerry's, Haagen-Dazs and Dreyer's and Breyers ice cream makers.
Join the club
Stranger makes her ice creams in small batches – about 50 quarts per week, and growing – at rented commercial kitchen space at Kitchen Spokane.
There's no non-dairy option yet. No employees, either. Friends have volunteered to help at the market. They wear T-shirts that ask: "Wanna spoon?"
In addition to Thursday Market in the South Perry District, Sweet Annie's also sells ice cream at the Fairwood Farmers' Market on Tuesdays. The cart features six rotating flavors. Stranger aims to develop two new flavors each month.
"With ice cream, there are infinite possibilities," she said.
Coming soon: yet unnamed flavor combinations of lavender-lime, blueberry-ginger-lemon and a collaboration with Vessel Coffee Roasters featuring one of the new boutique coffee company's blends.
Don't overlook the vanilla. "I lost sleep over the vanilla," said Stranger, noting that's the flavor by which to judge ice cream producers.
"If you can't make a vanilla that people get excited about, then do something else," she said.
Sweet Annie's vanilla is reminiscent or horchata.
"Our vanilla, I think, is quite special," Stranger said. "It's Vanilla Veracruz. It's a Mexican vanilla, and I add a little bit of cinnamon to that."
Pints cost $10 each. Get two delivered in the Spokane area for $30 per month through Sweet Annie's Pints Club. Pick-up memberships are available, too, for $20 per month.
Members – there are about 50 – also receive the option to buy over-run pints for $5, or half-off the regular pint price.
"There's never not room for ice cream," Stranger said.
Local journalism is essential.
Give directly to The Spokesman-Review's Northwest Passages community forums series -- which helps to offset the costs of several reporter and editor positions at the newspaper -- by using the easy options below. Gifts processed in this system are not tax deductible, but are predominately used to help meet the local financial requirements needed to receive national matching-grant funds.
Subscribe to the Spokane7 email newsletter
Get the day's top entertainment headlines delivered to your inbox every morning.
---