Rosauers leader Derek Bayley scorches MeadowWood with course-record 59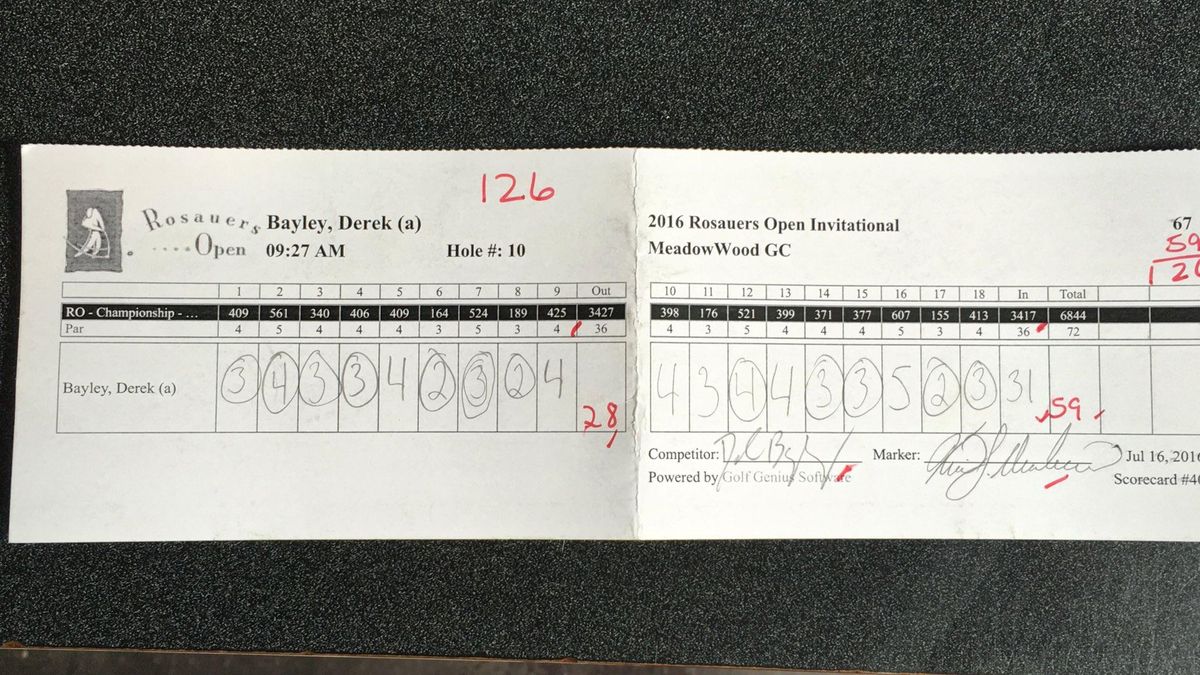 So, how does it feel to shoot 13-under 59?
"It's so fun I can't even talk right now," said Derek Bayley, 20 minutes after breaking MeadowWood's course record by two strokes. "I can't even explain it."
That's OK, the numbers spoke loud and clear for the junior-to-be at Washington State.
Bayley's remarkable round Saturday started out just like his solid 67 Friday, which is to say he was hitting it close but couldn't get putts to fall. After four holes, Bayley was 1 under with putts from 5, 8 and 8 feet lipping out or burning edges.
"Coming off Friday, where I never made a birdie putt outside of 4 feet, I was like, 'Here we go again,' " Bayley said.
He quickly erased that notion as putts starting dropping. Over his last 14 holes, Bayley poured in 10 birdies – six in a row at one point – and an eagle. He narrowly missed a 25-footer for birdie on the last hole for 58 but calmly knocked in a 4-footer for 59.
Bayley is at 18-under 126 through two rounds of the 54-hole Rosauers Open Invitational, two shots clear of Reid Martin, who fired a 62. First-round leader Andrew Whalen (67) is at 131, one stroke ahead of Tony Robydek (66). Former Eastern Washington Eagle Brian Thornton (68), Casey McCoy (64) and Hayden Lake amateur Reid Hatley (67) are at 133.
Bayley, who started on No. 10, got rolling with birdies on 14, 15, 17 and 18. On 18 he carved a 5-iron from 180 yards around a tree to 3 1/2 feet from the hole.
"An unbelievable cut shot, which I didn't even think I could do," said Bayley, whose best tournament round was 65 and lowest score 61 at Prairie Falls. "Right then I knew, 'OK, we're going to go pretty low.' Not 59 low, I never even thought about that."
Then he birdied 1 with a 15-footer – the longest putt he made – followed by birdies at 2, 3, 4 and 6. He eagled the par-5 seventh and birdied 8. And everyone in his threesome was thinking about golf's magic number of 59.
"It was such a help to play with Josh (Petersen) and Kevin (Anderson) because they weren't talking about it," Bayley said. "Obviously, they knew, but it was pretty calming to have a couple of great guys to visit with."
Anderson and Petersen were still talking about how much fun it was watching Bayley's round long after the Lakeland High grad had left with his family. One cracked that he just "kept making circles" on Bayley's scorecard.
With his parents and sister looking on, Bayley made his par putt on No. 9 dead center. He had plenty of incentive.
"I knew where I was (for 59)," he said. "But it was three days ago I missed a 4-footer to miss the cut in the Trans-Miss (tournament) at Olympic Club (in San Francisco). I was thinking to myself, 'This isn't going to happen again.' "
Bayley's 59 is the lowest in a PGA Pacific Northwest Section championship. Derek Barron shot a 59 in the Rosauers pro-am last year at Indian Canyon. Tim Feenstra equaled MeadowWood's course record with a 61 in the final round to win the 2014 Rosauers, days after Corey Prugh's 61 in the pro-am.
Martin, assistant pro at Legion Memorial in Everett, birdied No. 10, eagled the par-5 12th and had it to 10 under with three holes remaining. He missed 8-footers for birdie on 16 and 17 but still carded a personal-best 62.
"On the front nine I was hitting it close, giving myself chances but I missed a few 8- to 10-footers," Martin said. "Overall, I hit it really well."
Bayley, Martin and Whalen will tee off at about 11:30 a.m. Sunday.
"I can't be thinking about (the 59)," the 20-year-old Bayley said. "I'll just try to go out and do the best I can."
---