Sports > Spokane Shock
Empire build big lead and hold off Danger, advance to United Bowl
Sun., July 17, 2016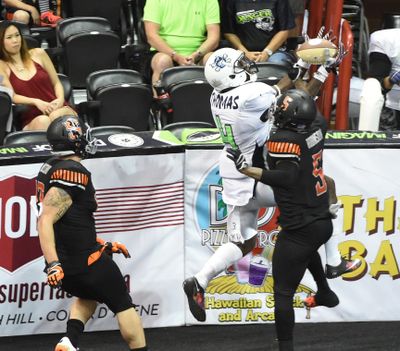 The Spokane Empire was so good early they could endure a third-quarter letdown.
The Empire built a 28-point halftime lead and held off the Nebraska Danger 55-44 to win the Intense Conference championship on Sunday in front of a noisy crowd of 5,155 at the Arena.
For the first time since winning the 2010 ArenaBowl, the organization can hoist another banner on the southwestern wall of the Arena – Intense Conference Champs – in Spokane's first season in the Indoor Football League. Players doused head coach Adam Shackleford during the post-game celebration and paraded around what looked like a WWE championship belt.
They're hoping for another celebration next Saturday when Spokane visits five-time defending champion Sioux Falls in the United Bowl.
"Before Mr. (Nader) Naini hired me, we had a phone conversation," a drenched Shackleford said. "His first question was, 'What do we have to do to play Sioux Falls for a championship?' He and I just had a nice laugh about that. It's been a lot of hard work by these players, great ownership and a great town to play football in."
The Empire (13-4) played some of their best football of the season in the first half and then visited the opposite end of the spectrum opening the second half, but the good outweighed the bad.
Some rust was expected – Spokane hadn't played since a 35-21 loss to Billings on June 25 – but the Empire looked refreshed by the extended break and pushed around the Danger (7-11) for 30 minutes.
"A lot of guys got their legs back and their mentality back," said quarterback Charles Dowdell, who was 14 of 17 for 197 yards and seven touchdowns, three to Diondre Borel and three to Samuel Charles, who made two nifty grabs in the end zone on back-shoulder routes.
"I've been wanting to put that into the playbook all year," Charles said. "Coach Shack told me during practice this week he had me in mind when he put that in. I knew I wasn't going to let him down."
Newcomer Andrew Pierce ran for 55 yards and added 38 yards receiving and one touchdown.
"Pierce is a difference-maker," Shackleford said, "and the offensive line played well."
After one quarter, Spokane had 104 total yards to Nebraska's 6. Dowdell's first incompletion came with about 4 minutes left in the second quarter. Nebraska counterpart Derrick Bernard – whose receivers dropped at least six catchable passes – didn't toss his first completion until 9:18 remained in the second quarter.
Spokane, which beat the Danger 25-23 last month, scored 24 points in the first quarter and was comfortably in front 45-17 at half.
Nebraska made a game of it with a pair of third-quarter touchdowns. Spokane labored through its fifth scoreless third quarter this season. The Empire has scored 141 points in the third quarter. Their next lowest is 210 points in the second quarter.
"We're going to practice it this week, even though we have a short week," Shackleford said. "We have to find something to get that blood flowing again."
The Danger closed within 52-38 early in the fourth and got the ball back when Spokane bobbled an onside kick.
The Empire defense, solid throughout, held as Eric Thomas failed to handle a high fourth-down pass at the first-down marker. Spokane chewed up most of the remaining time behind Pierce's running and Pat Clarke's 20-yard field goal sealed the win.
Sioux Falls (16-1) won both regular-season games against Spokane and owns a home winning streak dating back to 2010, but the Empire don't sound intimidated.
"I've been waiting for this," said linebacker Pasquale Vacchio, who had 9.5 tackles, four pass break-ups and one sack. "We're going to get it done. We'll see them in Sioux Falls. Tell them we're on our way."
Local journalism is essential.
Give directly to The Spokesman-Review's Northwest Passages community forums series -- which helps to offset the costs of several reporter and editor positions at the newspaper -- by using the easy options below. Gifts processed in this system are not tax deductible, but are predominately used to help meet the local financial requirements needed to receive national matching-grant funds.
Subscribe to the sports newsletter
Get the day's top sports headlines and breaking news delivered to your inbox by subscribing here.
---