News > Spokane
Journey of 40 years delivers 'miracle window' to new Catholic church in Suncrest
Sun., July 17, 2016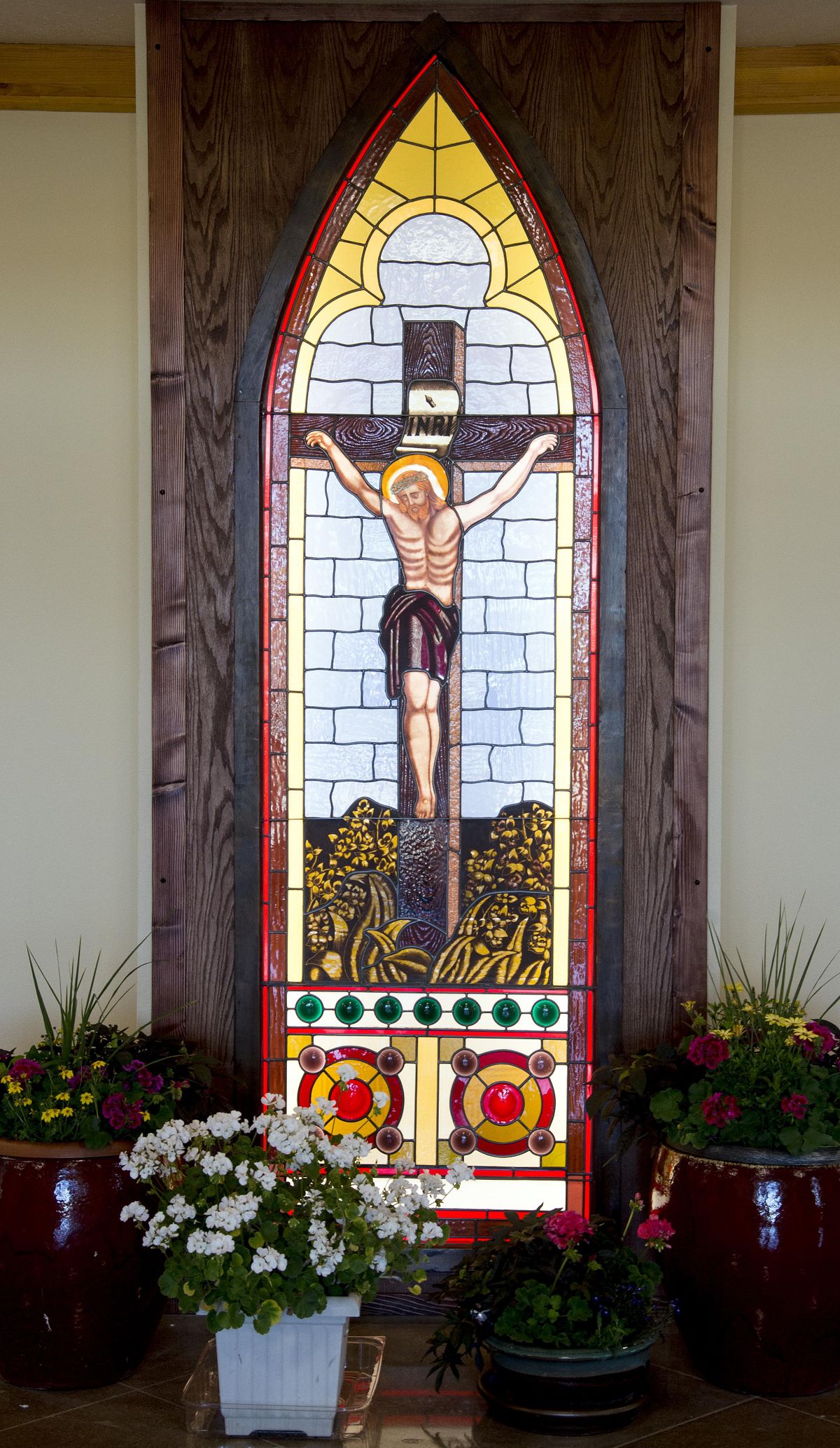 This stained-glass window depicting the Crucifixion was donated to Our Lady of the Lake Catholic Church by Spokane artist Anthony Boccaccio, who salvaged it from a closed Catholic church in Chittenango, N.Y. in 1973. The window's 43-year journey to the small church in Suncrest is filled with coincidence and mystery. (Colin Mulvany / The Spokesman-Review)
Tony Boccaccio was 9 years old when he became an altar boy at St. Patrick's Catholic Church, a tiny wooden building in the small town of Chittenango, in upstate New York.
For eight years, he knelt in front of Father Duhamel as the priest delivered Sunday Mass. And for eight years, he prayed in front of an ornate, stained-glass window depicting the crucifixion of Jesus Christ.
"I didn't have a thought about it," Boccaccio admits now, his dark-brown hair having long since gone to gray. "We used to have to walk almost 2 miles down to the church, early in the morning to be there for Mass. I was very tired."
But one morning at age 9 he had the good sense to look up, over the priest delivering his sermon; it's the first time he remembers noticing the window.
At more than 9 feet tall, the window depicts Jesus outstretched on a brown cross jutting above yellow trees and grass. A golden-yellow halo envelopes his slouched head; his eyes are focused downward and to the right. The Latin letters INRI are written on a piece of parchment paper nailed to the top of the cross – it stands for "Jesus the Nazarene, King of the Jews."
Today, Boccaccio, 67, has a perspective and appreciation for art and religion he didn't have that morning. He has surrounded himself with his life's work of drawings, photographs and sculptures – and for a time, even with the stained-glass window.
"That window left an impression on me," Boccaccio said. "As if it was saying that God is always watching. See, this is why I love being a Catholic."
As a photographer, Boccaccio spent years traveling the globe, working for National Geographic Magazine and Kodak. As an artist, he spent long stints in Rome, taking classes from renowned sculptors and enjoying the Italian sunshine. As a self-described "Renaissance man," he entertains friends with impromptu tunes on the grand piano in his two-story house-turned-art studio in Spokane.
While Boccaccio's life unfolded into those many adventures, the window had adventures of its own. It was almost sold and dismantled. It was nearly stolen three times and was threatened by flooding. It's had multiple homes in multiple states.
It's endured so much over the years that Boccaccio even has a name for it: the "miracle window."
"I would joke to my friends and say that every time I knelt before that window, Jesus would say, 'I know what you did last night,' " he said behind a chuckle. "That window knew all my sins, and I just didn't think it should be broken up into Tiffany lampshades."
The perfect deal
It was 1973, and Boccaccio had just returned home to Chittenango from a long trip in the Amazon jungle. His mother told him the church the family had visited every Sunday for a decade had been sold to an artist who had turned it into his studio.
"She told me that I should go down there and meet him because he's an artist," Boccaccio said. "I went down there at about 1 or 2 p.m. and saw the window standing in a corner. He told me he'd sold it."
Another artist had put in an $800 bid for the window. She planned to break it down and use the glass to make lampshades. The window was already in rough shape, and was missing a chunk of glass near the middle.
So, Boccaccio did what any bargain hunter would do: He haggled, offering $801 that he didn't have, and to his delight the artist agreed. But he wasn't going to wait for Boccaccio to raise the money – he wanted it now.
"So that night I went home and got on my knees and shook my hand at heaven, and basically demanded God do something," Boccaccio said. "That's how I prayed back in those days."
The next morning is when the long list of miracles began.
The phone rang at 6 a.m. It was the artist, desperate to find someone who could take photos of his work to be sent to Texas. Boccaccio said that in a town of 2,500 or so people, he was the only photographer the artist knew.
" 'Would you do this for me?' " he recalled the artist saying. Boccaccio agreed, but for a unique price: one stained-glass window.
"You have 10 seconds to say yes or no," Boccaccio told the artist.
After a five-second pause, the artist agreed, and Boccaccio even persuaded him to build a storage box for the window.
Now safely in Boccaccio's possession, it was moved to the basement of the new St. Patrick's Church, a few miles from the old building. It sat there for about five years, time Boccaccio spent developing a friendship with the man whose church would one day house the miracle window – about 2,500 miles away in Suncrest, a small community outside of Spokane.
The 40-year promise
At 25, Boccaccio decided to enroll at Gonzaga University and enter the Bishop White Seminary. It was there he met Gene George, who was studying to become a priest.
George is short, like Boccaccio, with a constant smile and razor-sharp sense of humor. Back then, they looked almost identical.
They ended up living together for a few years while they finished up their degrees. One of Boccaccio's favorite memories – and photographs – is when the two were caught in the middle of a windstorm and decided it would be fun to pee into it. So they did.
The two have remained close friends ever since – Boccaccio, the artist, and George, who's in the construction business. He decided not to become a priest after all.
"I met a young lady I couldn't be without," George said with a smile.
One night while in college, Boccaccio turned to George and asked him a question that would set a path both men would end up walking 40 years later.
"I asked him what his dream was, and he told me he wanted to build a church or chapel someplace," Boccaccio recalled.
Boccaccio replied, " 'Well, if you ever build a church or a chapel, I'll donate a stained-glass window of the Crucifixion.' He said, 'You have one of those?' 'Yeah, I got one of those.' So that was that."
But the church wouldn't be built until July 2016 – the window would have to endure decades of ups and downs before it found its permanent home.
'This window's a miracle window'
While visiting home from college around 1977, Boccaccio met with the St. Patrick's Church groundskeeper in Chittenango to check on his window. To his surprise, the old man told him the church had flooded, and on three separate occasions, the window was almost stolen.
The groundskeeper told him the window was unharmed by the water, which is altogether unspectacular since it was stored high in the basement. But how he caught the thieves trying to steal the window? Now that's a miracle.
"Three times he woke up in the middle of the night for no reason and thought he should go down and look at the church," Boccaccio said. "And three times he found people trying to steal the window. He caught them in the act. He said, 'This window's a miracle window. I swear to God.' "
In 1980, Boccaccio was taking photographs for Kodak while living in Syracuse, New York, and decided it was time to ship the window to Spokane, where George lived.
Boccaccio chose a moving company at random from the phone book and talked with the owner, who agreed on a $450 moving fee and to have it shipped out within the next month. The owner was Italian, and offered Boccaccio a glass of wine and a cigar after the deal was struck.
"So we're both smoking cigars and drinking wine and we start talking about stuff," Boccaccio said. The owner asked him where he was originally from, and Boccaccio replied that he was from Chittenango.
"Really? Do you have brothers?" the owner said. "Yeah I have four brothers," Boccaccio said.
"Do you have a brother named Matthew?" the owner said. Boccaccio replied, "Yeah. Why, is he in trouble?"
He wasn't. It turns out, Matthew was dating the owner's daughter, and the moving company owner thought Boccaccio's brother was one of the finest young men he'd ever met. He hoped the two would get married one day (they didn't). After thinking for a second, the owner pulled out the check and ripped it up on the spot.
"We're practically family – I can't charge you," Boccaccio said the owner told him.
The owner arranged to have the window shipped in April; once it arrived, it was stored in another church – aptly named St. Patrick's, the name of the church where its journey began.
"Can you believe that?" Boccaccio said, slapping his leg. "It's all St. Patrick's."
And there it sat in need of restoration and repair for a few more years.
Brother and sister, united
"One morning I woke up and the voice said, 'Fix the window.' " Boccaccio said. "I said, 'OK.' "
It was 1980, and he had just bought a house in Spokane overlooking the city and surrounding hills. He arranged to have the window moved to his home.
He called up his old friend George, who said it was perfect timing. He knew a guy named Dan McCann who specialized in stained glass. He had recently quit his job and needed work because his wife was pregnant.
Boccaccio offered McCann $400 down and $100 a month. And for six months, McCann worked on fixing the window.
One day, while lifting the window out if its box, a large, red rondel on the lower right side shattered.
"He came to me and he said, 'We got a big problem here because this rondel's broken,' " Boccaccio remembers McCann saying. "I said, 'Well, go get another one and fix it.' "
McCann explained that such elements are called brothers and sisters. "They're all made at the same time with the same glass … There's no other one like it in the world," McCann told Boccaccio.
Boccaccio was undeterred: "You'll find it. Just go look."
A few weeks later, while in Seattle buying glass from a supplier, McCann fell from a shelf in the back of the shop, and while falling, dragged a box full of random pieces of stained glass down with him.
A red rondel flew out of the box and bounced across the floor, coming to a rest in front of him.
"And I couldn't believe my eyes," Boccaccio recalls McCann telling him. "It looked just like your rondel. I bought it without even knowing it would fit. When I got home, not only did it fit, it was the sister. It was perfect. Tony, that's impossible."
Boccaccio told McCann, "Nah, nothing's impossible. It's been there for years just waiting for this window."
McCann finished fixing the window, and then it was moved to Boccaccio's house and mounted on his staircase wall, where it remained for the next 30 years.
Meanwhile, George and his parish would start a 14-year journey to bring to fruition his college dream of building a church.
'Our new home'
In 2002, Our Lady of the Lake Parish, part of the Spokane Catholic Diocese, purchased 13.9 acres of land in Suncrest, a 17-mile drive northwest of Spokane.
George and other parish members started developing plans to build a church, but those plans were halted when the diocese declared bankruptcy and asked the parish to repay the price of the land. They were able to pay it, but it would set construction of the church back several years.
They formed a limited liability company with the parish and began raising money again. In 2007, a 3,000-square-foot concrete slab was laid on the property, where George's daughter would later hold her wedding.
A tent was erected on the slab, and the parish held Sunday services there. The capital campaign was launched a short time later, and in 2014, the parish doubled down on a push to raise an additional $300,000 for the $500,000 loan it needed to begin construction. George said about 40 families were able to raise it in a matter of months.
"This church is a community effort," he said. "It's not just me, it's not just somebody writing a check. The parish put in thousands and thousands of hours volunteering."
On July 1, 2015, they finally broke ground. A year later, the church was dedicated by Spokane Bishop Thomas Daly and was ready for Sunday Mass. It was named Our Lady of the Lake Catholic Church.
When George was asked what it feels like to build a $2 million church after 40 years of day-dreaming, he was not shy about sharing his pride.
"You can't enter into this building and not know it's a church," he said. "This is our new home."
Our Lady of the Lake Parish has about 90 families who use the church every Sunday. If parishioners look up while in the main worship space, they're treated to a massive display of wood and metal that supports the high, vaulted ceiling.
"If you stretched all of the boards in the worship space end to end, you'd walk 3 miles," George said. "Each timber truss weighs 6 tons."
And for anyone walking through the front door, the first thing they'll see is the miracle window, backlit, surrounded by plants and encased in a wooden frame. It was shipped there safe and sound on June 19. The glass is fully restored, and the two rondels match each other perfectly.
During the July 3 dedication ceremony, scores of families took a moment to stop and stare at the ornate stained glass that traveled thousands of miles and waited nearly half a century to fulfill a promise Boccaccio made 40 years ago.
They took pictures in front of it. They touched its smooth surface. But mostly, they took a minute to either stare in awe or have a quiet moment of reflection.
The point of the window, Boccaccio said, is to make you think and to bring you closer to the divine. The Rev. Tim Clancy, who's been with the parish for 19 years, said miracle in Latin simply means "wonder."
"The window did what it was supposed to do," Boccaccio said while admiring it during Sunday Mass earlier this month. "And I hope the window continues doing that to the people in the church today."
Local journalism is essential.
Give directly to The Spokesman-Review's Northwest Passages community forums series -- which helps to offset the costs of several reporter and editor positions at the newspaper -- by using the easy options below. Gifts processed in this system are not tax deductible, but are predominately used to help meet the local financial requirements needed to receive national matching-grant funds.
Subscribe now to get breaking news alerts in your email inbox
Get breaking news delivered to your inbox as it happens.
---