News > Spokane
Fairchild Air Force Base welcomes new commander, Col. Ryan Samuelson
Tue., July 19, 2016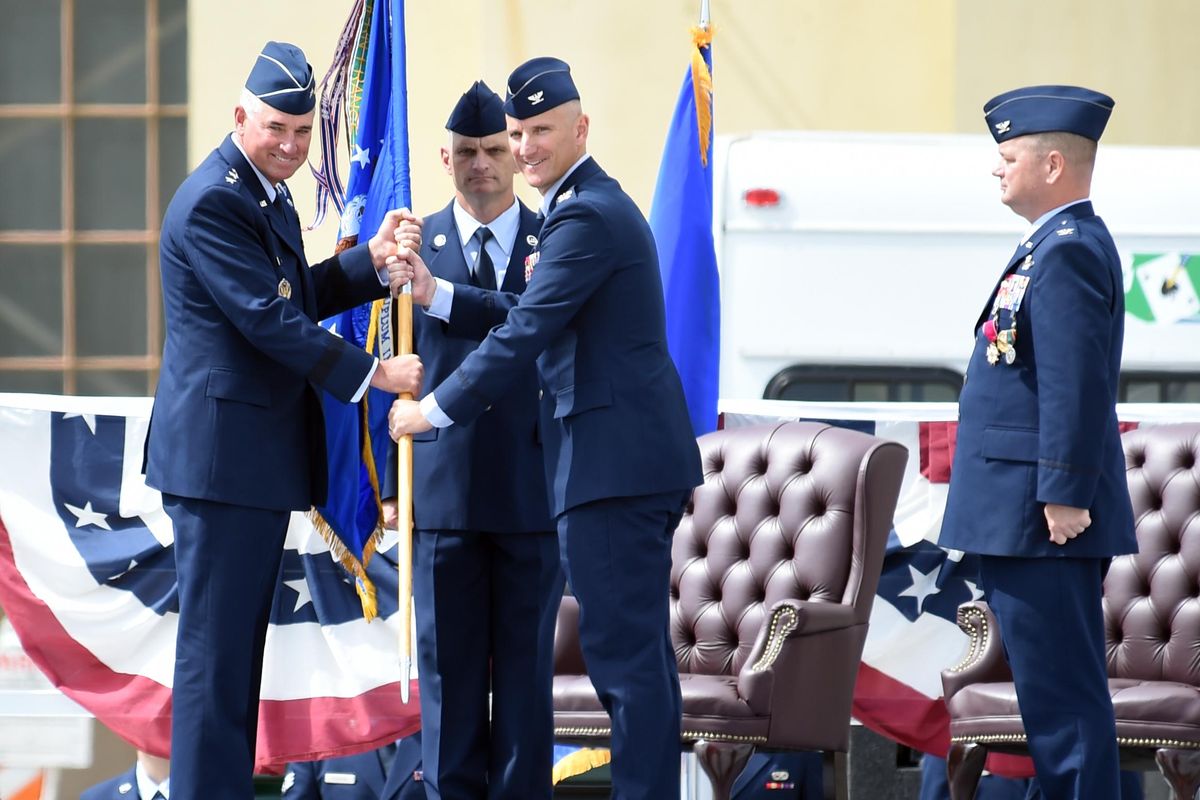 Lt. Gen. Samuel Cox, left, and incoming commander of the 92nd Air Refueling Wing Col. Ryan Samuelson, third from left, pause for a picture during the ceremonial passing of the guidon, the unit flag, during the change of command Tuesday at Fairchild Air Force Base. Standing at right is outgoing commander Col. Charles B. McDaniel. Standing between the general and Col. Samuelson is Chief Master Sgt. Chris Pugh. (Jesse Tinsley / The Spokesman-Review)
Col. Ryan R. Samuelson assumed command of Fairchild Air Force Base's 92nd Air Refueling Wing during a ceremony Tuesday morning, flanked by a pair of aircraft on a stage adorned with patriotic bunting.
Samuelson, who was previously stationed at Al Udeid Air Base in Qatar, replaced Col. Charles "Brian" McDaniel, who assumed command of the 92nd two years ago. Hundreds of airmen stood in formation on the tarmac as Samuelson first addressed them as their commander.
"I am proud to join your team," Samuelson said. "Now let's boldly go execute the assigned missions we have to do."
The Legion of Merit and the Meritorious Service Medal were presented to McDaniel, who is moving to Illinois to serve as vice commander of the 618th Air Operations Center at Scott Air Force Base.
"I am still honored and humbled to have led this amazing organization," a tearful McDaniel said. "Truthfully, we all led it."
McDaniel said one of his proudest moments came in March, when the 92nd won the prestigious Omaha Trophy for the first time since 2002. The award signifies excellence in conducting strategic operations.
"The list of awards and accomplishments that have happened here at Fairchild over the last two years is incredible," said Lt. Gen. Samuel Cox, who presided over the ceremony. "And Brian, you've enabled all of it."
Also in attendance were the mayors of Spokane, Spokane Valley and Liberty Lake; Spokane County commissioners; Sheriff Ozzie Knezovich; and U.S. Rep. Cathy McMorris Rodgers.
Samuelson joined the Air Force in 1993 with an engineering degree from Purdue University. In 2003, he earned a master's degree in business administration from Webster University.
Samuelson has been stationed in Ohio, Kansas, Alabama, Texas, California, New Hampshire, Illinois, South Korea and Qatar. He's joined missions in Bosnia-Herzegovina, Afghanistan and Iraq. Most recently, he supported coalition forces against the Islamic State group in the Arabian Gulf.
During his speech Tuesday, Samuelson thanked his wife, Kathlene Samuelson, for sticking out the mobile lifestyle of a military family.
"Four moves to four states in four years with four kids, is foreboding," he said. "I don't know how you did it."
Local journalism is essential.
Give directly to The Spokesman-Review's Northwest Passages community forums series -- which helps to offset the costs of several reporter and editor positions at the newspaper -- by using the easy options below. Gifts processed in this system are not tax deductible, but are predominately used to help meet the local financial requirements needed to receive national matching-grant funds.
Subscribe now to get breaking news alerts in your email inbox
Get breaking news delivered to your inbox as it happens.
---