News > Pacific NW
Washington tribe joins legal challenge over modified salmon
Tue., July 19, 2016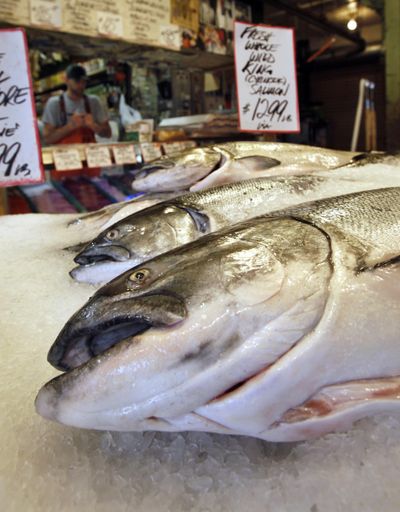 SEATTLE – A Native American tribe in Washington state has joined a lawsuit challenging the federal government's approval of an Atlantic salmon genetically modified to grow faster.
The Quinault Indian Nation on Friday joined the lawsuit that 11 other fishing and environmental groups filed against the U.S. Food and Drug Administration and others in late March.
The lawsuit alleges the FDA didn't fully analyze potential environmental effects before approving the faster-growing salmon for human consumption in November.
The tribe says it is worried the genetically modified salmon can escape and harm wild salmon runs, despite assurances from the company, AquaBounty Technologies.
"Although there are obvious risks to our salmon, the Food and Drug Administration surged forward with its approval," tribal chairwoman Fawn Sharp said in a statement. Other plaintiffs include the Pacific Coast Federation of Fishermen's Associations, Center for Biological Diversity, Food and Water Watch and Center for Food Safety.
The FDA said Tuesday it does not comment on pending litigation.
Dave Conley, a spokesman with AquaBounty, said in an email: "We don't comment on pending legal issues, but believe FDA's decision will be upheld."
In May, Canadian regulators approved the AquAdvantage salmon "as safe and nutritious for humans and livestock as conventional salmon."
This month, the Massachusetts-based company announced it had acquired a second facility on Prince Edward Island in eastern Canada where it would raise conventional Atlantic salmon to provide eggs that would be transferred to its existing facility. The company plans to ship those eggs to Panama, where they will grow in land-based tanks and be processed into filets and shipped to the U.S. for sale. The FDA says no live fish are permitted to be imported or marketed in the U.S.
"This is the first step in a much larger business plan to expand this product and this biotechnology to a bunch of other places," said Steve Mashuda with Earthjustice in Seattle, one of the attorneys representing the groups. "They (the FDA) say we should look at that later. We're saying now is the time to look at that."
Mashuda said that the FDA's review did not analyze the full impacts of what would happen if the genetically modified salmon did escape. He also said the groups want a more thorough review not only of what has been approved but the company's expansion plans as well.
The company says on its website that it plans to raise the salmon in land-based containers away from the ocean to eliminate the risks of escapes. It also says fish grown from the genetically engineered eggs are all female and sterile so they can't interbreed.
Local journalism is essential.
Give directly to The Spokesman-Review's Northwest Passages community forums series -- which helps to offset the costs of several reporter and editor positions at the newspaper -- by using the easy options below. Gifts processed in this system are not tax deductible, but are predominately used to help meet the local financial requirements needed to receive national matching-grant funds.
Subscribe now to get breaking news alerts in your email inbox
Get breaking news delivered to your inbox as it happens.
---