News > Features
The 1960s: Excellent food for a troubled time
Wed., July 20, 2016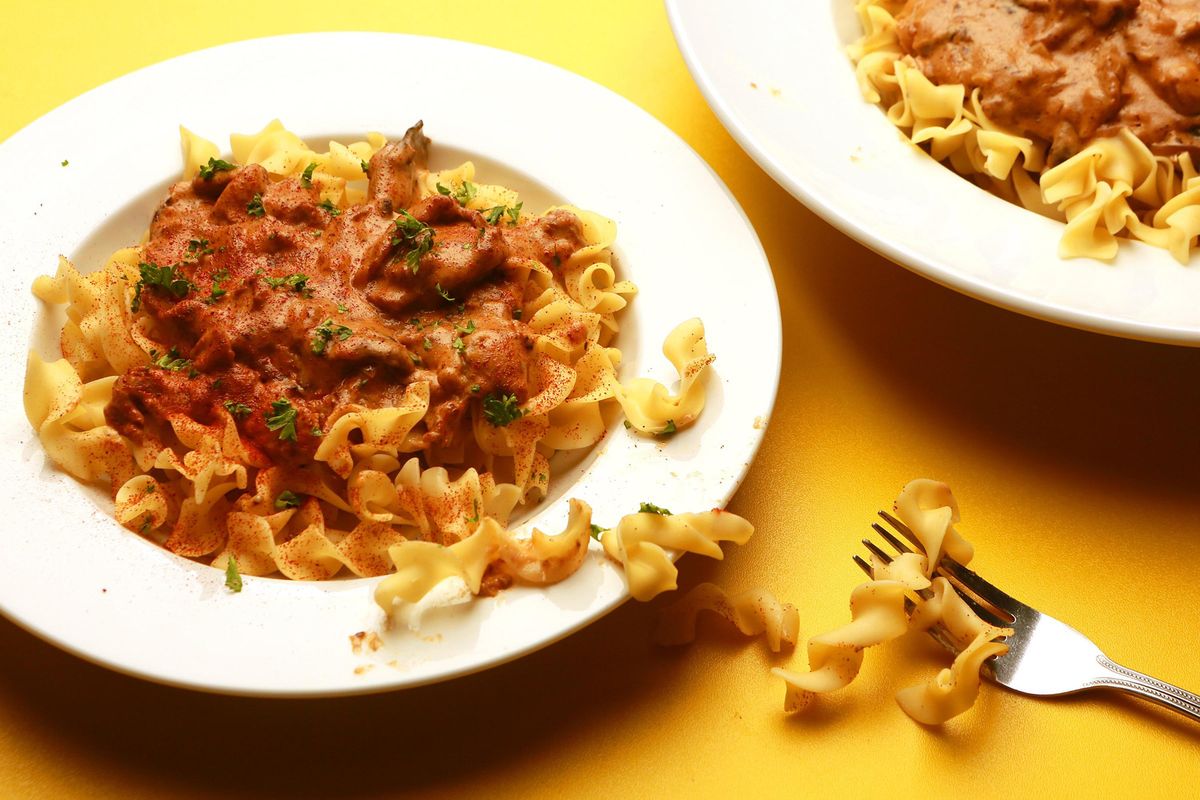 Beef stroganoff was a very popular dish in the 1960s. (Huy Mach / Tribune News Service)
The 1960s were the most turbulent decade in this country since the Civil War.
The war in Vietnam roiled the nation. The fight for civil rights caused another, sometimes violent divide, and women disrupted the status quo by asserting their independence. The birth control pill ushered in the sexual revolution. Baby boomers turned on, tuned in and dropped out.
Yet in the world of food, the changes were less revolutionary.
Women beginning to enter the workplace – and the idea was still new and quite unusual – meant the trend toward convenience foods continued to grow. With Julia Child's cookbooks and popular show on television, plus the culinary influence of Jackie Kennedy, many of the nation's cooks turned their eyes to France as the most sophisticated and desirable cuisine in the world.
The rest of the nation's cooks looked westward, to Polynesia. Americans flocked to anything Tiki, such as the famous Polynesian-themed Trader Vic's restaurants that were considered wild and exotic.
Cookbooks of the era took ordinary dishes, added pineapple, and called it Polynesian. Parfaits were popular for dessert, possibly because of the interest in French food. And gelatin came into its own as a way to make ordinary foods more fun.
One of the more disturbing tendencies in the decade was the insistence on giving cute names to dishes that probably should not have been invented in the first place.
Sundae Bubble Crown was a layered dessert with cream puffs and ice cream. Coconut Ham Slice was ham, mandarin oranges, coconut syrup and flaked coconut.
Fruited Chicken en Creme hit the trifecta with cream of chicken soup, pineapple chunks and grapes. And the less you know about Paradise Chicken Salad in Pineapple Boats, the better.
(Really? OK, you asked for it: You add pineapple chunks to curried chicken salad, mix in a combination of bananas and peanuts, top with coconut and mandarin oranges, and serve in boats made out of hollowed-out half-pineapples.)
For my look at food of the Sixties, I began with perhaps the decade's quintessential dish: Sandwich Loaf. Not a shower was held that someone did not bring out this astonishing creation. It was as much a part of the celebration as the mother-to-be or the blushing bride.
A Sandwich Loaf begins with a loaf of bread, which is sliced horizontally several times. It is then reassembled like a layer cake, but instead of frosting between each layer you put chicken salad, egg salad, chopped tomatoes and deviled ham mixed with pickles. The loaf, which is now tall and quite heavy, is then frosted with a mixture of cream cheese and mayonnaise, thinned with a little light cream.
I tinted mine light green and decorated it with flowers made from olives and pimentos. It seemed like a 1960s kind of thing to do.
The whole idea sounds dreadful and looks … amusing. But it actually tastes quite good. And why wouldn't it? Each of the fillings is homemade. And because I could not find the right size and shape of unsliced bread anywhere, even my bread was homemade (I used a recipe that takes just one hour to make).
My entree was a more substantial dish, Beef Stroganoff. If there were a meal that was almost as ubiquitous in the 1960s as Sandwich Loaf, it was Beef Stroganoff.
Hearty and with a hint of the exotic – the recipe really did originally come from Russia – Beef Stroganoff mixes thin strips of lean beef and mushrooms with a cream sauce that has been flavored with onions and beef stock. A bit of tomato paste, which is apparently an American-only variation, adds depth.
And it is all served on hot, buttered egg noodles. If you haven't had Beef Stroganoff in a while, and I certainly hadn't, you might forget just how delicious it can be.
Sandwich Loaf
Adapted from the American Home magazine, April 1965, via Click Americana
1 unsliced loaf sandwich bread, about 1 pound, 13 ounces, in a rectangular shape
3 (2 1/4-ounce) cans or 1 1/2 (4 1/4-ounce) cans deviled ham
1/4 cup chopped dill pickles
About 1 cup mayonnaise or salad dressing spread, divided
2 teaspoons grated onion, divided
1 teaspoon lemon juice
3/4 teaspoon salt, divided
Black pepper
1 cup cooked chicken, chopped
1/3 cup celery, chopped
3 tablespoons parsley, finely chopped
1 teaspoon prepared mustard
1/2 teaspoon curry powder
3 hard-cooked eggs, finely chopped
2 large tomatoes, peeled, seeded and chopped
3 tablespoons butter, softened
16 ounces cream cheese, softened
2 tablespoons light cream
2 drops green food color, optional
2 olives stuffed with pimentos, optional
Pimento strips, optional
If desired, cut the crusts from the bread.
Make ham-pickle filling: Mix deviled ham with pickles. Set mixture in a strainer over a bowl to remove moisture.
Make chicken salad filling: Mix together 1/3 cup of the mayonnaise, 1 teaspoon of the grated onion, lemon juice, 1/2 teaspoon of the salt, a dash of pepper, chicken, celery and parsley.
Make curried egg filling: Mix together 1/4 cup of the mayonnaise, mustard, the remaining 1 teaspoon grated onion, curry powder, the remaining 1/4 teaspoon salt, a dash of black pepper and eggs.
Dry chopped tomatoes on paper towels.
Lay bread on its side; cut horizontally into five even slices (four cuts). Spread three of the slices with soft butter. Spread fillings on the three slices that have been buttered. Spread 2 tablespoons of the mayonnaise on another slice, and arrange chopped tomatoes on that slice. Stack slices to re-form loaf shape.
Combine cream cheese, 1/4 cup of the mayonnaise and the light cream. Add 2 drops of food color, if desired. Blend until smooth. Spread mixture on tops and sides of loaf. Chill thoroughly.
If desired, decorate with flowers made from sliced olives, with pimento strips serving as petals.
Per serving (based on 10): 593 calories; 45 g fat; 17 g saturated fat; 140 mg cholesterol; 17 g protein; 32 g carbohydrate; 4 g sugar; 2 g fiber; 894 mg sodium; 67 mg calcium.
Yield: 8 to 10 servings
Beef Stroganoff
Adapted from "Better Homes and Gardens New Cookbook," 1968
5 tablespoons all-purpose flour, divided
1/2 teaspoon salt
1 pound beef tenderloin or sirloin steak, cut across the grain in 1/4-inch strips
5 tablespoons butter, divided
1 cup mushrooms, thinly sliced
1/2 cup onion, chopped
1 clove garlic, minced
1 tablespoon tomato paste
1 (10.5-ounce) can beef broth or beef consommé
1 cup sour cream or crème fraîche
2 tablespoons sherry or cognac
3 cups egg noodles, cooked
Paprika, for garnish
Parsley, for garnish
Combine 2 tablespoons of the flour and the salt. Dredge the meat in the flour mixture. Heat a large skillet, then add 2 tablespoons of the butter. When melted, add the beef strips and brown quickly on all sides. Add the mushrooms, onion and garlic, and cook 3 to 4 minutes until the onion is barely tender.
Remove the meat and mushrooms from the skillet. Add the remaining 3 tablespoons butter to the pan drippings. When melted, blend in the remaining 3 tablespoons flour and cook for 1 minute. Stir in the tomato paste and cook an additional 1 to 2 minutes.
Slowly pour in the broth. Cook, stirring constantly, until the mixture thickens. Return the meat and mushrooms to the skillet and simmer until meat is heated through, about 2 minutes. Stir a little of the hot broth into the sour cream to prevent curdling, then stir in the sour cream mixture and sherry. Stir briefly. Heat through but do not let boil; just simmer a few minutes before serving.
Serve over hot, buttered noodles. Garnish with paprika and parsley, if desired.
Per serving: 662 calories; 40 g fat; 20 g saturated fat; 180 mg cholesterol; 30 g protein; 41 g carbohydrate; 5 g sugar; 2 g fiber; 720 mg sodium; 95 mg calcium.
Yield: 4 servings
Local journalism is essential.
Give directly to The Spokesman-Review's Northwest Passages community forums series -- which helps to offset the costs of several reporter and editor positions at the newspaper -- by using the easy options below. Gifts processed in this system are not tax deductible, but are predominately used to help meet the local financial requirements needed to receive national matching-grant funds.
Subscribe now to get breaking news alerts in your email inbox
Get breaking news delivered to your inbox as it happens.
---